Can Altidore & Co. make doubters eat humble pie?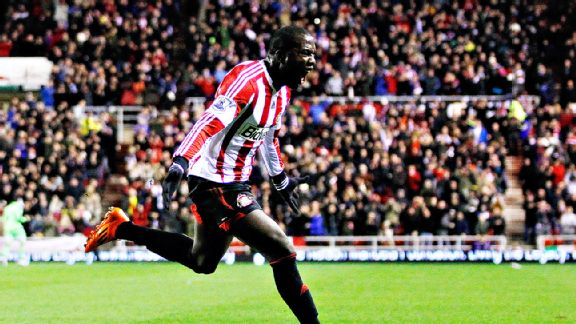 Paul Thomas/Getty ImagesJozy Altidore will be looking for his second Premier League goal against West Ham this weekend.
Lured by a mildly encouraging a headline in the Sunderland Echo -- "Three positives to take out of a dreadful weekend" -- I wondered how on earth anyone had managed to find even one.

Richard Bell's online thoughts were presented as a fan's view. His was that supporters could take comfort from John O'Shea and Wes Brown playing together at last, Steven Fletcher and Jozy Altidore as partners up front and West Ham's own run of bad form.

- Report: Giacherrini "not seeking Serie A return"

Let's start with Bell's last upbeat note. The Hammers, Sunderland's opponents at Upton Park on Saturday, have not been having the best of times. Sam Allardyce is reportedly under growing pressure.

Yet they have 13 points and are currently outside the bottom three; on both counts, that is a good deal healthier than the wretched plight of Gus Poyet's squad, rooted to the foot of the table with a pathetic two wins and two draws from 15 games.

Five points adrift, with many fans already resigned to relegation, Sunderland would have to chalk up back-to-back wins to reach a position of temporary safety -- or even to climb higher than 20th place -- and only then if everyone else stood still. If there is to be a great escape, it will be desperately slow.

And bad run of form or not, Allardyce and West Ham United are doubtless thanking their lucky stars that the fixtures list serves up Sunderland next. Boleyn regulars will be licking their lips at the prospect of a home banker.

Bell's other reasons to be cheerful concerned the partnerships, seen in the starting 11 against Tottenham Hotspur last Saturday, of Fletcher and Altidore up front and former Old Trafford teammates, Brown and O'Shea, in central defence.

Much as I hate to rain on Bell's parade, I must remind him that the attacking pair looked ineffectual against Spurs while, having shared collective guilt for Sunderland's failure yet again to defend a set piece (leading to the Tottenham equaliser), O'Shea then scored the own goal that won the game to ensure Andre Villas-Boas maintained the strong recovery witnessed since the 6-0 humiliation at Manchester City.

Brown, to be fair, was one of the reasons the game went to the wire, one splendid block and a crucial late intervention helping to stop what threatened to become a second-half rout. O'Shea, by contrast, has looked solid more rarely this season than last, which may be linked to the various defensive frailties around him, but hardly inspires confidence.

Brown and O'Shea does not, then, constitute a dream pairing. But I do concede that it is still the best Poyet has at his disposal with Brown, if only he can stay fit, the best defender on the books by far.

On the other hand, it would surprise me if many of Bell's fellow supporters genuinely saw a route to survival in playing Fletcher and Altidore as a joint attacking force. Fletcher's season was delayed by injury but he has scored only twice in the Premier League since returning and he will not have been pleased with any of his attempts against Spurs. Though his American colleague played well in the earlier midweek defeat to Chelsea, grabbing his first league goal, he must become immeasurably sharper in front of goal if his return to the Premier League is to be judged a success.

Of course, strikers need quality of service and the lack of midfield pace and guile available to Poyet is of serious concern. It might be a different matter if Fletcher and Altidore were being fed a stream of opportunities. In the circumstances that prevail, anything resembling 4-4-2 looks not only outdated but a little like clutching at flimsy straws.

Sunderland's shortcomings are evident throughout the squad, from two flawed goalkeepers vying for starting position -- Vito Mannone currently preferred to Keiren Westwood, neither holding a candle to the departed Simon Mignolet -- to defence, midfield and attack.

Each time I try to suppress the negative thoughts that Bell admirably seeks to balance, I remember with a jolt just how badly Sunderland have played in most games this season. However the personnel are juggled or swapped around, the players seem incapable of keeping composure and shape for entire matches. Good first halves are cancelled out by sloppy second-half surrenders; promising comebacks after the interval fall short of clawing back points. It is no use blaming the unhelpful and often plain wrong refereeing decisions that have helped put games beyond reach; every club complains about those and the trick is to be strong enough to rise above them.

No one would be happier on Saturday evening if a sparkling show at Upton Park, followed by a home win against Norwich and maybe even Capital One Cup revenge against Chelsea, tempted Poyet, Altidore or Bell to add to Christmas demands on postal services by sending a huge slice of humble pie for my early consumption.

But I might find it prudent to order a takeaway meal anyway; it wouldn't do to go hungry.