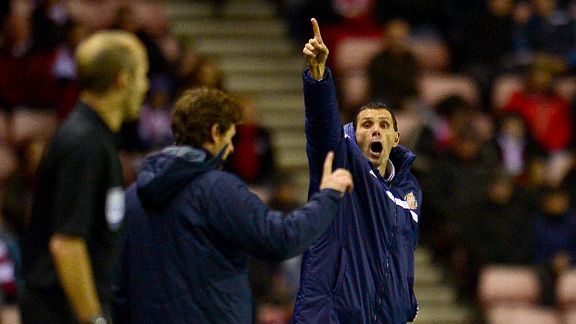 PA PhotosGus Poyet: The only way is up.
Remove the heavy clouds of depression clinging over the Stadium of Light and try to locate flecks of blue sky. It is not an easy task, but let us try in any case.

If we looked only at the second half of Saturday evening's 2-1 defeat against Spurs, ignoring the short spells of bright play, we would not get very far.

But it is possible to persevere. The season is still only 15 games in. Although the gap between Sunderland and a position of safety is now six points, there are still 69 to play for between now and May; 33 of those will be at stake in the matches against the eight teams immediately above.

All six clubs that were expected, when the season started, to occupy top-six places at its end have been and gone to Sunderland. It was a cruel opening run of home games but that run is over. What it means, first of all, is that life ought to become easier at the Stadium of Light. If Sunderland cannot beat the likes of Norwich City, Aston Villa and Stoke City -- three of the next four visiting teams -- and at least draw against the other one, Southampton, they do not deserve salvation.

Equally, the next sequence of away games -- West Ham, Everton, Cardiff and Fulham -- includes only one, at Goodison, from which only a supreme optimist would find reason to expect any return.

That six-point deficit could, in other words, be whittled away between now and the end of January. Now back to the real world and those real clouds.

Other Premier League managers or coaches watching the defeat to Spurs will have taken heart from the ease with which Sunderland can be made to flap and fumble at set pieces. They will have witnessed the feeble defending of Tottenham's equaliser, when Paulinho found space that should not have been his after Lewis Holtby's free kick was headed into the goalmouth without serious challenge for the ball.

They will also have noted that the unfortunate own goal by John O'Shea was not the only unfortunate own goal Sunderland have conceded at key recent moments this season. That tendency to flap has cost poor Gus Poyet dearly in his short time as head coach of the club.

Not many of the teams still to visit Wearside this season have the ability to dominate proceedings as effortlessly and comprehensively as Spurs did for very nearly 20 minutes after O'Shea's inadvertent flick past Vito Mannone.

It is true that Sunderland were later to suffer yet another rotten refereeing howler: Lee Mason's failure to spot or properly judge the clear use of an arm by Sandro in the penalty box. A group of Spurs supporters with whom I watched the game agreed that it was unquestionably a penalty. Who knows what might have happened in a 15-minute finale starting at 2-2, with the crowd buzzing?

There's a huge "but." By the time of Sandro's great escape, Spurs should have been 5-1 up. A wonderful block by Brown, two crucial interventions by Brown and Adam Johnson and the foot of one of Mannone's posts had stood between the visitors and a commanding lead. And Jermain Defoe hit the post for a second time after the Sandro incident.

Sunderland did recover from that period of Spurs dominance but could not complain about the outcome. The first half had been so much better, with Steven Fletcher and Jack Colback both screwing shots wide with only the shaky Hugo Lloris to beat. But once Paulinho had cancelled out Johnson's well-taken opener, after a weak Lloris punch put the ball at his feet, the writing was on the wall.

Poyet wanted to sound upbeat afterwards, but it was clear he was troubled by what he had seen. His customary email to supporters took an awfully long time coming; when it did, such phrases as "very disappointing" (the second half), "things happen" and "at the moment it's very difficult for the players" told a sorry tale.

There was even a trace of desperation in his assertion that "nobody can say that we are not trying."

No one expected Sunderland to beat Spurs 6-0. It is unrealistic to expect Poyet to get his team to respond to another home defeat as well as Andre Villas-Boas' squad seems to have done to that massacre at Man City. But my hopeful calculations about how survival might yet be secured will come to nothing if all that effort Poyet talks about is not quickly translated into winning performances.