Hazard a guess at the difference between near-top and rock bottom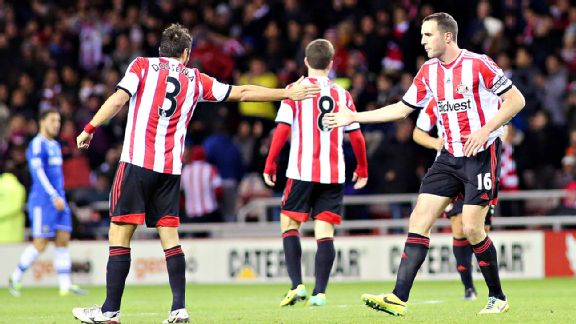 Ian T Horrocks/Getty ImagesIt was a hard-fought effort from John O'Shea and Sunderland, but it was not enough against a superb Eden Hazard and Chelsea.
No shame, no complaints.

Sunderland played their full part in one of those games, full of sharp attacking and shoddy defending that divides lovers of football, the impassioned and the purists. The wonderful spirit shown by an unfancied home side was not enough to save the game, but did reduce formidable opponents to pantomime time-wasting as time ran out.

Sunderland 3-4 Chelsea.

- Heneage: Three things: Sunderland vs. Chelsea

The truly great goals in a busy midweek Premier League programme were scored elsewhere. But with the exception of Luis Suarez's sensational one-man show for Liverpool against Norwich, the individual performance of the night was surely to be found at the Stadium of Light.

Eden Hazard was, by common consent, the difference between the two sides. Do not underestimate what it means for the team propping up the entire division to score three times against a club widely tipped, despite Arsenal's compelling start, as the chief threat to Manchester City's hopes of regaining the title. Hazard was the main reason that Sunderland, after quickly surrendering an early lead, were always chasing the game.

I have no special interest in what Chelsea supporters made of his outstanding contribution to their victory. But Sunderland fans were almost queuing up to marvel and despair, in equal measure, at his inspirational skills. "A class apart," my co-writer, Pete Sixsmith, declared at the end of a first half that ended with Chelsea 2-1 up. The head coach Gus Poyet agreed: "... a great display ... probably the best I have seen this season from an individual player".

The Belgian scored two goals and was a menace each time he was anywhere near the ball. The BBC local radio commentator, I trust, was joking at halftime when he speculated that a Sunderland comeback might depend on Hazard being visited in the dressing room and "taken out".

There was a comeback in that Sunderland drew the second half 2-2, but it was not enough. Chelsea always seemed the more likely winners and Poyet's reasonable start to life in Sunderland has still to produce the run of results that would stop the club being cast adrift at the bottom. I conceded after the goalless draw at Aston Villa last Saturday that two wins within four days, from home games against Chelsea and Tottenham, looked a tall order. Defeat in the first of them hands Spurs an added advantage for Saturday's encounter, since the nervousness of Sunderland players and supporters alike will be tangible.

The great fear as the season started with poor results against more modest opposition was that the task of survival could, by Christmas, seem too steep an uphill struggle. The Wear-Tyne derby apart, there was no obviously winnable home fixture before the game against Norwich City a few days before Christmas.

In the event, the derby game was won and an implausibly fourth successive 1-0 home defeat of Manchester City raised hopes of revival. But those wins have proved little more than sunny intervals in an otherwise downcast first half of the season.

Few Sunderland fans will feel confident about the chances of beating Spurs, who have recovered fairly well from that humiliation at the City of Manchester Stadium. But it may be on the games that immediately follow that the prospects of survival rest.

Only one of them, that Norwich visit, is at home but that simply has to produce three points and be accompanied by some return from trips to West Ham and Cardiff before the end of the year if Poyet is to have even a slender prospect of succeeding in the task he was set when appointed after Paolo Di Canio's calamitous start to the season. I exclude the Boxing Day game at Everton from my wish-list only because Sunderland's lamentable record at Goodison makes it tempting simply not to turn up.

Poyet said after the Chelsea game: "If we can play like this and fight like this and make it so difficult, we will stay in the Premier League for sure." The words will take on a hollow ring unless, somehow, he can inspire his players to "play like this" against the teams nearer the bottom of the league.