Poyet must raise Sunderland's game for tough Chelsea challenges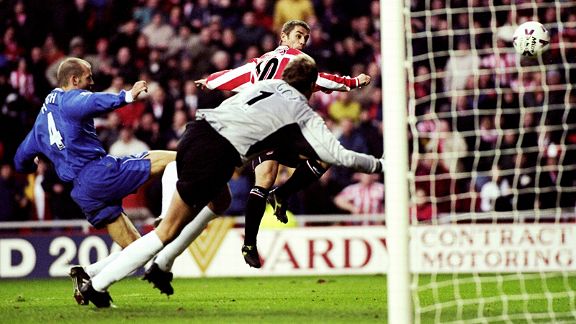 GettyImagesKevin Phillips scores as Sunderland beat Wednesday night's opponents Chelsea 4-1 at Stadium of Light in 1999.
"Sorry," the man on my newspaper's foreign desk said as he interrupted the drive home from work, my thoughts already turning to the weekend and newly promoted Sunderland's opening match of the season. "You won't be at Stamford Bridge on Saturday after all. We're sending you to a hellhole instead."

So off I went in August 1999 to Sierra Leone, where a gruesome civil war still had 18 months to run. Things had happened in that blighted land to make football seem utterly insignificant. It was with a shiver of guilt that I still allowed myself a long sulk after another colleague back in London rang a day or two later to taunt me with the result from Chelsea.

- Poyet: Borini was always going to start

Chelsea had thrashed Peter Reid's Sunderland side 4-0. The collective wisdom of pundits was that Sunderland were heading straight back down again. What happened next was not in the script.

The season took off, Kevin Phillips and Niall Quinn terrorised Premier League defences, and Steve Bould made the most of a brief swansong at the end of a wonderful Arsenal career to marshal forces at the back.

But as Reid's possibly overachieving squad raced up the league, Chelsea traveled cockily up to Wearside in early December for what Gianluca Vialli must have imagined would be a routine completion of the double.

Phillips and Quinn had other ideas and, in the most thrilling, exhilarating 45 minutes of my decades of watching Sunderland, each scored twice to even out the aggregate score from the two encounters. Chelsea pulled one back in the second half, but with Phillips going very close to a hat trick, the 4-1 score line was not remotely flattering.

Early December again, 14 years on, Sunderland will present a rather different proposition Wednesday when Chelsea again visit the Stadium of Light.

Sunderland manager Guy Poyet's short spell in charge has so far produced three home wins, if the League Cup victory over Southampton is included, to make up for continuing poor away form, with just one point -- earned in the dour goalless draw at Villa Park on Saturday -- from three games.

It has not been enough to lift Sunderland out of the bottom two places. A win against Chelsea would probably require an exceptional performance -- or exceptional luck -- against Poyet's old club, where he had the best of his English playing career with 36 goals in 105 Premier League appearances.

Arsenal may have made a superb start to the season and fully deserve their lead at the top. But as much as many neutrals would wish that position to be maintained, the pundits seem to think the Gunners will fall away, exposed by lack of depth in Arsene Wenger's squad.

That, the same expert opinions agree, would set the scene for Jose Mourinho's Chelsea and Manuel Pellegrini's Manchester City to fight it out for the title, with David Moyes needing more time to mould post-Ferguson Manchester United into champions once more.

Leaving aside the mildly disrespectful matter of banishing United and Arsenal from serious consideration, Chelsea have shown more than a hint of clinical power in most games this season. Certainly, the equaliser at home to West Brom was unfair, whatever bizarre interpretation Mourinho chooses to place on it. And last month's defeats at Newcastle and, in the Champions League, Basel, were embarrassing. But a truer measure of the team's quality and resilience may have been found in the manner of the comeback at home versus Southampton on Sunday, after the refreshingly ebullient Saints had taken a very early lead.

My own approach to Sunderland versus Chelsea, this week and again later in the month in the Capital One Cup quarterfinal, is darkened by the usual mix of realism and apprehension whenever a supposedly bigger club pays a visit. I could be mischievous and point out that Sunderland have won the top-flight league title half as many times again -- six to four -- but it would only prompt knowledgeable Blues supporters to point out that three of those six were in the 19th century.

Even so, there is no harm in aiming for gold. Poyet cannot rely for salvation on the less-challenging fixtures list, for home games at least, in the second half of the season. He has to make players who, we can all agree, possess more modest talents than those at Mourinho's disposal, believe they can compete even against title contenders and produce the same outcome they managed in the last home game, from which Man City were dispatched pointless and glum.