Point at Villa slows the rot for Sunderland; stopping it needs more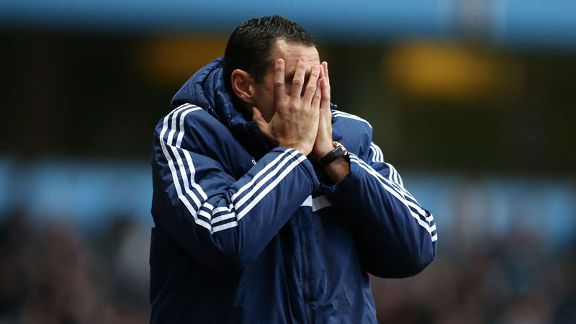 PA PhotosGus Poyet reacts to Emanuele Giaccherini missing a golden chance for Sunderland.
From the position in which Sunderland started their afternoon at Villa Park, anything from the game was to be welcomed. When Neil Swarbrick blew the final whistle, the match having ended goalless, the feeling was that while bottom place in the Premier League had been restored to Crystal Palace by their defeat at Norwich, this was precisely the sort of game Sunderland ought to have won.

As it was, it ended Aston Villa 0-0 Sunderland.

On the other hand, with only one point from the preceding six away trips -- all five defeats coming against teams currently in the bottom half of the table -- keeping a clean sheet and adding a second point to the dismal tally represented progress of a sort.

And how close it was to three. Fabio Borini hit the bar, Emanuele Giaccherini missed a sitter from 3 yards and Villa's Ciaran Clark may have been fortunate not to concede a penalty. Craig Gardner, recalled to the side, probably would have scored from the spot since he has proved repeatedly that he is as expert at converting penalties as he is in conceding them at the other end.

Somehow, you know a team that draws should have done better when the opposing manager admits his side did not deserve victory. "Not a classic," said Villa's Paul Lambert, "but if you can't win a game then don't lose it." Sunderland coach Gus Poyet welcomed a "step in the right direction," adding the philosophical thought that "sometimes you have to understand when you are at the bottom that things don't go for you."

Villa had little clear sight of Vito Mannone's goal apart from first-half chances missed by Gabriel Agbonlahor and Christian Benteke. The Giaccherini miss was more wasteful, coming minutes after Swarbrick had denied strong shouts for a penalty. Either incident could be said to have deprived Sunderland of a precious halftime lead.

Poyet will have been delighted all the same, however, by the continuing good form of Wes Brown, allowed to play at Villa Park after the FA canceled the absurd red card shown by Kevin Friend at Stoke City.

Mark Hughes, Stoke's boss, was probably the last man on earth to recognise the injustice, his own theatrics in the technical area helped to bring it about, after Brown reached the ball fairly ahead of Charlie Adam. "I just gave an honest answer -- I thought at the time, from my position where I was looking, that it was a little bit reckless and out of control," he said when asked at his prematch press conference about his previous comments supporting Friend's decision. "... but obviously, having seen the videos, [the appeal outcome] is the right decision."

With John O'Shea, his partner from Old Trafford days, Brown produced a rock-like defensive display. The omission of Jack Colback and Adam Johnson from the starting 11, though both appeared as second-half substitutes, had been a little surprising, but Sunderland were by a slender margin the better of two fairly unimpressive sides.

Building on the result will be a stiffer test of Poyet's leadership. He needs to claw at least nine or 10 more points out of the six league games that remain between now and the end of the year.

Yes, it would give the fans a great fillip to reach the Capital One Cup semifinals by beating Chelsea at home on Dec. 17. It would mean an awful lot more to the club to defeat Jose Mourinho's title contenders on a much earlier visit to the Stadium of Light for Wednesday night's Premier game.

Spurs are the opponents a few days after that, completing Sunderland's challenging run of home games against all the clubs expected to finish in the top six by the pundits when the season began.

Successive victories against such powerful London teams is a commendable ambition, even at home, but perhaps also a fanciful one. One win or two draws from the Chelsea and Spurs ties would be an acceptable return provided Poyet could then get the remaining points on my Christmas shopping list from West Ham, Everton and Cardiff away and Norwich at home.

There is nothing easy about the target I have set. Yet it is vitally important to enter 2104 without having that "they're down already" look.

My email from Poyet after the draw at Villa talked up the advances he felt the team was making: "In recent away games we have performed for just one half or maybe struggled in certain areas on the pitch. Today I was looking for a full performance from the whole team for 90 minutes and I think we got that ... we're looking like a better team; we need to continue to improve."

While I would find it hard to disagree with any of those words, my own emphasis would be on the last six of them. Poyet's is still a work in progress, one I hope is not disrupted by speculation that one of the clubs for which he played, Spurs, are considering him as a replacement for Andre Villas-Boas.