Happier times for Poyet's players, hardly for the fans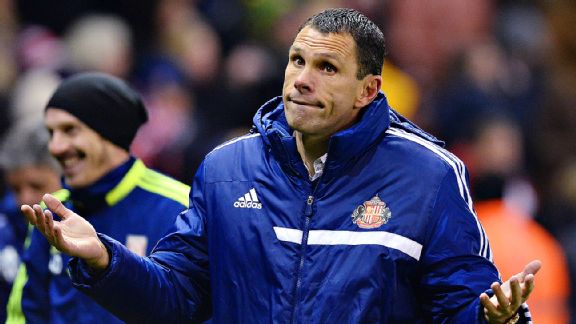 Andrew Yates/AFP/Getty ImagesA win from Gus Poyet's side versus Villa would bring some much needed joy to the Sunderland fan base.
It was early enough in the explosive reign of Paolo Di Canio for belief to be strong that here was not just an immediate savior, but a long-term prospect. Could this Italian maverick be the man finally -- and despite the baggage he brought when appointed -- to lift Sunderland to a higher level than one of perpetual struggle?

- Report: Borini wants Serie A return

He could not. A seriously promising run at the start of his Sunderland career -- if a job lasting less than six months can be called that -- was brought to a shuddering halt one night at Villa Park. The game began with a torrential downpour and produced a flood of Villa goals.

The 6-1 defeat represented a collective team failure, as Jimmy Montgomery, the goalkeeping hero of Sunderland's 1973 FA Cup Final triumph over Leeds, told me that next morning. For Monty, even Simon Mignolet, a rare bright spark in a dreadful season, had been at fault as the goals rattled in. And suddenly, after the mighty lift from back-to-back wins at Newcastle and at home to Everton, the threat of relegation hovered over Wearside once more; the "new manager" factor had utterly worn off.

On Saturday, Gus Poyet takes the team, or what remains of it since five who started that night are no longer at Sunderland, back to the scene of the crime. Stephane Sessegnon, sent off during the match, is at Villa's West Midlands rival, West Brom. Alfred N'Diaye and Danny Graham are on loan to the Turkish club Eskisehirspor and Hull City, respectively. Danny Rose went back to Spurs and Mignolet, of course, became a Liverpool player for a fee of nine million pounds.

Just as PDC had to work with the remnants of the Steve Bruce and Martin O'Neill eras, Poyet must rely on the survivors of those regimes and the curious, non-blending assortment of players, mostly selected by the director of football Roberto De Fanti, brought to the Stadium of Light in the summer.

After only six games in charge, Poyet can feel he has done a reasonable job with the tools of others -- but only at home. Wins against Newcastle United and Manchester City, and progress to the Capital One Cup quarter-finals, have all been welcome; away form continues to be disastrous.

Poyet began with a 4-0 debacle at Swansea and has subsequently watched defeats caused by rank indiscipline (at Hull, where Lee Cattermole and Andrea Dossena were sent off, with a hint of doubt only in the former's case) and injustice at Stoke.

Earlier this week, I likened the success of Sunderland's appeal against Kevin Friend's demonstrably wrong dismissal of Wes Brown in that match to an imaginary execution. In this fantasy, the last words heard by the innocent convict as the trapdoor opens are "don't despair -- there's an appeal in".

Far-fetched? Perhaps, perhaps not. Sunderland's plight is not so far removed metaphorically from that of the condemned man: 12 games into the Premier League season and in bottom place with a goal difference so woeful it would almost certainly take two sets of good results, including failures by others, to haul themselves out of the relegation zone.

Brown's availability for the match could be of immense importance. When fit, which he has not often been since joining Sunderland in July 2011, he is the club's best defender. John O'Shea, whose otherwise composed play is occasionally marred by inexplicable errors and poor distribution, invariably looks stronger when his former Manchester United colleague is alongside him.

Back in the heady early days of another short-lived Sunderland boss, O'Neill, Brown showed his worth at the other end of the field, too, popping up with a winning header at Queens Park Rangers. After his misfortune at the Britannia Stadium, denied a chance to help his team fight back from 0-1 to draw with or even beat Stoke, natural justice demands a similar outcome at Aston Villa.

There are two snags: it is unwise to pin too much hope on natural justice, and Brown cannot do it on his own. Sunderland will have their customarily loud and passionate fans urging the away end to "sing your hearts out for the Lads". Poyet has to inspire the rest of the side he sends out to raise their games a notch or two, resist temptation -- Neil Swarbrick is the ref and may be less forgiving than he was with Wayne Rooney at Cardiff on Sunday -- and play their hearts out for the travelling support.

It is all very well for Seb Larsson to tell the Sunderland Echo how much happier the players are these days. At least, despite the nightmare of Villa Park, PDC kept Sunderland up. As a number of the Echo's readers have been quick to point out, the time is overdue for the newly happy chappies of the dressing room to bring some sustained joy into fans' lives, too.