When you need one, Kevin, you've got a Friend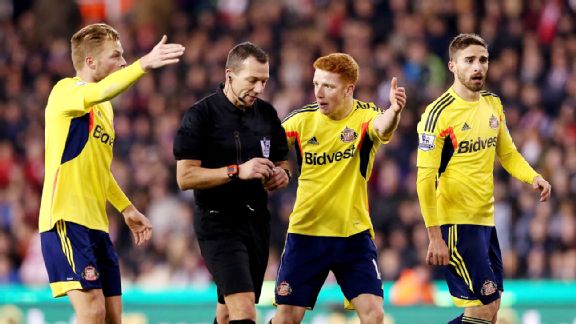 Scott Heavey/Getty ImagesKevin Friend will not be refereeing a Premier League match this weekend.
The FA statement was curt, devoid of further explanation: "with regard to [Wes] Brown, who was dismissed for serious foul play during Saturday's game at Stoke City, the claim was upheld. As a result, his three-match suspension has been withdrawn with immediate effect."

Sunderland's head coach Gus Poyet, and the club's supporters, may have hoped for more, perhaps a public flogging for Kevin Friend, the hapless referee whose appalling error -- plus another one later in the game -- helped determine that the trip to Stoke City on Saturday should be fruitless.

Equally, having his spectacularly bad decision overturned -- a public flogging without the physical pain -- and removed from the list of referees chosen for the next Premier League games may well seem appropriate punishment to non-partisan onlookers.

- Smith: Cut the refs some slack
- Report: Brown red card rescinded

I am in two minds.

Still furious at Friend's howlers? Certainly. The sending off of Brown was scandalous; his bid to beat Charlie Adam to the ball, an aim demonstrably accomplished, was hard but, unless we wish to change football to something more akin to chess, fair. Mark Hughes and the trickle of pundits who supported the dismissal were talking nonsense.

And this dreadful error of judgement, removing Sunderland's best defender just as his team looked capable of fighting back from conceding a Stoke goal, was compounded by Friend's failure to take any action whatsoever when Stoke's goalkeeper Asmir Begovic charged out, studs flying, towards the advancing Steven Fletcher. Fletcher was lucky not to end up in the A and E ward of the University Hospital of North Staffordshire.

Even an unashamedly partisan writer at the Stoke-based Sentinel newspaper knew something was wrong. Beneath the headline "Stoke City profit from double standards", he wrote: "If Brown was guilty of an over-exuberant challenge to earn red for his largely clean tackle on Charlie Adam in the first half, then surely Begovic was guilty of something similar in his own area in the second? Begovic, through no fault of his own incidentally after being sold short by his defence, came out with not just a high boot, but a high boot that left Sunderland striker Steven Fletcher able to count every single stud.

"Thankfully, Begovic made clean contact with the ball and none with the player. But only, perhaps, because Fletcher actually slipped and so fell beneath the flailing boot."

So, we can reasonably assume that a more competent refereeing display would have seen the last quarter or so of the match played out with a starting point of 10 vs 10 and scores level, assuming Sunderland had equalised from the resulting penalty.

But that is where the sense of injustice rightly begins and ends. It is unreasonable to place at Friend's door, however calamitous his calls, responsibility for Sunderland's season. It was not his fault the game started with Sunderland second from bottom. Poyet simply has to get on with the job of coaching and cajoling his team into producing the run of results that would bring hope of survival.

Friend is notorious among Sunderland supporters for past decisions, in particular two at another 2-0 away defeat, at Spurs in 2009, when a vicious challenge by Jermain Defoe not only left the goalkeeper, Craig Gordon, writhing in pain on the ground, but led to the ball running free for Tottenham to have a free shot on the empty goal. The chance was missed but Defoe received no punishment and Friend later allowed Gomes to stay on the field after the Spurs keeper brought down Darren Bent with no other player between them and goal.

But the simple, unpalatable truth is that Friend has merely made mistakes at work. A train driver or airline pilot who makes a mistake may well cost lives; a football referee deprives a team of points and, ultimately perhaps, money.

And I am indebted to a young confrere, Sam Wallace, chief football writer at The Independent, for a thoughtful piece on the dangers of the precedent set by the phone call from Mike Riley, the man in charge of Premier referees, apologising to the West Brom boss Steve Clarke for Andre Marriner's woeful penalty award at Stamford Bridge allowing Chelsea a last-gasp equaliser.

"If there is one thing worse than dealing with certain managers for 90 minutes, it must be mollifying them all week on the phone," Wallace wrote. Neither referees nor their bosses, he argued, should be under any obligation to apologise. "Referees make between 300 and 350 decisions every game. There are the humdrum throw-ins and the last-minute collisions in the penalty area. There are good referees and not-so-good referees. Insisting that they constantly apologise in a game where no one else is ever forced to say sorry, is just a weird persecution exercise."

Now try to count the number of times players make mistakes that also affect the outcome of games.

That leads us to another of Wallace's points. If we leave aside occasional appearances by bright young things called up from development squads, the referee is almost always the poorest paid man on the pitch in a Premier game.

As I understand it, he receives 33,000 pounds a year plus match fees of 1,000 pounds per game. The resulting annual salary expectation of around 70,000 pounds is earned in a fortnight by fairly ordinary players.

Friend's performance at Stoke was abysmal as he may well now recognise. But perhaps we should be kinder to refs, and a lot less kind towards the handsomely rewarded players who, much more than officials, break our hearts so often.