Friend is Sunderland's foe as Poyet touches bottom again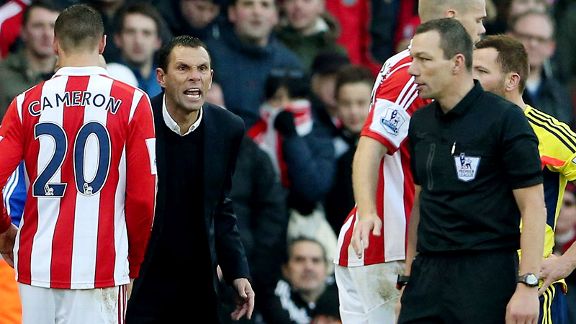 Scott Heavey/Getty ImagesGus Poyet was none too pleased to see his Sunderland side once again reduced to ten men in a match away from home.
No football team is relegated solely because a bad refereeing decision makes life difficult in the odd match.

But nothing will shake me from the view that one of the main causes of Sunderland finding themselves back at the bottom of the Premier League on Saturday night was a judgement by referee Kevin Friend that was not just bad but outrageous.

- Whittaker: Ton up Sparky gives Stoke breathing space
- Match report: Stoke City 2 – 0 Sunderland

It is reasonable to contend that if Guy Poyet's team are still in the bottom three come the final kick of the Premier League season, it will be because they were simply not good enough to stay up, not because Wes Brown was quite wrongly sent off by Friend at Stoke one Saturday in November.

But supporters are entitled to question such a game-changing moment and wonder what might have been the outcome without it. Who, with an open mind, could look at the sending-off for what seemed an entirely fair tackle on Stoke City's Charlie Adam and not feel Poyet and his side were seriously hard done by?

As the second half began, the BBC Radio Newcastle local radio commentator Nick Barnes said he had been unable to find a soul at the Britannia stadium during the interval who considered that Brown was rightly dismissed. His summariser, the former Sunderland defender Gary Bennett, who had hailed Brown's tackle as "brilliant", could still barely contain his anger. "It wasn't even a yellow, never mind a red," he was still exclaiming long after the final whistle.

Local radio coverage can be partisan, as -- it might be suspected -- can this corner of ESPNFC.com. But having watched numerous replays of the incident, I do not require blinkered vision to detect a gross error on Friend's part.

Brown went in quickly but cleanly for the ball, reaching and winning it. There was not a hint of malicious intent and barely any contact with Adam. On a day when the Merseyside derby produced at least one tackle -- Kevin Mirallas's on Luis Suarez -- that had red written all over it but brought yellow, a respectable case could be made for Brown feeling desperately unlucky to concede a foul at all.

Yet Friend reached instantly for red. Poyet was livid, the Sunderland players were utterly incredulous, Friend was unmoved. He should be moved now, to a humbling spell of refereeing Sunday park football. This is the same official who, four years ago, saw no need for punishment of any kind when Jermain Defoe broke the Sunderland keeper Craig Gordon's arm with a horrendous challenge; later in the same game at White Hart Lane, he also failed to dismiss the Spurs keeper Heurelho Gomes for his last-man, penalty-conceding foul on Darren Bent.

It is right to point out that by the time Brown was shown red, Sunderland were a goal down, scored by the defender's imaginary subsequent victim, Adam, after good work by Steven N'Zonzi and wretched covering by defenders. But Sunderland had arguably been the better team. Going down to 10 men just made it a task too hard.

Even so, the second half did offer Friend an opportunity to show a semblance of balance, when the Stoke goalkeeper Asmir Begovic came flying out, studs airborne, to clatter into Steven Fletcher. Penalty? Red card? Friend seemed bemused that anyone would see a problem with the tackle.

And despite some decent Sunderland pressure, an equaliser would not come. Stoke had half-chances to extend their lead and, in the end, numerical advantage made itself felt. On the break, Peter Crouch split the visitors' defence wide open and N'Zonzi finished with ease.

How sorely Brown was missed at the Britannia. When Sunderland went down to nine men before half time in their last away game, at Hull, he had marshalled the defence for a superb second-half resistance. Hull still won, but were reduced to time-wasting at 1-0 against nine men to hang on at the end. Without Brown's crucial presence -- did I tempt fate by highlighting this factor of Sunderland survival battle a couple of days ago -- the gradient of the uphill battle was too steep.

Poyet deserved to leave Stoke with better than yet another disappointing away defeat to ponder. "I don't understand it to be honest with you," he said of the sending-off in his post-match e-mail to fans. "I just want to have a normal game away from home and be able to compete and get points on the board."

He may or may not get his wish for one of those apologetic phone calls to aggrieved managers from Mike Riley, in charge of Premier League's referees and match officials.

But it would not change anything. Crystal Palace's win at Hull dumped his team back in bottom place. Some considerable heroics, and a lot better luck, may be needed for Sunderland to be much better placed come Christmas.