As survival battle resumes, so much rests on former England star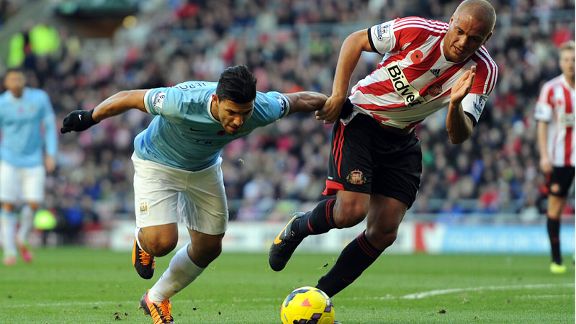 GettyImagesWes Brown was a colossus at the back for Sunderland against Manchester City, helping to keep Sergio Aguero at bay.
Two thoughts will have crossed the minds of Sunderland supporters as members of Gus Poyet's squad returned from international duty to re-engage in the battle against relegation from the Premier League that resumes Saturday at Stoke city.

The first is easy: general relief that all appear to have avoided picking up the injuries that seem routine on such occasions, especially if the matches happen to be meaningless friendlies.

The second will have been the more whimsical reflection that a team with a respectable contingent of players regularly pressed into national service should not be struggling so desperately near the foot of the domestic table.

On all accounts, the players called up for action in the past week broadly performed satisfactorily, if with patchy success.

Emanuele Giaccerini grabbed a well-taken goal to secure a 2-2 draw for Italy in a friendly against Nigeria, played at Fulham's Craven Cottage. His hopes of joining his countrymen in Brazil next summer may be limited by the predicament of his current employers, but he did his cause no disservice.

Seb Larsson shared Swedish agony in the 3-2 home defeat to Portugal, making it 4-2 on aggregate to their opponents, in the World Cup qualifying playoffs. Perhaps he suffered more acutely than most because of the viable chance he fluffed immediately before Cristiano Ronaldo scored the first goal of his outstanding hat trick. But he played 90 minutes until withdrawn for stoppage time and was otherwise a hardworking part of a spirited second-half performance that might have ended more happily had one man's finishing skills not been so deadly.

John O'Shea had to make do with a substitute's role for his former boss Martin O'Neill's first away game in charge of Ireland, in Poland, but his hour on the pitch contributed to a clean sheet in the goalless draw. Keiren Westwood had to settle for a place on the bench, having -- like O'Shea -- started in O'Neill's first game, a comfortable home victory over Latvia. The new boss's desire to see all his options in early action is understandable even if Westwood may have felt a painful reminder of the frustration he endured as Simon Mignolet's understudy under O'Neill.

Poyet's main strikers, Steven Fletcher (once) and Jozy Altidore (twice) played in the Scotland and U.S. friendlies, including a drawn game against each other; neither scored but one mischievous USA fan tweeted during the defeat in Austria: "Poor Jozy. Making great runs but no service. Is this a SAFC game?"

Elsewhere Ki Sung-Yueng played 66 minutes as South Korea lost 2-1 to Russia while Sunderland colleague Ji Dong-won was given the last 20 minutes as a substitute. Charis Mavrias added another Greek under-21 cap to his CV, but ended up on the losing side as host Poland won 3-1.

Some of these players will now be required to play their part on a tough but winnable trip to Stoke as Poyet tries to extend a decent early spell in his job as Sunderland coach.

O'Shea seems a certain start and there should be roles for Larsson, Westwood, Giaccherini and one or both of the principal strikers.

But Sunderland's immediate future may depend on another international, one whose days of representing his country are over.

Wes Brown played 23 times for England between 1999 and 2010, two games more than he has so far managed in the league in his injury-hit Sunderland career. His long-awaited return to action after a season-long layoff has been an instant hit; even neutrals applauded his magnificent performances in Sunderland's second-half, nine-man heroics when losing narrowly at Hull and then the rousing 1-0 home win against Manchester City at the Stadium of Light.

Brown, even more than the steady O'Shea, can make the difference between a win and surrendered points. His tenacity and composure are exemplary and his assured distribution gives him the edge over his former Manchester United partner. Together, they are beyond serious doubt Sunderland's best bets for central defence.

Sunderland's form against Stoke, especially at the Britannia, has been mixed in recent seasons. Honours have been even in the three encounters, the fixtures producing a dull draw, a Sunderland win in the snow and a bruising home display typical of the Tony Pulis era that turned a 2-1 deficit into a 3-2 home win.

Not ruffians but "hard and fair" was how Angela Smith, a former squash pro, current broadcaster and lifelong Stoke fan interviewed at Salut! Sunderland, described that "in-your-face" Pulis approach.

Mark Hughes is charting a different course but cannot yet be said to have completed the job of winning over Stoke fans. His start to the season has not been as gruesome as Sunderland's was until Poyet's second game, but Stoke are still splashing around in troubled waters near the bottom.

This suggests an early relegation six-pointer and Brown's experience and quality could be crucial.

As a man in his 35th year, reasonably considered to have his best years at the top behind him, Brown may seem an improbable saviour. Poyet, undeniably, also needs goals from Fletcher, flair from Giaccherini and Adam Johnson, world-class goalkeeping from Westwood or Vito Mannone and discipline from the calamitous Lee Cattermole.

But it no exaggeration to suggest that it may be on Brown's ability to stay fit for a prolonged spell in the side that Sunderland's survival, in large measure, now depends.