When beating Man City 1-0 becomes Sunderland habit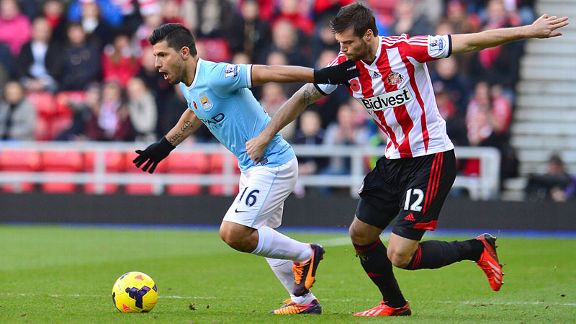 PA PhotosSergio Aguero gets away from Sunderland's Ondrej Celustka.
It is rare for a Sunderland victory to seem pretty much a formality.

But would it be too impertinent to suggest that a single-goal home win against Manchester City is now so obvious an outcome that the points might almost be faxed or e-mailed from the City of Manchester Stadium in advance?

This was, after all, the fourth successive 1-0 win by Sunderland over City at the Stadium of Light, and it would save everyone the bother of having to turn up or tune in.

Sunderland 1-0 Manchester City.

Even leaving aside such whimsical thoughts, Sunday's was a heartwarming Sunderland performance that not only produced three points but gave reasonable hope that those who had already written off prospects of survival -- I plead guilty -- must now think again.

I am already thinking again.

Gus Poyet somehow sent out out a team that knew how to pass from one player to another, defend in depth, avoid being drawn into please-foul-me City possession in or around the penalty box and break with precision. For Sunderland supporters, it was like watching another team. Even corners and free kicks were defended as if the sort of thing that came naturally.

There was luck, as I said there would have to be. Phil Bardsley could have been hauled back for an alleged foul on James Milner before finishing more like Kevin Phillips than a full-back to score the winner. I thought they were fouling each other. Seb Larsson might have seen yellow -- Jamie Redknapp, extravagantly in my view, suggested red -- for a clumsy rather than malicious challenge on Javi Garcia.

And City undoubtedly dominated possession. But what happened as they advanced on the Sunderland goal? Closed down at every opportunity and confined to passing laboriously outside of the box, crossing hopefully and shooting from long range. Sunderland defenders dealt superbly with the onslaught but it was, in truth, feeble as onslaughts go.

In that home defence, Wes Brown was a towering force. The sort of player most Sunderland supporters adore for his rock-like defensive qualities and ability to pass the ball intelligently forward, he has had a seriously raw deal with injury since arriving from Old Trafford. Against Man City, he was utterly magnificent, man of the match by a country mile.

But wherever you looked around the pitch, Sunderland heroes came into view. Ki Sung-Yueng, cool and precise, epitomised the passing game Poyet appears have encouraged; Steven Fletcher, later Jozy Altidore, worked like soldiers alone up front; Vito Mannone staked a very strong challenge for the right to start ahead of Keiren Westwood in goal. But there were also sterling performances from Bardsley, Jack Colback, Emanuele Giachherini and Larsson.

The crowd played their part. After the paltry turnout for the league cup game against Southampton on Wednesday night -- not even 16,000 in a stadium that holds 49,000 -- it was business as usual, a remarkable 40,000-ish for a team rooted in the relegation zone, and for a televised game. "The supporters were absolutely fantastic, outstanding," Poyet wrote after the game in his emailed message to fans. "It shows that if we believe and we are are together, it's going to be easier to get out of this position."

It took a fellow supporter to remind me the result represented three home wins on the bounce. "Best performance for ages," Mick Goulding wrote at the e-mail loop we both frequent. "I couldn't believe we would hold out for the whole of the second half, but as it went on we got stronger and the crowd was whipping itself up into a frenzy, once it became clear that we could actually do it. Not good for your nerves sitting there realising on about 60 minutes that we will be clinging on for the rest of the game."

In fact, it was not hard to see why Man City, this season, have struggled a little away from home. Of course, Manuel Pellegrini's expensive stars made repeated forward forays. But there always seemed a lack of final thrust; Brown was ably assisted by John O'Shea, Bardsley and Ondrej Celustka in repelling most attacks with headers and blocks. Often enough, it led to viable counter-breaks.

If Poyet can preserve the spirit of this notable victory, and maintain discipline, the year could yet end with Sunderland out of the bottom three and aiming for what seemed implausible even a week ago: a midtable finish.