Wanted -- as Sunderland face Man City, a Bent or Ji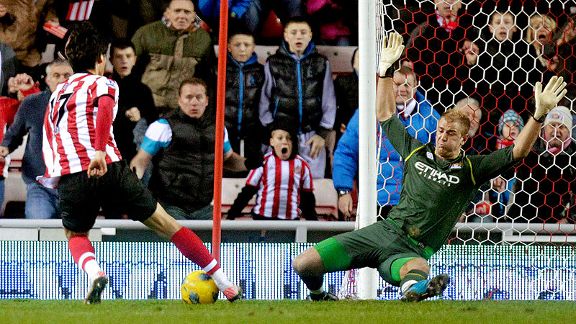 Graham Stuart/AFP/Getty ImagesJi Dong-Won was Sunderland's hero in last season's win over Manchester City.
Not even Manchester City supporters forget the last meaningful moment of their game at Sunderland on New Year's Day 2012.

Buoyed by an unburst new manager bubble, Sunderland made light of the illnesses and injuries that had limited Martin O'Neill's selection options in an uneven contest against the champions-to-be, defending stoutly under heavy pressure. And in the dying seconds, Seb Larsson fed Stephane Sessegnon who pushed the ball into the path of Ji Dong-won who -- admittedly offside -- danced round Joe Hart to win the game.

But the fixture produced the same result one season later, just as it had one season before with Darren Bent and Adam Johnson respectively the scorers in 2010 and on Boxing Day 2012. "It just seems to be written in the stars that we can't beat you, and will generally hit the post about 1,000 times," said Louis Baxter, a City fan interviewed at Salut! Sunderland this week.

If three wins at home to Man City in three successive seasons can be seen as straining belief, a fourth may safely be said to inhabit its own world of fantasy. The laws of averages and logic would make that the case even if City had not just walloped both Norwich City in the Premier League and CSKA Moscow in the Champions League and even if Sunderland were not currently in second-bottom position.

But the modest sides fielded by Steve Bruce and, twice, by O'Neill showed that passion, commitment and, undeniably, a stroke of luck can sometimes combine to confound natural expectation. A solid Sunderland performance, an off-day for City and perhaps some uncommon advantage from debatable refereeing decisions could once again produce a surprise home win.

Sunderland's defeat of a weakened Southampton team in the Capital One Cup on Wednesday is no true guide to what will happen at the Stadium of Light on Sunday afternoon. Nor will the outcome be determined by lingering feelgood boost of the Wear-Tyne derby victory over Newcastle United or the gloom that followed suicidal defeat at Hull six days later.

The test will be relatively simple: can Sunderland's mixture of experience, workmanlike endeavour and occasional spark somehow triumph over the artistry and menace of a team assembled without need to consider grubby concerns about cost? It was no more impossible a mission than in those preceding three games, when the rational prediction would have been for an away victory in each case.

At least avoiding defeat, if of limited immediate use in the effort to pull clear of the relegation zone, would set up Gus Poyet's team for the next two games, both away but figuring beyond serious doubt -- since they are at Aston Villa and Stoke -- among those to be considered winnable.

There are pessimists among the Sunderland following who have already resigned themselves to life in the Championship. "Would we prefer to win the league cup or Premiership survival?" someone asked in an e-mail forum the morning after Sunderland reached the Capital One Cup quarterfinals. "I'm pretty sure both is too much to ask. I'm also pretty sure Chelski will batter us [in the next round], but not to worry. Me? I'll take the cup. I've already relegated us in my head anyway."

I have stated on these pages that I, too, regard relegation as probable. Poyet seems to have good ideas, and two wins in four games in charge of a squad chosen by others is not a bad early return. I just worry about the impact, on confidence as well as the points tally, of all those home games against the obvious top six contenders. The story so far is Played Three, Lost Three. After City, Chelsea and Tottenham Hotspur complete the run before the visit of Norwich City presents the nearest thing to a home banker.

But if Norwich arrive at the Stadium of Light with Sunderland rooted at the bottom, eight or 10 points adrift of a position outside the drop area and team spirit in pieces, even that game becomes tricky. The same judgement would apply to the supposedly easy games to come. The Hulls, Stokes, Palaces and Cardiffs all take on the appearance of giants if Sunderland backs are pressed firmly against the wall.

And that, Mr Poyet and Messrs O'Shea, Fletcher, Altidore and Colback, is why an odds-defying performance on Sunday is so vital against a club that, with the indulgence of Sheikh Mansour bin Zayed, has reportedly spent more than a billion pounds on buying success. Perhaps Adam Johnson, not on that short list of mine but likely to be involved in the game, can once again rise above the disappointment of his patchy Sunderland form and inflict another flesh wound on his former employers.