Welcome relief, or doing well in the wrong competition?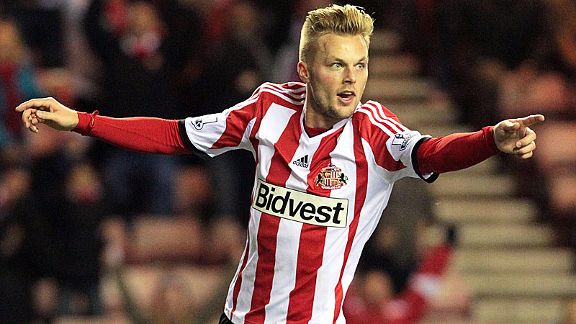 GettyImagesSebastian Larsson celebrates after his goal ensured Sunderland made it through to the Capital One Cup quarterfinals
In the sort of season Sunderland are having, any win is seen as an important morale boost. When a victory brings progress into the quarterfinals of the league cup, the feelings are necessarily mixed.

Too many clubs at the wrong end of the Premier League have found lengthy cup runs a dangerous distraction. Wigan supporters will never forget their day of glory at Wembley last season, but I would be willing to bet a good number of them would have cheerfully gone without if only top-flight status could have been preserved.

If I denied that I would currently settle for top-half comfort and no further interest in the Capital One Cup, chortles of disbelief would spread from Wearside to Western Australia, and they would be justified.

The notion that Sunderland are doing well in the wrong competition is mitigated by two factors: the hope that the pleasure of winning will sweep like wildfire through Guy Poyet's squad, raising confidence for tough games in the Premier, and the genuine sense of anticipation that the approach of a Wembley final inevitably inspires.

To make further progress, there is the small matter of a fifth-round tie at home to Chelsea, who were easing convincingly past Schalke in the Champions League on Wednesday night as Sunderland produced a neat enough second-half performance to beat Southampton 2-1 at the Stadium of Light.

Twenty-one years ago, Sunderland also entertained Chelsea in a quarterfinal tie, an FA Cup replay at the adorably decrepit old Roker Park. Malcolm Crosby was still only the caretaker manager following the dismissal of Denis Smith. Sunderland were 16th in the old Second Division, Chelsea heading for a lower midtable finish in the top flight. A powerhouse header from Gordon Armstrong gave Sunderland a 2-1 victory and the run proceeded to Wembley and runners-up medals as Liverpool ended the fairytale.

A penny for Poyet's innermost thoughts? Even that would surely be an extravagant outlay to determine which of the two home games against Chelsea, within a fortnight of each other in December, he more passionately wants Sunderland to win. Sunderland's owner, Ellis Short, appointed him to keep the team up, not to win the league cup. Win both games by all means, but the greater importance rests with the need for three points on Dec. 4.

Other supporters appear to agree with me. With fewer than 16,000 in the stands, the Stadium of Light takes on a deserted look. It was a pathetic attendance for any first-team game, all the more so given the bait that a win would take Sunderland to within two games of a place in the final.

A part was played by the inexcusably crass handling of matchday arrangements by the authorities, from Northumbria Police to the club's safety advisory group, that led to the fixture being "confirmed" for Oct. 30 only to be changed -- without the least consideration for fans making non-flexible plans for travel and accommodation -- to avoid a clash with Newcastle's home tie on the same evening. Nothing had altered in the 10 days between first decision and about-turn; the police had always argued against playing the game on the original date.

But that alone does not explain so paltry a turnout. It is easy for me to say that if I still lived in the North-East, I would have been there. I do not, and never seriously contemplated a 550-mile midweek round trip. There was no mainstream television coverage but thousands of others did not even consider it worth a quick hop on the bus for Gus.

Like me, many will have found a way to accompany the local radio commentary helpfully provided by the official club site. They will have seen or heard a first half described by Gary Bennett, who played in that 1992 FA Cup final, as "like watching paint dry." Things improved enormously after the interval, with Phil Bardsley forcing home a rebound after Wes Brown's intelligent headed pass from Adam Johnson's free kick had set up a chance for Jozy Altidore, whose header was parried by Kelvin Davis in the Southampton goal.

The second goal was better. Altidore's inch-perfect pass put Seb Larsson through and the Swedish international finished coolly. There was still time for that Sunderland specialty, a feebly defended set piece, to allow Southampton hope of snatching an equaliser, but there were surprisingly few nervous moments before the final whistle.

A different proposition awaits Poyet's team on Sunday afternoon. Manchester City, seven-goal destroyers of Norwich City at the weekend, are the visitors. Norwich were unbelievably poor, but Sunderland have not been so much better at times this season. When the game starts, thoughts of league cup glory will be banished, a proper-sized crowd is sure to be in place and a sensational, or sensationally fortunate, performance from Sunderland must follow if the outcome is to be an improbable fourth successive home win against City.