Is Poyet's pride misplaced after woeful indiscipline in Hull defeat?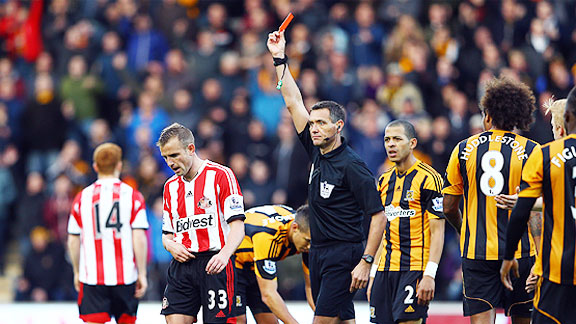 Matthew Lewis/Getty ImagesLee Cattermole received the first of two Sunderland red cards against Hull City.
So, was Sunderland's victory over Newcastle United a mere blip in an otherwise relentless downward charge to the Championship?

The question was on at least some lips at halftime in the latest defeat, this time a 1-0 final against Hull City. It was precisely the sort of game, with great respect to Steve Bruce and his achievements there, from which one point should be considered the minimum requirement. Forget, for now, the top six candidates littering Sunderland's early fixtures list; Sunderland have also played two of the newly promoted teams, and lost each time.

- Report: Hull City 1-0 Sunderland

Halftime came late. Had it arrived without any stoppage time, Sunderland would have gone in for the break only one goal down despite an abysmal performance. And they had even scored that one for the home side, Carlos Cuellar heading into his own net under pressure.

As it was, the lengthy stoppage for treatment to the injured Keiren Westwood, before he went off to be replaced in Sunderland's goal by Vito Mannone, allowed Lee Cattermole and Andre Dossena ample time to get themselves sent off. Logic dictated that my minimum expectation of a point from the game had become a frankly impossible task by the time the whistle went for the interval.

It matters little that the referee was Andre Marriner, whose track record in Sunderland games includes several rotten decisions, among them a dismissal of Michael Turner at Manchester City in 2009 that was so harsh even Marriner's mother was reported to have told him off.

Both sendings-off on Saturday resulted from poor challenges on former Sunderland players, and the only serious debate is whether Cattermole's foul on Ahmed Elmohamady might have been more of a yellow card offence than red. No such defence can be offered for Andre Dossena's ugly assault, minutes later, on David Meyler.

The two bosses divided on predictable lines. Bruce thought Cattermole did what players can no longer get away with, and deserved to go. Sunderland head coach Gus Poyet's disagreed: "I'm convinced he didn't deserve the red card. I think sometimes people see Lee Cattermole make a challenge and it is not allowed because people put things in the minds of other people. We need to be fair to him."

But the fact remains than the midfielder knows better than anyone that it is his atrocious record of indiscipline that makes him a marked man for card-happy officials. Hasn't he been telling us that he is a changed man who has learned from past errors? Yet not for the first time in this game, he surrendered possession and committed his foul as a reaction to his own frustration. "Poor touch, gives the ball away, rush of blood to win it back, terrible tackle" was the verdict of one supporter and he supports Sunderland, not Hull.

Marriner's failure to send off Hull's Robbie Brady for a lunge at Adam Johnson every bit as bad as Cattermole's showed spectacular inconsistency, but it happened very late and I cannot say reducing Hull's numerical advantage then would have had any impact on the outcome.

Defeat leaves Poyet back where he seemed to be before the Wear-Tyne derby. That 2-1 win over Newcastle not only lifted Sunderland off the bottom, but briefly raised spirits among fans who, it must be said, were magnificent in their encouragement at Hull. I ought to exclude from praise those who left, disgusted, at halftime; it is a gesture I understand but have never made, though temptation has presented itself on countless occasions.

But those who saw it out were at least given a heartening second half in which Sunderland were close once or twice to producing an equaliser and Hull City were bizarrely reduced to time-wasting against nine men as the final whistle approached. The depleted team had made a much better job of matching Hull than the 11 who started.

But one win and one draw from 10 Premier League games is undeniably the stuff of relegation. Worse, it is the stuff of relegation at some distance from safety. Sunderland's season currently threatens to yield fewer points than the 11 Derby County mustered in 2008. And guess whose record Derby had to beat to establish themselves as the worst side in top flight history? If your answer was Sunderland, you were right -- not just once but twice ending seasons with record lows, 19 in 2003 and 15 three years later.

And yet the Uruguayan left the KC stadium declaring himself a man full of pride in defeat. For that second-half fightback, fruitless as it was, represented in his words "tactically the best 45 minutes we've played this season by far".

In his post-match e-mail to supporters, Poyet added: "On another day maybe we would have left the stadium with a point. The things that we did with only nine men on the pitch were incredible -- there was an unbelievable level on concentration from the players, as well as belief... three weeks ago [in the 4-0 defeat at Swansea] we were weak and we collapsed. Maybe you can't compare the two games, but today I am a proud man."

Leaving aside that pride, however, Poyet came away with no points, just damage limitation. Yet another defeat, and against opposition that will probably struggle in the second half of the season, makes survival look bleakly improbable.