Poyet's task at Hull is to deny Bruce his revenge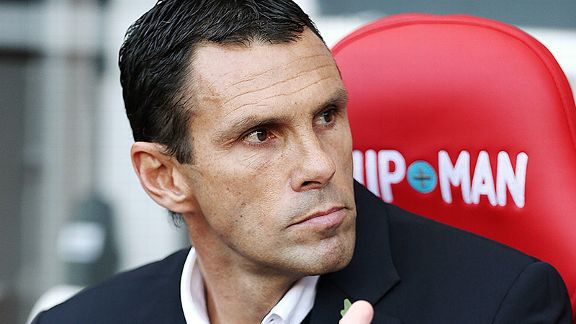 Ian Macnicol/AFP/Getty ImagesNew Sunderland boss Gus Poyet hopes to make it two wins in a row on Saturday at Hull.
Without wishing to reopen old wounds about Senator Joe McCarthy's approach to freedom of thought and expression, there is one question I would never dream of asking a prospective employee of Sunderland football club.

"Are you now, or have you ever been, a supporter of Newcastle United?"

There are Sunderland fans who would disagree, but I do not believe tribalism of that depth brings great credit on them or their club. At its more benign level, the North-eastern rivalry has much entertainment value. But the only matters of concern when a new player or manager/head coach arrives at the Stadium of Light should be whether he is the best man for the job and will perform with professionalism to the best of his abilities.

- Report: Vaughan joins Forest on loan

So I could not have cared less about Steve Bruce's undisguised allegiance to Newcastle United when he became manager of Sunderland in June 2009. Any disappointment I felt related to the aforementioned concerns; I considered the choice unimaginative and was sceptical about his ability to move the club significantly forward.

But Bruce has said publicly that the Sunderland crowd turned on him because of his Magpie roots. And that is why he probably approaches Saturday's game between his present club, Hull City, and his old one with uncommon strength of feeling. I would go as far as to say that other than matches affecting promotion, survival or the destination of cup silverware, there can be few he would be more keen to win.

His stay at Sunderland was shortish but, at 30 months, resembled a lifetime career when compared with Paolo Di Canio's whirlwind stay, only 13 games and less than half a year, or even Martin O'Neill's 16 months. And on the basis of his only two full seasons, Bruce did not do so badly: ultimately comfortable safety at 13th in 2010 despite a winless run of 14 games, and meeting owner Ellis Short's target a year later with a creditable 10th.

He also led Sunderland to what many neutrals saw as the finest Premier League away performance of the 2010-2011 season, the 3-0 demolition of Chelsea at Stamford Bridge.

But the team was in 16th position, playing abysmally and looking a lot like relegation candidates when Short lost patience at the end of November in the following season and fired Bruce after a calamitous 2-1 home defeat to his previous club, Wigan Athletic. Crucially, after a moderately encouraging opening-day draw at Anfield, the first home fixture had been a local disaster, a Ryan Taylor free kick giving victory to none other than Newcastle. Some Sunderland fans, probably a small minority, were already hostile to Agent Bruce, as he was known to Newcastle wags; more saw derby day failure as good enough reason to want him out.

How Sunderland supporters would settle for 16th just now.

Despite the rousing triumph in the most recent edition of the Wear-Tyne derby, on Sunday, even a follow-up win at Hull would not push Gus Poyet's side out of the bottom three. And next up, after a midweek league cup game against Mauricio Pochettino's impressive Southampton, will be title contenders Manchester City at home.

Hull supporters, when not moaning about their owner Assem Allam's plans to rebrand the club, hideously, as Hull City Tigers, are upbeat about Bruce's achievements at the KC Stadium.

Ian Waterson, editor of the City Independent fanzine and my own Hull interviewee at Salut! Sunderland in the buildup to Saturday's game, is a confirmed admirer.

"What better manager could Hull City fans have expected after the sacking of home town hero Nick Barmby?" he asked when invited to assess Bruce.

"... bringing in Steve Bruce demonstrated genuine intent. Not only to get out of the Championship with a manager holding a proven track record of doing it, but also how to stay in the Premier League once you get there."

What is more, in the promotion campaign and with this season's bright start, Bruce has done as Tony Pulis did at Stoke and turned players who were out of favour at Sunderland into capable Premier League performers. Think Ahmed Elmohamady, perhaps still not quite the "Egyptian Beckham" he has been called, but "our player of last season", says Waterson. Or Paul McShane, a blundering liability in Sunderland's defence, unrecognisable now and a "cult hero in the stands".

Against that, Bruce took his fellow-Magpie Danny Graham on loan to the immense relief of Wearsiders and he still cannot score. But he also spotted the potential of David Meyler, popular but under-used at Sunderland, and snatched Tom Huddlestone from Spurs for five million pounds, reportedly from under Di Canio's nose, as one of the bargain buys of the summer transfer market.

Some would remind Bruce's fans on Humberside that each full season at Sunderland included a disturbing slump after Christmas. Newly promoted sides traditionally struggle more in the second half of their first season in the top flight as injuries and suspensions limit resources and wiser opposition heads work out how to contain their enthusiasm.

But I cannot help feeling that Bruce's record stands up well to that of any other Sunderland manager or head coach since Peter Reid. To the cry that he "got lucky" with end-of-season results elsewhere to secure that 10th top finish in 2011, I ask whether detractors would have shown sympathy and understanding had he "got unlucky" and ended up three or four places lower.

Every Sunderland supporter wishes the club had made as useful a start to the season as Hull, though it is doubtful whether many would want Bruce back. I was surprised he bounced back from a wounding dismissal to win promotion elsewhere at the first attempt, but there is nothing grudging about the recognition I give him now.

For all the extra confidence Poyet's players gained from that important first win of the season against Newcastle, the Uruguyan knows Hull's squad will have taken heart from two spirited, if losing performances at White Hart Lane in four days. And he will have his work cut out in steeling them for the task of preventing Bruce's men doing their own master's bidding and handing him the sweetest of vengeance.