The forgotten men of Sunderland handing Poyet his lifeline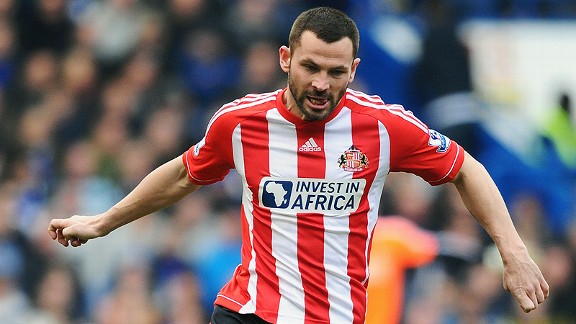 Mike Hewitt/Getty ImagesPhil Bardsley went from defensive hero to persona non grata at Sunderland.
When a new leader parachutes into a club in trouble, he inevitably has to work with players he did not choose and may not rate. In the case of Gus Poyet, there was also the small matter of deciding what to do with players his predecessor as Sunderland head coach had fallen out with.

Two of the three known targets of Paolo Di Canio's displeasure started the game against Newcastle United and put in reasonable performances until both were substituted in the second half. Since the game was won, lifting Sunderland from the bottom of the Premier League, Poyet can consider both his selection and his subsequent actions to have been vindicated.

- Randall: Sunderland finally in business

In the close season, neither Lee Cattermole nor Phil Bardsley seemed to have any future at Sunderland. PDC clearly regarded the former as injury-prone and a disciplinary liability; his feelings about Bardsley, after two pieces of off-the-field idiocy (photographed in a casino covered in £50 notes, then mocking the club's opening day defeat in an Instagram message), were openly contemptuous.

There was plenty of speculation that both players were on their way out. But if there was interest in Cattermole, it led nowhere. As for Bardsley, an injury while playing for the Under 21s made him impossible to offload.

Opinions remain divided on both players.

One unforgiving fan tweeted on Sunday night that Bardsley was a "a disgrace and shouldn't be wearing our shirt." This was actually a response to my own comment recognising his technical limitations but applauding his effort: "Not cultured but all heart, played his part."

It should not be forgotten that the Sunderland Supporters' Association voted him player of the season for 2010-2011. And the derby victory left another of Bardsley's stern critics in rather more mellow mood: "Very disappointed to see him playing again but he just kept his head down and a did a job pretty well."

Cattermole's record of bookings and sendings-off is shocking, or at least it was. If I have totted up the season-by-season statistics correctly, he played 87 games in all competitions between his arrival in August 2009 and the early end, through injury, to his involvement in last season, collecting 34 yellow and five red cards.

But this season, after one outing under PDC (the former coach's last game being being fired) and three during Kevin Ball's caretaker managership, Poyet is completing the process of bringing him in from the cold. And there has not been a single card in six appearances. I say that at the risk of ensuring he is ordered off at Hull on Saturday. But if the improvement can be maintained and he fully re-establishes himself in the first team, here is a player in whose presence others tend to raise their own games. Many Sunderland supporters have long argued that the team invariably plays better when he is in it.

By the time they left the field within a few minutes of each other in the Wear-Tyne derby, both had put in useful shifts. The changes were wise. Bardsley had begun to struggle, possibly with cramp, while Poyet, though pleased with Cattermole's contribution, opted for the introduction of Ki Sung-yueng as an aid to creativity as Sunderland chased a winner.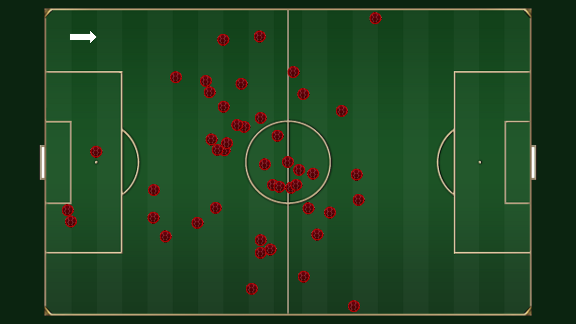 Other / ESPN StatsLee Catermole's key touches for Sunderland v Newcastle.
Despite that tactical switch, and unlike PDC, the Uruguayan sees a vital role at the club for Cattermole. "I am sure we are going to make Lee a much better player than what people think," he said after the game. "And that tells you how important he is for the football club."

But Bardsley and Cattermole were not the only forgotten men at the Stadium of Light under PDC. Still to emerge from his own isolation is Cabral, a man with Champions League and Europa League experience and initially seen by Di Canio as one of the most significant of his summer recruits.

After impressing in pre-season and the first Premier League game, he has disappeared from contention. PDC implied he was indifferent in training and said he needed players with "bit more fire, more high-tempo and physical presence".

The problem appears to be deeper than a PDC whim. Ball also overlooked Cabral and Poyet has so far remained silent on the issue, though he did include him among senior players chosen for a recent Under 21s game.

The head coach was in Swansea that day, experiencing a miserable debut as his team were beaten 4-0, but Pete Sixsmith, my colleague on these pages and at Salut! Sunderland, joined 500 or so other souls to watch the game.
And his report was far from glowing. Cabral had "strolled around the empty Stadium, making the odd tackle and completing the odd pass ... he must have thought wistfully of his exploits in the Champions League".

Steven Fletcher, whose early goal set Sunderland on the road to victory on Sunday, said in a pre-match interview that one of the problems with Di Canio's regime was that he "didn't want us to smile and laugh in training". If Poyet wants another of the Italian's exiles to join the battle for survival, he might do worse than find a way of bringing a grin to Cabral's face.