Sunderland finally in business as Borini sees off Newcastle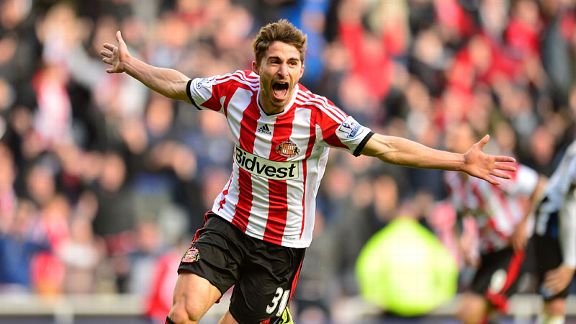 PA PhotosFabio Borini celebrates his stunning late winner for Sunderland.
The manner of victory was not what mattered. Any kind of win would have done nicely. Defeat, probably expected by most neutrals, was hardly something even Sunderland die-hards could rule out as impossible, even if it was not an outcome that bore thinking about.

And victory duly came: Sunderland 2, Newcastle United 1.

No one underestimated the importance of gaining the points that would take Gus Poyet's team off the bottom of the Premier League. That he achieved that outcome against the old enemy, the fiercest of rivals from 12 miles inland from the rainy, windswept coast, added a generous helping of icing to the cake.

- Ryder: Toon outfought in derby
- Borini hopes derby win sparks revival

Just as Paolo Di Canio had marked his short, turbulent reign with a win against the Magpies in his second game in charge, so Poyet was able to follow deeply disappointing defeat in his first match with a triumph over the same rivals.

For some in the North East, the significance of bragging rights outweighs all other factors. I heard a few Sunderland supporters say after last season's 3-0 win at St James' Park that they could just about stomach going down all the same; I didn't really believe them, but it gives detached observers of these astonishingly tense and bitter derbies an idea of the emotions they generate.

And the manner of the victory? In the event, the game was won with the classiest of finishes, from Fabio Borini, on the field because Poyet had got his second-half substitutions right.

Steven Fletcher, scorer of the goal that had given Sunderland an early lead, was slightly fortunate not to forfeit possession with a quickly taken free kick on the right touchline but the ball was worked through to Jozy Altidore - voted man of the match for his tireless work and intelligent layoffs - whose elegant first touch set up Borini for a wonderful curling shot from the edge of the penalty area.

United were entitled to feel they had done enough to claim a draw. Adam Johnson, hero of the Fletcher opener with an exquisite cross that led to the Scottish striker's powerful climb and header, looked blankly on as Mathieu Debuchy sprinted forward at the far post to slide home a low cross. Beforehand and afterwards, Alan Pardew's team passed and held the ball better, though without creating clearcut chances. But Sunderland heads did not go down, as so often happens when they concede a goal, and a Newcastle winner would have been monstrously cruel.

Indeed, the equaliser had come soon after a couple of poor decisions by referee Lee Probert, the first of which deprived Sunderland of a free kick in a highly dangerous position just outside the area when the clumsy, accident-prone Paul Dummett upended Altidore to prevent an excellent chance of doubling the lead. The referee instead allowed slim advantage as the ball ran to the left for a much less obvious opportunity.

Then he gave a free kick to United when Jack Colback appeared to have been fouled. But it was lack of concentration rather than bad refereeing that gave Debuchy his leveller. I had told myself in the first half that Sunderland were likely to be pegged back and have to do it again, and this proved the case. To have accomplished the "do it again" part of that scenario in style adds to the huge sense of satisfaction.

There were no Armani-clad kneecaps sliding along the touchline, PDC fashion, as Poyet celebrated the Borini goal with enthusiasm and relief, but no theatrics. And even after a massive win, he is certain to be fully aware of how much Sunderland have yet do to pull clear of trouble. It scarcely helps to point out that these three points puts his team closer to safety than Manchester United currently are to the top slot they regard as theirs of right.

He will be concerned, too, that the best performance of the season was nearly undone by that lingering inability to keep going for the whole 90 minutes. The periods when Newcastle were allowed far too much possession would have been more damaging had the visitors' vaunted strike force been less ineffectual.

But flawed as the overall display was, the job was done and most of the 46,000 crowd were sent home deliriously happy, as if a Champions League place, and not just a glimmer of light at the end of the tunnel, had just been secured.

I do not suppose there was a papal hand in it. The Sunderland club chaplain, Father Marc Lyden-Smith, had appealed during a Vatican visit for whatever divine intervention Pope Francis felt able to arrange, but had to make do with a diplomatic promise of prayers "for all the players in the Premier League to reach their potential".

But having done it for themselves, Poyet's men have now a duty to maintain the momentum at Hull City next weekend and in the difficult home games against Manchester City, Spurs and Chelsea between now and December 7.