Message to Sunderland, Newcastle fans: be tribal but be decent
Gus Poyet may not like being told, as he must have been on more than one occasion over the past week or so, of the coincidence of his second game in charge of Sunderland being a hothouse of a local derby against Newcastle United. Just like his predecessor, Paolo Di Canio.

PDC took his relegation-threatened team into action on April 14, in urgent need of a win after experiencing defeat on his debut. Poyet likewise.

There the similarities end. If Di Canio's need was urgent, the Uruguyan's is desperate. The respective first-game defeats could not have been more different: a slightly unfortunate loss to a late Gareth Bale corker at White Hart Lane last season, a lamentable second-half collapse in the 4-0 pasting at the Liberty last weekend.

-Poyet geared up for derby
-Fan jailed for punching horse

The form book suggests another torrid afternoon for Sunderland, this time at the Stadium of Light on Sunday. Newcastle United, having started the season in apparent disarray, enjoy mid-table comfort whereas Sunderland are propping up the Premier League, already widely written off as relegation certainties. Supporters have stopped wondering where a win might come from; they can no longer be sure of losing, home or away, by less than an embarrassing margin.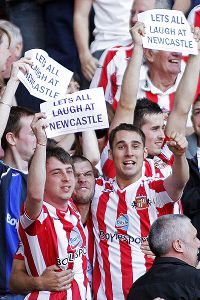 Graham Stuart/AFP/Getty ImagesSunderland fans 'celebrate' Newcastle's relegation in 2009. The tables might be turned next spring; in the meantime, supporters for both sides are being asked to not to engage in the bad behaviour seen at recent renewals of the rivalry.
But does the form book matter in the special atmosphere of one of the world's most intense and bitterly contested football derbies? A Sunderland-supporting blogger, Jon Adamson, set himself the anorakish task of ploughing through the records for all Wear-Tyne encounters, and vice versa, since the Second World War.

Inching his way around a maze of percentages and proportions, he found, among other things, that Sunderland had won more games at St James' Park than at home when the Magpies were, as now, ahead in the league.

He was philosophical about the extent to which history served as a reliable guide to the result of any game, but said that if the records pointed anywhere, it was towards a draw. Accordingly, he added, Sunderland should ask for the match to be switched to Newcastle.

I feel unable to make any sensible prediction. I would never have forecast a 3-0 win for Sunderland at St James' Park in PDC's second game, and have little idea what to expect from Poyet's men now.

Sunderland have played moderately well for short periods of some of the seven games they have lost. They have some, though demonstrably not enough, quality in the side, including Emanuele Giaccherini and Steven Fletcher. They are woeful in midfield and at the back and could not defend a corner if life depended on it.

Newcastle United have so far been significantly better without seriously impressing many beyond Tyneside. They also have defensive frailties but seem stronger than Sunderland throughout the squad. Kevin Miles, Newcastle-supporting chief executive of the Football Supporters' Association, said in his Salut! Sunderland interview from the enemy camp: "A midfield with Cabaye, Tiote, Sissoko, Ben Arfa and Gouffran is full of potential, and Remy looks a class act, always dangerous." I would struggle to offer half as many names Alan Pardew should to be wary of.

In reality, the final score could confound expectations, which necessarily means a home win of any kind, or be a less surprising away romp. Or it could depend on a disputed sending-off or penalty. Sunday's referee, Lee Probert, awarded one of each, red card and penalty – though entirely undisputed – the last time he officiated in a Sunderland game, both decisions arising from the same incident at Crystal Palace.

My hopes for the outcome are obvious enough to require no specific statement, except in one respect.

In a Daily Mirror article containing a depressing amount of truth, Steve Bird wrote of the ugly side of the mighty contest a Wear-Tyne derby ought to be: "Grown men won't be trusted to go anywhere near other grown men who live a few miles up the road, but happen to follow a team with a red stripe, rather than a black one. Puffed up chests, and thuggish abuse will be sprayed around on both sides."

Those grown but immature men will ignore my advice to take heed of Kevin Miles' equally wise words.

Praising non-violent tribalism and even scathing humour as conducive to a great stadium atmosphere, he added: "Some of the stuff the last few years as been way over the top, and it's on both sides.

"Singing about wishing Steven Taylor was dead was over the top for me; likewise, the idea of Jimmy Savile being Lee Cattermole's dad wasn't just in bad taste, it was witless and unfunny. And when it turns into violence for the sake of it: no thanks. I personally was less ashamed of one man punching a horse than I was at the hundreds of daft, drunk kids who hadn't even been to the match pouring out of pubs to look for Mackems. Not a lot of class there, and it's as bad on Wearside."

Is it too much to hope that this season's North East derbies are clashes only in the footballing sense, not least because Sunderland's predicament means they may be the last such games for a while?