Time for Sunderland players to learn the value of silence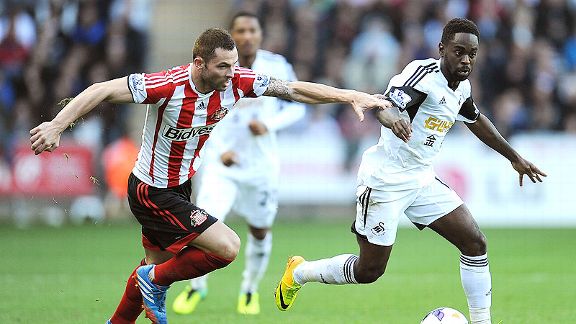 Tom Dulat/Getty ImagesPhil Bardsley was one of many Sunderland players to have a rough outing last Saturday vs. Swansea.
Every football reporter covering a professional club for an audience hungry for news is likely to relish encounters with such an approachable chap as Craig Gardner.

A sometime thankless duty, not unlike extracting blood from stone, must seem a lot easier when the Sunderland midfielder is around. He's always ready with a quote on which to hang the day's story from the training ground.

So, a day or two ahead of the mauling by Swansea City at the Liberty stadium on Saturday, Gardner piped up with a couple of serviceable sound-bites.

- Report: Poyet wants Black Cats character

Confidence, he assured us, was now sky-high after two defeats -- very well, pluckyish defeats -- at home to Liverpool and Manchester United. Kevin Ball's caretaker stint had "got us going again"; Gus Poyet, the new head coach, "has carried that on ... the lads are right behind him". The same lads, he knew, just couldn't wait to get on the pitch at Swansea and show what they could do.

And Phil Bardsley, back in the first-team squad after his off-the-field indiscretions, was "a class act" who deserved his "second chance".

We all know what became of the lads' resolve to show what they could do, collapsing like loosely upright playing cards after a moderately encouraging first half. Bardsley's way of repaying Poyet for his second chance was to pick up a very early booking, miss a sitter and score an own goal. Gardner, of course, was no better; he cheaply surrender possession which led to a corner and the first goal, failed to close down Jonathan de Guzman for the second and oafishly conceded yet another penalty -- fast becoming his speciality -- for the third.

So what have the lads had to say since that embarrassing performance which was enough to drive many Sunderland fans out of the ground long before the final whistle? Lee Cattermole, one of no more than four players -- Keiren Westwood in goal, Emanuele Giachherini and Steven Fletcher being the others -- to emerge with scraps of credit from the debacle, declares at the club site: "We need to keep going -- I believe it can turn and I'm sure the other players do, if they don't they better start believing."

John O'Shea, club captain, chips in with: "The manager has come in and we have to show him why he wanted to take this job and how we can get out of this position. There's no better way of doing that than against Newcastle. We have to make sure we keep our heads up. They go down too easily at the minute."

Most of these snippets are a mixture of meaningless babble and statements of the obvious. We could all live without them. I have no wish to see the jobs of my media confreres and consoeurs made even harder but, as a supporter, I really have come to wish the players could bring themselves to button their lips. It is quite bad enough having to follow their abysmal efforts on the field without also seeing their cheery, self-serving bons mots popping up all over the internet and in the newspapers.

It would probably work as a viable policy for players of any club in trouble. No one I know among supporters of Sunderland, already gloomily contemplating life below stairs after a run of seven seasons up in the parlour, actually wants to know what excessively paid and dismally under-achieving players think, or appear to think, about the crisis.

Some players, not previously familiar with the North East, may be finding out in their daily lives what impact their woeful football has on the ordinary lives of people they meet on the street, in the shops. Players who have been at Sunderland or Newcastle have been known to say it can be tough to put up with a goldfish bowl existence, especially when things are going badly, in a region where the game means so much.

I could offer lazy thoughts of my own on the importance of beating Newcastle at home on Sunday, the need for men to stand up with heads high, hearts full of pride and passion. Instead, I will restrict myself to the suggestion that players could do a lot worse than become, for the time being, publicly uncommunicative. Reporters have thick skins; they'll get over it.

In February 2012, Niall Quinn, a rare contemporary hero for Sunderland supporters, finally left the club he had served as player, manager (a mercifully short reign), chairman and director of international development, with these parting words: "Everything is in place for Sunderland to really make a statement, which was always my aim."

In the absence of any "statement" of the sort Quinn had in mind, part of the way forward could usefully involve allowing Poyet to talk all he wishes to the media, which is part of his job, while every member of his squad is encouraged to discover the eloquence of silent endeavour.