From Saint-Tropez to Swansea to share Poyet's nightmare start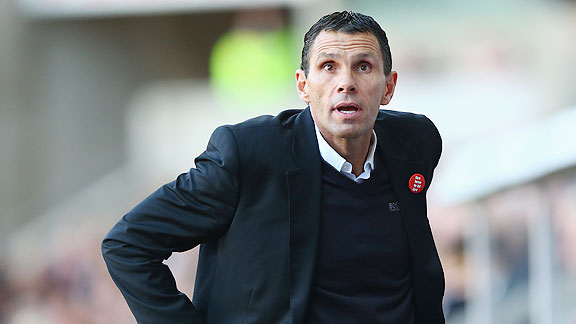 Michael Steele/Getty ImagesNew Sunderland boss Gus Poyet had his debut spoiled in a 4-0 defeat at Swansea.
Welcome to our world, Gus, one in which a scoreline reading Swansea City 4 Sunderland 0 seems more plausible than freakish.

It is a world inhabited by people, supporters of Sunderland AFC, given to fruitless journeys, long (most away games and, for exiles, the home games too) and short.

In the well-filled visitors' section at Swansea's Liberty Stadium, there were fans down from the far North East, members of supporters' club branches in London, the Heart of England and Greater Manchester. Others had travelled even greater distances; my own itinerary had started in Saint-Tropez, give or take 20 miles, and I dare say I was not the only Sunderland fan present who spends a lot of time overseas.

- Hicks: Swans finally open up at Liberty

Hibernating in Britain is perhaps a strange choice. The explanation covers a number of factors that do not need to be discussed here but football, it has to be said, is another. Getting the chance to see one's team in stadiums is always preferable to following stop-start internet streams or radio commentary.

So it came to pass that Gus Poyet and I made our Sunderland debuts of the season at the same game. The skies in South Wales were as blue as those in the south of France ought to have been, but were not, when I began my slog north earlier in the week. Everything else was against me.

No one began the day in any doubt that Poyet had assumed charge of a team staring relegation in the face, however early in the season it may seem to be so despondent. I was not among those expecting his arrival to act as an instantly operational magic wand.

Let us dismiss the matters for which the new head coach bears no responsibility. It is not his fault that he has inherited, from the varied transfer dealings of Steve Bruce, Martin O'Neill and Paolo Di Canio, a ragbag of a squad with quality gaps in nearly every position. He cannot be blamed for the timing of the international break, which limited his contact with several senior players in his first 11 days at the club. And he naturally had no apologies to make for an atrocious start to the season that, even before Saturday's second-half surrender at Swansea, had brought just one draw from seven games.

Now let's see where he, too, has questions to answer. The selection of Phil Bardsley was mystifying, as was Poyet's decision to pull off Sunderland's most effective player, Emanuele Giaccherini after Swansea scored twice in a minute early in the second half. Perhaps he was tiring but, just before the home side opened the scoring, Giaccherini had created the chance that should have resulted in Sunderland taking the lead.

And that missed opportunity is a reminder that the sight of Bardsley starting again, after his period of exclusion following not one, but two immature shows of off-the-field indiscipline, was not one for sore eyes.

Bardsley is a trier but has severe limitations as a player that, for many supporters, should present greater obstacles to his selection than the irritation caused by a crass night-club prank or idiotic tweet.

Those wondering whether he could possibly be fully match-fit, after an injury layoff to add to banishment to the reserves, had their doubts vindicated within minutes at Swansea when he was booked for a hopelessly late and reckless challenge. The miss after Giaccherini's promising run on the right was his; he ballooned over from a glorious, unmarked, must-score position. And then a corner kick at the other end found a way off his backside into the Sunderland goal. Should he not at that very moment have been on the goal-line at the near post?

Sad to relate, Bardsley's unconverted sitter was quickly followed by examples of Swansea cutting open the Sunderland defence even before the first goal went in. By the end of the game, after yet another example of Craig Gardner's now obligatory penalty box rashness conceded the penalty that put the outcome beyond lingering doubt, Sunderland had been humiliated; at times, in the closing minutes, they even appeared to be playing for time.

And for all that, it might have been so different. The first half was even, with a half chance at both ends and Poyet's team, with Lee Cattermole a useful midfield toiler, thoroughly deserved to end it on level terms.

The new boss will have gleaned a lot from the manner of the later embarrassing collapse. Indeed, Poyet has already said he saw plenty to give him food for thought. "As a manager you learn a lot from watching your players on the pitch," he said in post-match comments. "You can see which ones turn it up a gear and which ones put their heads down after conceding a goal."

Whether he has players of sufficient quality and commitment to turn lessons learned into a transformation in the way they perform is another matter entirely.

A convincing win in the Wear-Tyne derby next Sunday, when Newcastle United will be anxious to avenge last season's 3-0 defeat by their bitter local rivals at St James' Park, would offer a massive boost to the team's confidence and just a glimmer of hope that Sunderland might start to climb the table. I know few fellow Sunderland supporters who see this as the likeliest outcome.