Sunderland need the spirit of '77 - but a different outcome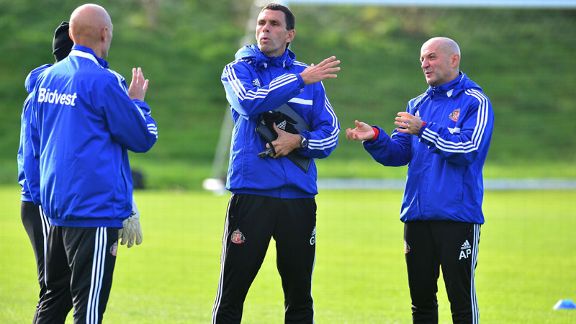 PA PhotosGus Poyet will be looking to turn things around at Sunderland.
Over 35 years on, I have no memory of any of the news items on which I was meant to be working on an evening shift in Fleet Street. I remember as keenly as if it were last week that there was a game at Roker Park that February night, and that it ended with a win for Sunderland over Bristol City.

It may seem a mundane sort of match to recall so clearly. But Mel Holden's second-half goal proved enough to raise the faintest of hopes that relegation might be avoided by a team that had previously lost nine top-flight games in a row, followed by two draws.

A run of three home games then produced incredible, thumping victories -- 4-0, 6-1, 6-0 -- against Middlesbrough, West Brom and West Ham; suddenly Sunderland were out of the bottom three. Jimmy Adamson, the third manager of the season after Bob Stokoe was briefly succeeded as caretaker by Ian McFarlane, had turned hope into belief.

Much earlier in the current season, older supporters are nevertheless beginning to wonder whether, under Gus Poyet as Sunderland's third boss since August, their team is capable of giving collective morale a similar boost, starting at Swansea's Liberty Stadium on Saturday.

The day will start with the club at rock bottom, the seven opening games having yielded all of one point. Swansea, driven by the excellent Michu and playing good, passing football that tests the best of teams, represent stiff opposition.

But Poyet knows as well as the fans that the fixtures will not get much easier this side of mid-December. Before then, Sunderland have to cope with the remaining half of a difficult series of home games against the Premier League's obvious top six contenders, the first three having already been lost. Compared with the formidable nature of such challenges, Swansea away assumes the improbable status of a doddle.

Poyet's appointment as head coach received a mixed response on Wearside. But supporters will rally behind him in the opening phase of his reign, anxious to give him a chance to show he can lead Sunderland out of trouble.

Even if seven games played means 31 still to come, it is a tall order. A few pundits have wasted no time in asking whether, along with Crystal Palace, Sunderland can already be regarded as down. I cannot blame them; history's lesson is that teams struggling as badly and as early as this rarely accomplish the great escape.

I was even wrong to suggest, in my own cautious welcome to Poyet, that the internationals meant he had 11 days to prepare for his first game in charge. Unlikely as this may seem to neutrals, the Sunderland squad includes several players who regularly go off on international duty. Poyet has thus been working at the training ground with seriously depleted ranks for much of the time since his arrival.

Interviewed by the Swansea fan site SCFC2, my Salut! Sunderland colleague Pete Sixsmith offered this bold prediction for the launch of the Poyet era: "New manager bounce: 2-0 to Sunderland."

Pete will forgive the thought that this is a forecast with its origins in the heart, not the head. We both have long records of supporting a club that may once have been a giant but has lately given the impression of being not merely asleep but comatose. The pair of us know much better than to expect good times to be just around the corner. One serious trophy since before the Second World War (the FA Cup 40 years ago), two top-seven Premier finishes and a string of promotions -- necessarily preceded by relegations -- cannot be seen as a good return on our decades of commitment, passion and loyalty.

Whatever the true outcome at Swansea, however, and whichever league Sunderland find themselves come August 2014, Pete and I also know better than to imagine we could even think of supporting anyone else. I will continue to look for the results of other clubs for which I have modest affection; he will go on enjoying his visits to non-league grounds. But malign fate, as I once heard a fellow-supporter describe it, leaves us stuck as single-club supporters of Sunderland.

Sadly, the story of 1977 offers no rousing precedent to spur on Poyet and his team. Despite a valiant resurgence that brought nine wins in the 17 final games, survival ultimately depended on two final ties on the same evening.

Only one combination of results -- Sunderland losing at Everton, Coventry City and Bristol City drawing -- could send Sunderland down. Sunderland duly lost and crowd congestion delayed kickoff at Coventry, whose chairman, Jimmy Hill, had the news from Goodison flashed up on the electronic scoreboard. The two Cities were level at 2-2 and proceeded to play out the 15 minutes as an exercise in what has been called "uncontested keepball," preserving the scoreline and also both clubs' top-flight status.