A nervous welcome to Gus Poyet: Let battle commence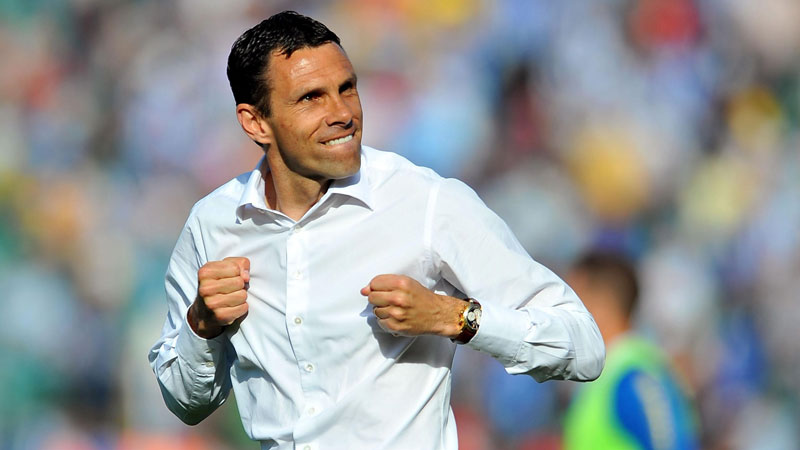 GettyImagesGus Poyet impressed at Brighton, but has a huge task in the north-east.
"Here we go again," a Sunderland supporter wrote on Facebook as it became clear Gus Poyet was about to be named as head coach. "Lets just hope it's not another false dawn."

To which another, in the mood of the moment, replied: "They're all false dawns."

Poyet, it is fair to say, has taken on a formidable challenge. All new managers or, in footballing newspeak, head coaches, enter the Stadium of Light in the knowledge that the weight of frankly irrational expectation is a heavy one. Many, indeed most, have found it impossible to bear. The Uruguayan has the added complication of walking straight into a relegation battle, which gloomier fans suspect may already be lost.

So let us start by observing Monty Python's strictures to look on the bright side of life, now that the club has formally confirmed sport's worst-kept secret and handed Poyet the job with a two-year contract.

His immediate predecessor, Paolo Di Canio, an overseas import with an exciting (if also explosive) record as a player but no experience of running a Premier League club, arrived with seven games in which to stave off the growing threat of relegation. Poyet, another foreign -- to Britain -- player with an exciting past but no top-flight managerial grounding, has 31.

The knowledge that there are 93 points to play for is useful medicine for the condition of debilitating anxiety that has gripped Sunderland's large and passionate, but suffering, body of fans. How many of those points are realistically attainable is, of course, another matter. But Poyet could do a lot worse than forgetting how unkind the early fixtures list has been to the club and regarding the next three games as the best possible starting point for recovery.

Whereas the admirable Kevin Ball began his caretaker stint with successive home games against Liverpool and Manchester United, if we leave aside a relatively undemanding Capital One Cup tie at home to Peterborough United that preceded them, Poyet has 11 days to prepare for Swansea away, Newcastle United at home and Hull City away.

He does not need my guidance on the significance of that little run, but I will offer it in any case: Sunderland cannot afford to think in terms of fewer than five points if there is to be a fighting chance of easing out of the bottom three before the next little crowd of top-six contenders -- Man City, Chelsea and Spurs -- beat a path to the Stadium of Light between Nov. 10 and Dec. 7.

Sunderland owner Ellis Short, who has seen miserable return on the field for his willingness to dig deep into the pockets on behalf of Steve Bruce, Martin O'Neill and Di Canio, hails Poyet for the "track record, experience, commitment and passion [that] make him the right man to take us forward". Short was right to avoid the word "saviour", but salvation is the limit of what being taking forward currently means.

I enjoyed watching Poyet as a player for Chelsea and Spurs, except when he was up against Sunderland (a qualification that is a recommendation in itself). I was impressed by what he seemed to be achieving at Brighton and wondered, as did many others who will certainly have included Short, about the full story behind his dismissal. None of that now matters a jot. He is just the latest in a long line of bosses from whom Sunderland followers cautiously hope, against the compelling lessons of history, for better things.

New managers/coaches can have a magical effect. Peter Reid staved off relegation to an even lower division in 1995 and turned a modest squad into Premier-bound champions in the following season. O'Neill fired up Bruce's troubled team in 2011 to take the 19 points from nine games that ensured survival despite a later slump. Even though only seven league games have so far been played, Poyet has to show that he, too, has a magic wand. But learning from the mistakes of PDC, he will -- or should -- also bear in mind that if he ever feels tempted to use the wand for disciplinary purposes, the punishment ought to be administered in private.

From the relics of the brief Bruce and O'Neill reigns, and among the 14 recruits who arrived in Sunderland in the summer, Poyet theoretically inherits the makings of a decent if erratic squad. It helps that the director of football, Roberto De Fanti, was instrumental in most of the acquisitions, remained in place when PDC departed and supported him as successor. It also helps that one of the new players, Emanuele Giaccherini, is already proving a top-notch signing; he was comfortably the best player on the field in the first half against Manchester United. Steven Fletcher's imminent return from injury, perhaps as early as that Swansea game on Oct. 19, should bring an important boost to team morale.

But I have nearly run out of positives. It is difficult to look out from 20th position, with one point from 21, without questioning the cliché that the only way from here is up. I remain, as I was after the United defeat, apprehensive. Poyet has the same support I offer -- even in PDC's case, with all that baggage -- every man who takes charge of Sunderland AFC; it goes with the territory of a lifetime allegiance. If he can repay that backing by leading a rousing rise from the foot of the Premier League, starting with avoidance of defeat at Swansea and triumph in the Wear-Tyne derby, he will command the affection and even the adulation of a large part of the population of north-east England.