Sunderland valiant in defeat - but the trapdoor is opening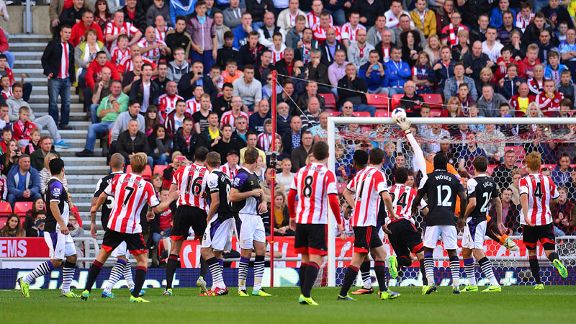 PA PhotosSunderland midfielder Seb Larsson crashes a free-kick against the crossbar.
A hint of gallows humour can be detected at the Stadium of Light as Sunderland continue to offer a plausible impression of Premier League condemned men, praying for a stay of execution while bleakly aware the grounds for appeal are unpromising.

"Sun's shining, beautiful day, bit of lunch with the family, a few pints with good friends then off to the game," one supporter wrote at an online forum a few hours before Sunday's kickoff against Liverpool. "What can possibly go wrong?"

The answer, as he perhaps guessed all along, was a fourth successive league game in which Sunderland would concede three goals and lose. The caretaker boss, Kevin Ball, had been able to inspire the team to play with the sort of commitment and resilience that were features of his own game. It was insufficient. Sunderland were not torn "to shreds", as a Daily Mail writer absurdly put it. But a combination of sloppy defending, sharp Liverpool attacking play and poor refereeing left them chasing the game at half time, having gone two down in 36 minutes, with scant prospect of salvaging even a point.

- Usher: Suarez and Sturridge prove the difference
- Heneage: Three things - Sunderland v Liverpool

Emanuele Giaccherini's opportunistic goal early in the second half, after Sunderland's former goalkeeping hero Simon Mignolet charitably fumbled Ki Sung-Yueng shot, raised hopes of a remarkable comeback. But Liverpool were able to exploit one of the inevitable gaps caused by the search for an equaliser, Luis Suarez's second goal killing off the game with only a minute or two left. Only a brave, foolish or too-rich-to-care gambler would have bet against Suarez scoring on his return to league action from long suspension; he will torment far better defences than Sunderland's if he keeps out of trouble.

Sunderland are entitled to moan about Howard Webb and his assistant missing the clear use of the upper arm with which Danny Sturridge put Liverpool ahead on 28 minutes after a bright enough start by the home side. They can be equally cross that the second goal, though created by a sensational Steve Gerrard pass followed by Sturridge's enticing low cross to Suarez, came moments after Webb had looked on benignly as Kolo Toure grabbed a fistful of John O'Shea's shirt in the Liverpool penalty area.

A mischief-maker would speculate on whether Toure and Webb were members of the same masonic lodge, since this was one of two shirt-tugging episodes -- and therefore potential penalties -- the defender got away with in the first half, to which may be added an unpunished pass into Mignolet's hands inside the six-yard area.

Webb is a referee for whom I have huge respect. In 2010, I took the lonely position of defending his handling of the World Cup final between Spain and an uncharacteristically thuggish Netherlands, when a less flexible referee would have shown his red card two or three times. But his record against Sunderland is punctuated by costly errors: gifting Newcastle an equaliser after Steven Taylor, described in an earlier Daily Mail match report as "a man with a history of touching the turf with ease when required", won the dodgiest of penalties in 2009, and doing the same for Everton when Leon Osman fell over his own feet in 2011.

But the occasional gaffes in Webb's otherwise impressive career have also been known to benefit Sunderland; he was briefly demoted to League One duty after a poor display in last season's St James' Park derby, though Paolo Di Canio's side thoroughly deserved their 3-0 win on the day. His shortcomings on Sunday contributed to, but did not cause, the Sunderland defeat and it would be disingenuous to hide behind them. Sturridge's arm would not have been able to reach the ball for the opening goal had not Sunderland, yet again, failed to defend a corner.

Losing 3-1 at home to a strong Liverpool side once again chasing honours would not, in itself, give reason for alarm.

But five defeats in just six Premier games so far, with Manchester United next up as the fixtures list gets tougher still, is not just relegation form; it is the stuff of records of the wrong kind. Sunderland know all about those, having managed just 19 points in 2003, then the lowest any Premier League team had accumulated, before doing even worse three years later with 15. It is of little consolation that Derby County established a new nadir with 11 points in 2008; the way this season has started, Sunderland will be fortunate to reach even that shameful total.

According to the club's chief executive, Margaret Byrne, Di Canio was dismissed because of the genuine risk that Sunderland would otherwise find themselves adrift at the bottom. But how many points does the owner, Ellis Short, seriously expect Ball or a more permanent successor to PDC to gain from a list of forthcoming games that includes not just Manchester United but Swansea away and Newcastle United, Manchester City, Chelsea and Tottenham Hotspur at home? Even the less formidable away games in the same period (Hull City, Stoke City and Aston Villa) look beyond Sunderland's powers to win.

This appalling position puts Short under enormous pressure to choose wisely, and maybe more quickly than he might have liked, on the identity of a new manager or head coach. As for the reported candidates -- Gus Poyet, Rene Meulensteen, Gianfranco Zola and Stuart Pearce having been mentioned most often -- it is becoming hard to imagine anyone having much stomach for the gigantic nature of the task that now presents itself.

It may still be a minority view among Sunderland supporters, who for the most part will want to keep faith in the team's ability to haul itself out of trouble, but I have already heard murmurs in favour of sticking with Ball and preparing, if necessary, for a instant promotion challenge in next season's Championship.

This is not quite was prescribed when Martin O'Neill was hired in December 2011 amid expectations that he would not only end a rotten run of form, which he did, but build a team capable of challenging for European competition, which he did not. Sunderland have been relegated nine times in my lifetime, indeed the club's lifetime; September is not quite over and a tenth is already looking probable.