Life after PDC is a different Ball game for troubled Sunderland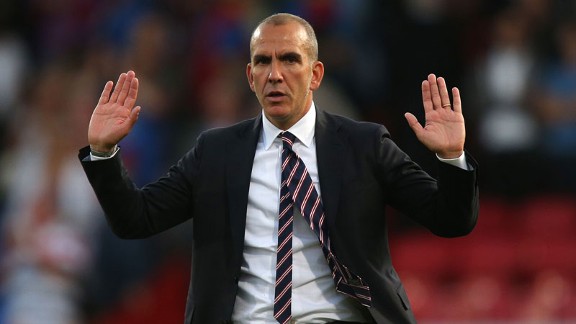 EmpicsPaolo Di Canio apologises to the Sunderland fans after what would be his last game.
Nothing too much should be read into Sunderland's comfortable defeat over Peterborough United in the first game since Paolo Di Canio's dismissal. To win any match at all is great, but the Capital One Cup draws have been as kind, so far, as the Premier League fixtures list was cruel.

Kevin Ball, who took charge of the team for Tuesday night's 2-0 victory, is a much-liked part of the Stadium of Light furniture. He was passionate and dependable as a player, allowed Sunderland AFC to get under his skin and works well with the development squad. In the 15-point relegation season of 2005-06, he stepped in after Mick McCarthy's sacking and even managed to secure the club's only home win.

Ball now says he'd like a crack at the job but the feeling must be that whomever the club's owner, Ellis Short, decides to appoint as PDC's successor, it is unlikely to be him. Gus Poyet has eased ahead of Roberto Di Matteo as the media's hottest tip -- not how I'd put my own preference.

And on Sunday, the real business resumes. With or without a new head coach, Sunderland faces Liverpool. Moaning about the unfairness of such a tough game coming around at a delicate time is useless; it is only one of five at home against top six contenders between now and early December. The first half of the season could not have been harder for Sunderland if the task of compiling the sequence of games had fallen to a Mackem-hating Newcastle United supporter wanting to see his bitter rivals marooned by Christmas.

That run helps to explain why a prompt decision -- some say all too prompt -- was seen by Short as necessary. As his chief executive, Margaret Byrne, wrote in her programme notes for the Peterborough game: "After Paolo saved us from relegation last season, we gave him an opportunity to take the club forward this season. When it became obvious it wasn't working, we had to take the decision to part company with him. We felt it was better to do this now as we ran the risk of being cut adrift at the bottom of the Barclays Premier League."

And as I will not tire of reminding people, especially those PDC apologists who resent the least criticism of any aspect of his personality, philosophy and notion of man-management, Di Canio had managed one point out of 15 even before that punishing run -- Arsenal's visit aside -- had properly got under way. "Adrift at the bottom" is precisely where that lamentable start has landed the club.

Managers and head coaches may well have less say than in the past about who they buy, borrow or sell. But surely only the strangest of creatures could remain in the job if such decisions were made with which they profoundly disagreed. Moreover, PDC made perplexing calls of his own, among which I include:

* The pillorying of Ji Dong-Won, substituted not quietly at halftime against MK Dons, as his performance deserved, but a few meaningless minutes into the second half as if to ensure the humiliation of being booed off.

* The eccentric perseverance with Dong-Won in subsequent games despite all the evidence he was not up to it or had lost confidence.

* The inexcusable public attack on John O'Shea, his team captain, after one admittedly dreadful error at Crystal Palace.

* Constant tinkering with the first team formation, giving the impression he had no idea what his best lineup might be.

* The inexplicable exclusion of Cabral, a midfielder of Champions League pedigree, whose arrival had so enthused him.

* The failure to insist on an adequate replacement before allowing his most gifted player, Stephane Sessegnon, to depart to the only club then below Sunderland in the league.

* Questionable substitutions in every game this season.

I broadly approved when PDC attempted to impose discipline and a more rigorous training regime on players who are much more handsomely rewarded than their efforts and abilities truly merit. But there is a fine line between firm management and bullying, and PDC appeared to cross it. Bone-headed bosses, whatever the walk of life, usually find that most staff respond poorly to intimidation and aggression.

Short is clearly a hard taskmaster, too. He is far from blameless for the sorry state in which Sunderland currently sits. When I said he had got it right when dismissing Martin O'Neill, and right again when dispensing with PDC's services, I was dealing only with those decisions, though I believe he was also correct to sack Steve Bruce, having shown great patience in the face of dismal results.

But each of those appointments was his in the first place and people are entitled to argue such a quick turnover indicates a calamitous hiring record. I have other gripes with Short - I'd love to know, for example, his role in the sale without replacement of Darren Bent when the team could ill afford to lose a proven goalscorer - but this is not one of them.

The recruitment of Bruce disappointed me because I had hoped for a more imaginative choice; I could not have cared less about his Geordie origins and allegiance. Niall Quinn almost certainly convinced Short he was the right man for the job and, for a while, that seemed to be the case. Bruce's critics claimed he was lucky to deliver a 10th top finish in 2011. They would not have allowed Bruce to blame bad luck had other teams' results gone against Sunderland and pushed the team several places lower.

When the following season began in worrying fashion, Short waited longer than many thought wise before removing him. Again, I felt his timing was perfect; Bruce had earned his chance. But like 90 percent or more of Sunderland supporters, I rejoiced when the new man was announced: O'Neill, the boyhood Sunderland supporter with a solid record of achievement as manager.

It is all too easy to look back and say now that football had, by then, passed O'Neill by, or that we could have guessed he would be unable to function effectively without his favoured henchman, John Robertson. The vast majority of supporters were as astonished as Short will have been when, after inspiring an early run of sparkling, season-saving form, O'Neill increasingly looked incapable of delivering stability, let alone success. His team may have been one place higher when he was fired than it finished with PDC in charge, but most rational people studying the remaining fixtures, immediately before O'Neill's departure, expected a troubled finale and relegation.

The heavyweights of football writing are divided on the latest Short decision. Two men I particularly admire, Gabriele Marcotti and Henry Winter, are poles apart.

Marcotti, writing elsewhere on these pages, offered a stout defence of Di Canio, while declaring the interest of long-standing acquaintance.

"Because the media loves simple, easy-to-understand storylines, the narrative here is basic," he wrote. "Crazy Di Canio and his odd behaviour upset everyone. No fewer than 14 new signings in the summer, a nutty recipe for instability. It was always going to end badly."

The truth as Marcotti saw it was that even the odd gesture at the end of Saturday's debacle at West Brom, standing in front the travelling supporters in a mixture of disbelief and contrition, was a case of "taking ownership of your actions... taking responsibility."

He added, "The bottom line is that Sunderland had one point after five games and evidently Short felt the need to act. Sacking a guy after 12 matches in two seasons seems distinctly premature. You won't be doing the new guy any favours, either, given the club's next two games are against Liverpool and Manchester United."

Winter, meanwhile, mounted his Daily Telegraph platform to applaud the reported role of rebellious players in ridding the club of a man with "a big name, average resume and pantomime-act propensities."

It was a remarkable hatchet job, even in the robust world of football journalism: "Di Canio's association with Sunderland was an embarrassing stain of a chapter in a renowned club's history while the uprising of a seething dressing room should be acclaimed at length in the archives."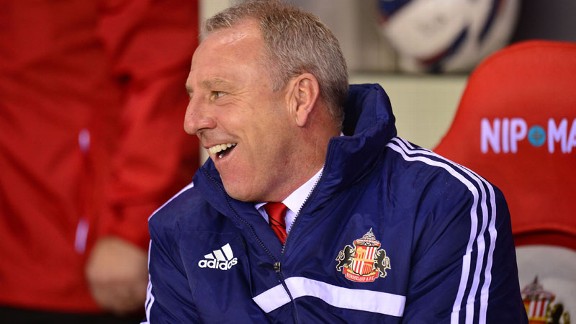 PA PhotosKevin Ball wants the Sunderland job on a permanent basis.
I find myself unable to agree entirely with either. My commitment to Sunderland AFC will never depend on the style, substance, achievements or even politics of men fleetingly in positions of power. People with only the flimsiest of emotional connections to football clubs are unlikely to understand but I could no more switch to supporting another, currently more successful team than I could suddenly declare myself a martian.

Of course I wanted Di Canio to succeed, for the club's sake. After the initially unimpressive handling of the predictable controversy surrounding his appointment, I accepted at face value his belated statement saying what he was and what he was not. I cheered the narrow escape from relegation, nodded in approval as he punished indiscipline, even allowed myself to be excited by some of the signings his champions now say were not his doing.

But he overstepped the acceptable mark in his treatment of players without the saving grace of seeming capable of lifting their game and the team.

That solitary point from five games, when eight was a reasonable minimum expectation as ballast ahead of the torrent, would be a potential sacking offence in itself. Short rightly saw no cause to hope for improvement and acted with brutal decisiveness. He knows perfectly well what rests on the next decision he makes.