Returning Sessegnon heaps pressure on Di Canio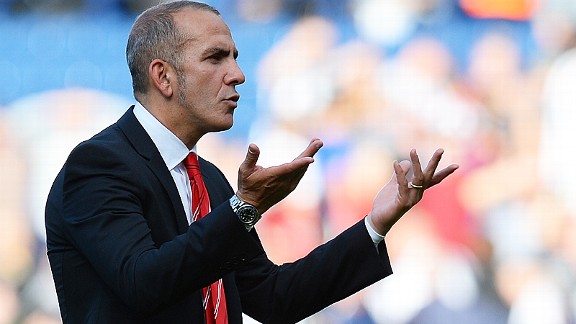 GettyImagesPaolo Di Canio gestures to Sunderland fans after their 3-0 loss at West Brom.
Over his career as a journalist, Colin Randall, the usual occupant of these pages, will have made many predictions as to what might or might not happen. Some will have been fulfilled while others may have been off the mark. But he got his latest journalistic hunch absolutely bang on right.

Not that it was that difficult. Players often do well against their former clubs, particularly when their previous manager (in this case, an increasingly scattergun Paolo di Canio) criticise them for falling out of love with the club and for knowing that their time was up.

And so it was that at 3:20 p.m., after Sunderland had had the better of the opening stages of their fifth Premier League game of the season, Stephane Sessegnon, who was sold to West Brom in the summer, scored.

- Report: Sessegnon haunts Black Cats
- Evans: Amalfitano shines amid Di Canio sideshow

It wasn't with a sharp run and a clinical finish a la Newcastle and Everton last season, goals that preserved Sunderland's Premier League status last season and gave Di Canio the opportunity to launch his Roman Revolution. It was a fairly ordinary effort, when he reacted quicker than Sunderland's ponderous defence, to a spill by goalkeeper Kieran Westwood, and stabbed the ball home from 8 yards.

There were no wild celebrations from him. He can do them -- look at the full-throated roar that he gave after he opened the scoring at Saint James' Park -- but he showed his respect for fans who have backed him over the three years he spent on Wearside and who had greeted him with 75 percent cheers and 25 percent half-hearted boos.

He may well have been tempted to throw a glance at Di Canio to suggest to him that he may have been slightly hasty to terminate his stay at Sunderland, but he has known the Italian long enough to realise that it would have been a glance wasted.

Sunderland's performance deteriorated after that, as if they knew that once they went a goal down, there was no coming back. And so it proved to be. An increasingly ineffective Adam Johnson failed to hit the target from a good position, and Steven Fletcher put one over the bar in the second half, after Lee Cattermole and Johnson actually put together a flowing move. That Fletcher then fell heavily and dislocated his shoulder made a bad day even worse. Albion's two late goals wrapped up a comfortable 3-0 win for a well-organised and well-drilled side.

One point from five games is not good. Four of the games have come against teams that are in the same part of the league as Sunderland: honest strivers who could finish in the top half but could be involved in a relegation scrap. That the Black Cats have failed to beat any of them shows the situation that they are in.

This looks increasingly like a relegation team, and one that could be down before the Christmas decorations go up. There are weaknesses all over the pitch from a goalkeeper who finds it difficult to keep hold of the ball, to an outside left who just can't be bothered to pick up an opposition player in the box, allowing him a free run and a goal.

It was a horrible defeat, at the end of which Di Canio came out onto the pitch and faced the fans who had remained (I was sat on the coach by this time), where most managers would have wanted to retreat to the sanctum of the dressing room. It was an act of a brave man -- one who played in a charity match at St. James' Park and faced the mass ranks of the Mags -- but it doesn't alter anything, does it? Whether he lies down in a darkened room, chases the players round the field with a baseball bat or tells the fans to keep their chins up, Sunderland are still losing games to sides regarded as close competitors.

Fans are split over him and what to do. Some think Di Canio should leave now, others say: What is the alternative? Di Canio is a high-profile manager with a low-profile team. What he may want to do is look for that darkened room and lie down in it for a time and reflect on whether he deals with these players in a manner that might just get a couple of wins under their belts.

But I don't think he will.

Di Canio sounds increasingly desperate, and many fans are beginning to have serious doubts about his ability to coach a team at this level. A defeat at home to Peterborough in the Capital One Cup on Tuesday night is not beyond the realm of possibility -- the pace of Britt Assombalonga may be too much for a creaking John O'Shea -- and then Liverpool, with Simon Mignolet in goal, visit what could be a volatile Stadium of Light next Sunday.

Sunderland went down in 2005-06 with what was then a record low of 15 points. After five games, Sunderland had nil points and then took four from the next two games to spend one week out of the relegation places. With Liverpool and Manchester United up next, I don't see Sunderland reaching those giddy heights.

It appears that the revolution is faltering. Do Sunderland march on or retreat? It will be an interesting four weeks as that is all the time the coach has. If the club lose at home to Newcastle on Oct. 27 and Sunderland still only have a single point, the revolution will be canceled and a new leader will be required.