When Arsenal at home, and no trace of Ozil, meant a five-goal blitz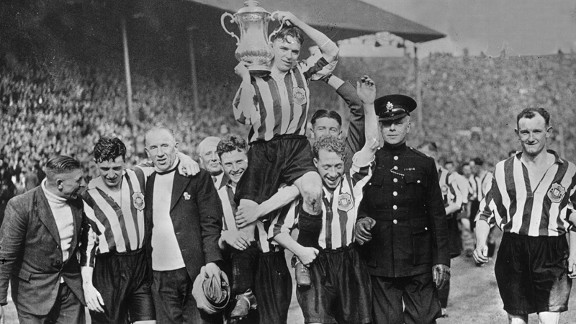 GettyImagesArsenal have Mesut Ozil, Sunderland could do with Raich Carter.
If a football club that has grown into a global brand has such a thing as an average fan, that Arsenal-supporting individual is unlikely to know that until just after the Second World War, the Gunners and Sunderland were comparable forces in English football. It was only in 1948 that Arsenal drew level with Sunderland's tally of six top flight league titles, and each club had won the FA Cup twice.

At the Bleacher Report football site, a wonderful account of a match played on December 28 1935, the season in which Sunderland last finished top, either borrows from the journalistic style of the age or cleverly imitates it.

In a section headed Great Games in Football History, the report tells of a "titanic struggle", a game "worthy of the pre-match publicity and public patronage accorded it". The attendance is put at 59,250 and it hardly matters that the reference book I turn to most regularly, Rob Mason's Sunderland: The Complete Record, counted about 500 fewer on the terraces and in the stands of Roker Park.

- Di Canio makes peace with O'Shea

Arsenal, the reigning champions, were torn apart in the first-half as Raich Carter, considered by many to have been one of the finest players of all time, scored two of the goals that gave Sunderland a commanding 4-1 lead. Arsenal's second-half recovery took them close to finding an equaliser. Sunderland, unsettled by injuries, lost the "penetrative power" of the first half, "throwing more work on the rear divisions and allowing the initiative to pass to Arsenal". The game ended 5-4.

Come Saturday, at the Stadium of Light, I expect a great deal of work to present itself to Paolo Di Canio's rear divisions. Leaving aside that opening day defeat at home to Aston Villa, Arsenal have made a bright start to the season and can reasonably look to Mesut Ozil, their frighteningly impressive new recruit from Real Madrid, for the sort of attacking midfield display that would stir the soul of Raich Carter's ghost.

The inescapable conclusion from my introduction is that while Arsenal have continued to challenge for honours on a fairly consistent basis, Sunderland's claims to big club status are rooted deep in the past.

Some readers not of the Sunderland persuasion, and possessing a little historical knowledge, would feel unable to resist the thought that of those six titles in the old First Division, three were won when Queen Victoria was on the English throne. The present monarch may even be among them; I have read that in so far as she is a football supporter, she favours the Gunners.

Should, somehow, the assortment of new faces assembled by PDC manage to impose some passing gloom on the royal household on Saturday evening, I will be inclined to believe the Italian head coach's revolution is starting to work. If the Giaccherinis, Celustkas and Kis of today can emulate the Carters, Gurneys and Gallachers of 1935, with or without an eccentric winning scoreline, it will be only Sunderland's fourth home win over Arsenal in the Premier League, or indeed for 30 years.

The three previous home victories in Premier history begin in 1997, when Tony Adams scored an own goal, Dennis Bergkamp was sent off and Sunderland, in 11th place, still looked capable of staying up (they didn't).

In the first game of the 2000-2001 season, one of Peter Reid's memorable pair of successive top-seven finishes, Niall Quinn scored from possibly Sunderland's only chance of a game in which Arsenal might have scored a dozen times but failed to manage a goal. As I noted here about a year-and-a-half ago, the match also produced the most literary comment I have heard from a football spectator; the very senior local government official seated to my immediate right in the East Stand tut-tutted, as people left the thrilling game with minutes to go to beat the traffic, and said: "How can they? It's like leaving a Shakespearian tragedy."

I was present again nine years later for the most recent of those three Premier victories. Next morning, driving through the Yorkshire Dales, I heard my friend and fellow Sunderland supporter Kevin Maguire, a journalist whose broad South Shields accent is familiar to radio listeners and television viewers, in a BBC 5 Live discussion of a book about things you can do without having to spend money. His priceless example: splashing about excitedly in his bath the day before when news came through of Darren Bent's winner.

He would probably be willing to forego washing for a week if Steven Fletcher, or even an Ozil own goal, caused radio presenters to announce the same result on Saturday afternoon. Stretching the fantasy a little more, the Bleacher Report could resurrect another line from that 1935 match report: "One cannot deny the Wearsiders were worthy winners, and Arsenal courageous in defeat."