A qualified welcome for Di Canio's foreign legion, with or without FA blessing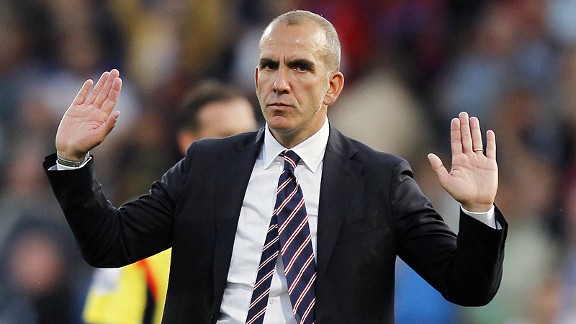 Ian Kington/AFP/Getty ImagesPaolo Di Canio brought in players from all corners of the globe this summer at Sunderland.
On a note that was not meant to be taken too seriously, I came up with a starting Sunderland 11, plus almost enough subs, drawn exclusively from players Paolo Di Canio has signed, definitively or on loan, in a mad whirl of summer shopping.

The qualifying "almost" is accounted for by the need to put one member of PDC's inherited squad, Keiren Westwood, on the bench as substitute goalkeeper. But since Westwood was kicking his heels last season, before and after PDC took over as head coach, while the brilliance of Simon Mignolet kept Sunderland afloat, he could just about be passed off as new, too.

- Report: Bardsley returns to Sunderland fold

This, then, is how my PDC's Own team might line up: Vito Mannone; Andrea Dossena, Valentin Roberge, Mobido Diakite, Ondrej Celustka; Charis Mauvrias, Ki Sung-Yeung, Cabral, Emanuele Giaccherini; Jozy Altidore, Fabio Borini

My subs, aside from Westwood, were David Moberg Karlsson, El Hadji-Ba and Duncan Watmore. Since I fully realise that a choice between three outfield players is not enough to cater for all eventualities as games progress, I cheekily suggested Steven Fletcher as a candidate, again on the basis that until he came on as a sub at Crystal Palace, PDC had not seen him in proper action except on the training ground. I went further, putting him in my fantasy starting side, leaving Altidore or Borini to bide their time until sent on.

Now, there is no real suggestion that even with my under-the-counter add-ons, this represents a viable Premier League team. We are about to enter, with some relief in the case of Sunderland supporters, the sort of weekend when the only concern is that players on international duty return undamaged.

But it is a measure of the inbound movement inspired by PDC's desire to transform the squad, with the scouting nous of Roberto De Fanti to guide him, that with a touch of flexibility on positioning, he could probably field my team in the third round of the Capital One cup on September 24, against the League One side Peterborough United, and expect to win.

A strong voice has piped up in indignation at what PDC has been up to. The composition of Sunderland's squad is portrayed as an example of what is wrong with the English game by Greg Dyke, the FA chairman.

Only one of the Di Canio's 14 summer signings, Watmore, is English and he is not even in the first-team squad but seen a bright prospect for the future. Citing Sunderland in the context of worries about the declining proportion of homegrown Englishmen playing in the top flight, Dyke said: "No one can argue that the overall trend isn't anything but alarming."

Beyond a hint of pleasure at this rare acknowledgment by the FA of Sunderland's existence, I would be inclined to retort, "We hardly started it", if I could not see that this was not the point. PDC himself spoke during the close-season transfer window of his wish to bring in an "English-style" creative midfielder before comprehensively failing to do, not managing even to stop Hull City from snapping up one reported target, Tottenham's Tom Huddlestone.

None of the Italians he brought in instead, and certainly none of the others -- with a mini-United Nations provenance comprising France, Sweden, Greece, Czech Republic, the United States, South Korean and even Cape Verde -- could be described in quite such terms, even if Cabral and Emanuele Guiccherni may in time prove me wrong.

But it is worth mentioning that the full squad also contains six Englishmen, two Irishmen, two Scots and a Welshman, a balancing feature Dyke appears to have missed. And of those 11, at least seven can be regarded as actual or possible regulars when fit and unsuspended.

I would have loved to have seen PDC bring back Danny Rose on a permanent transfer, make Sunderland seem more attractive than Hull to Huddlestone and buy or loan a few more familiar English players at the expense, perhaps, of lesser-known members of his incoming foreign legion.

Even more than that, I would have been delighted to have seen yet another player from overseas, Stephane Sessegnon, locked in a room until the transfer window was bolted. No Sunderland player in recent years has looked, albeit sporadically, more natural on the ball and more capable of a game-changing gesture. Opinion divides sharply on the Benin international and it is hard to deny that his tendency to go absent without leave when meant to be on the pitch was infuriating.

But he added crucial goals last season to his ability to unnerve defences and it seems a huge shame that he was allowed to go to the only club currently below Sunderland in the league, West Brom, without anyone remotely comparable arriving to soften the blow.

One supporter responding to my team of newcomers sensibly preferred Westwood, Jack Colback, Adam Johnson and, if fit, Fletcher -- at the expense of Mannone, Mauvrias, Dossena and Borini -- for the stiff task, Arsenal at home, that lies ahead when Premier League football resumes on September 14.

It may be that as many Sunderland eyes will be on the game after that, at the Hawthorns, and in particular on which Sessegnon decides to turn up for his WBA home debut, against his former teammates. Unless Sunderland are very careful, it is an occasion with potential heartbreak written all over it.