So where do Sunderland go from here, Mr Di Canio?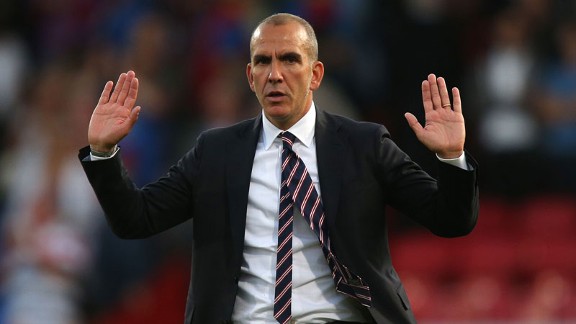 EmpicsPaolo Di Canio apologises to the Sunderland fans after what would be his last game.
One point from nine.

When Sunderland supporters began speculating three weeks ago about the possibility of winning each of the first three games -- Fulham at home, Southampton and Crystal Palace away -- I detected a wonderful but barely plausible scenario.

Perhaps I have been a Sunderland supporter for far too long.

The defeat against Fulham on the opening day came as no great surprise since the Stadium of Light ceased long ago to be a fortress. A draw at Southampton seemed about right; I'd have accepted such a result in advance. And I must say the 3-1 reverse at Crystal Palace on Saturday evening, though dispiriting, was entirely predictable.

Yes, Sunderland might have approached the Palace game expecting to win, especially after a confidence-building comeback to beat MK Dons in the Capital One Cup in midweek. But Palace are not MK Dons and expectation is rarely likely to turn to reality if your team cannot avoid basic defensive errors and almost always come off second best in midfield. The third goal, in stoppage time, was hardly relevant; for most of what preceded it, Sunderland had never looked better than a team struggling to compete with opponents everyone expects to go down come May.

Sorry, Paolo Di Canio. You are in charge of a bunch of players who are already locked in a relegation battle with the season barely begun.

Alarmist? Premature?

Take a look, as I have been doing since June, at the fixtures list. Next up? Arsenal at home. Then? Liverpool and Manchester United, again at the non-fortress home, with games at West Brom and Swansea dotted between before the perennial banana skin of a visit by Newcastle United.

How can I challenge the view of a friend who attends many more games than I ever will, knows football inside out and declares that Sunderland simply aren't good enough for the Premier League?

Against Palace, Sunderland occasionally passed the ball intelligently and once or twice launched a promising advance towards the Palace goal. Otherwise the best that can be said is that in the 15 minutes from Steven Fletcher's equalising goal to John O'Shea's daft tackle, leading to the penalty and his dismissal, a draw seemed within reach.

It was the sort of away performance you could just about put up with when playing good, honours-chasing sides. If the opponents happen to be ones newly promoted, and given little chance of survival, there is good reason to worry.

I am duly worried. The defeat dumped Sunderland into 19th place; Sunday's games could make that even worse. I see so few points flowing from the forthcoming programme -- home or away, if I am honest -- that it would now astonish me if Sunderland were not still 19th or 20th come mid-December.

Each week in the season when there is a game involving Sunderland, I receive the post-match PDC e-mail. It is addressed "Dear Colin" though I imagine it goes to thousands of other Sunderland fans, too.

On Saturday night, he talked about Ki Sung-Yueng, yet another signing, this time on loan from Swansea (where he is presumably considered not quite good enough for the team that started Sunday in bottom place). About Steven Fletcher, back from injury, being no more than 40 per cent match fit.

He also bemoaned the wretched defending that allowed Palace to go ahead from their first corner, about his own team's inability to keep the ball. In his media interviews, he said of his players' failings: "They are intelligent and understand when they do something bad. I couldn't be angry but obviously I was really sad."

But there was no trace of a clue as to how Sunderland might find a way, before next May, out of the mess in which they have descended so early in the season. Arsenal, the visitors to the Stadium of Light on September 14, must be licking their lips already. Sunderland supporters can just be grateful that before then, there's a weekend without league football.