A tale of four strikers as Sunderland stage a late escape act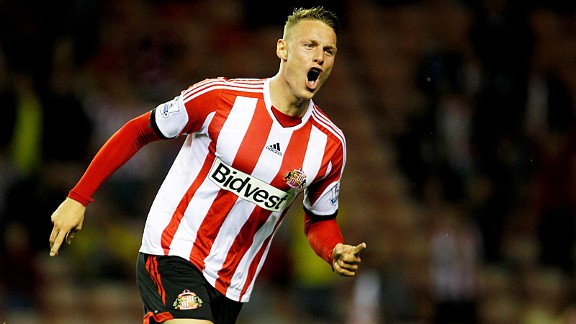 GettyImagesConnor Wickham was Sunderland's late two-goal hero against MK Dons
When Kevin Keegan grudgingly included Kevin Phillips, then the Premier League top scorer and its best native striker by a distance, in his Euro 2000 squad, I saw all three England games. Given how poorly England performed, leaving aside the solitary win against Germany, I was relieved that Phillips had played no part.

It would have horrified me to see the Sunderland striker have to share the collective guilt even if he had done no more than fail to make an impact in a few minutes as a late sub.

At half time on Tuesday night, as Sunderland made customarily hard work of playing lower league opposition in cup competition, my biggest fear was that Steven Fetcher would be brought on after his long injury layoff to chase the unpromising cause of preventing a shock MK Dons victory.

Fletcher's goals, along with Simon Mignolet's saves, were all that stood last season between fingertips survival and relegation. But this was his first sniff of action since misfortune on Scottish international duty in March. Happily, it remained a sniff; when the final substitution was made and Fletcher was still seated on the bench, my wish had been granted. I felt at that point, with Sunderland two down, that to become part of this sorry shambles might set back his rehabilitation by weeks.

In place of the hapless Ji Dong-Won, Paolo Di Canio had by then sent on Connor Wickham, a young man who must this season begin to fulfill the promise that persuaded Steve Bruce - or, rather, the owner, Ellis Short - to pay £8 million, potentially rising to £12 million, to lure him from Ipswich in June 2011.

Wickham went a little way towards doing so on Tuesday night as he made one goal, and then grabbed two for himself in three minutes, to turn the probability of defeat and yet another swift exit from what is now the Capital One Cup into a 4-2 win against MK Dons.

The chance he made was taken by Jozy Altidore, who duly broke his own duck to give the first whisper of hope to Sunderland just as they looked more likely to concede a third than to rally.

So my thoughts on an extraordinary game centre on four strikers, one past, three present. Poor Ji was the culprit when MK Dons took the lead in the seventh minute, his woefully surrendered possession beginning the simple move that ended with a well-taken goal for Patrick Bamford, on loan from Chelsea.

Sunderland could have played the first half all week without equalising and Ji's shocking night came to a sombre end when Di Canio cruelly allowed him to start the second half before, almost immediately, hauling him off to be replaced by Wickham. This amounted to a public and, in my view, unnecessary humiliation for the South Korean who duly left the field to the robust round of booing he would have been spared if quietly substituted during the interval.

Everyone loves to see their team fight back from an apparently hopeless situation and triumph, even if it happens to be against opponents who ought to be brushed aside with ease. Those among the sparse but noisy crowd, just under 19,000, who stayed to the very end were rewarded in the sixth and last minute of stoppage time with a superb run and tightly angled finish by Adam Johnson. Four-two has a satisfying ring to it, however undeserved such a scoreline was on the basis of three-quarters of this match.

What can PDC usefully draw from the game? Well, beyond the significant boost to morale for Altidore and Wickham, the one truly positive feature was that his team, much changed from Saturday's draw at Southampton, showed itself capable of resilience and recovery. These are qualities needed by any Premier League side, especially one accustomed to snatching at points in the lower half.

On the other hand, a display as inept as that seen for the first 75 minutes would be punished a lot more severely in league action. There was all the sternness of a sentencing judge in the tone of BBC local radio's commentary team, Nick Barnes and a former player Gary Bennett. If PDC is played a recording of Barnes's comments about Ji's performance, he will surely abandon any lingering hope that the good work the player did on loan in the Bundesliga can be replicated in Sunderland colours.

PDC rightly spoke in his post-match comments of an "incredible cup game" but refused to allow himself to be deluded by a late comeback against League One adversaries. "If we only focus on the last 15 minutes then we are never going to improve," he said. "It is my job to keep everybody's feet on the ground because otherwise it will be difficult. My team are still a work in progress."

With a frightening run of home games - Arsenal, Liverpool and Manchester United - to come, Selhurst Park on Saturday evening will be as good a place as any for him and his players to demonstrate that the work is, indeed, making progress. The "great desire", ambition and never-say-die qualities he cited may be needed for more than the final quarter of an hour, particularly if Kevin Phillips is sent on by Ian Holloway to tantalise his former club.

None of that means Sunderland supporters should be denied the right to savour an exhilarating finale at the Stadium of Light.

Amid all the grumpy supporters of a certain age, dispersed to various parts of the world, who inhabit the Blackcats e-mail loop is an infectiously enthusiastic lad of 12 whom I shall call Chris.

And this was his contribution as he left the ground on Tuesday night:


Wow. Wow. Wow.
Never seen the magic of a cup.
Never seen the SoL at night.
Never seen us score 4 goals.
Never witnessed anything quite like that.
Never written an email walking from the stadium grinning ear to ear.