PDC has familiar sins to eradicate as Saints defy Sunderland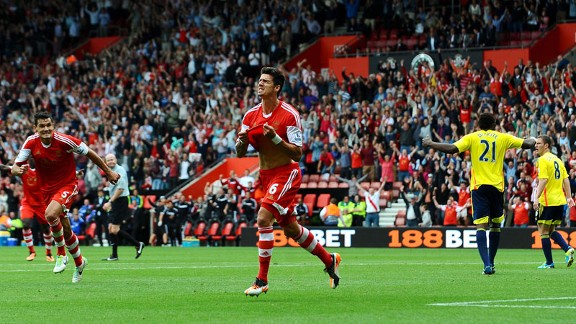 PA PhotosJose Fonte scored a late leveller for Southampton against Sunderland.
When your team is widely tipped to struggle, whatever fond dreams of a bold new era may be entertained, losing the first game at home produces an immediate hint of anxiety. Maybe the pundits have a point.

At a midweek pub session in Sunderland, where the latest Salut! Sunderland's podcast was being recorded live for the first time in its short history, discussion among the fans and local sports reporters present turned to the unthinkable: the fear that the first three games would not produce a point. The first, at home to Fulham, had already been lost.

- Fonte snatches point for Saints

It took a popular former player, Martin Smith, who also happens to be a Sunderland supporter, to offer the more calming thought that the time for real anxiety would be if there was only a point or, worse, none to show for the first six matches. The opening day performance had not been devoid of promise; defeat was almost certainly undeserved.

And until three minutes from the end of Saturday's game at Southampton, I was preparing to concede that Smith's words, and the tweeted rebukes of one or two other fans who felt I was too gloomy here last week, had put me in my place. A goal up from as early as the third minute, Sunderland seemed to have contained the Southampton response just about well enough to hang on and chalk up a first win.

Then a freekick from a harmless-looking position near the halfway line floated into the Sunderland penalty box and somehow Jose Fonte was able to end Paolo Di Canio's hopes, and mine, of three points.

PDC was doubtless left fuming at the loss of a goal to a simple set piece for the second consecutive week. Sunderland supporters making the long trip home from the south coast may have questioned whether the man who won the freekick, Southampton's costly new signing Dani Osvaldo, should still have been on the field after escaping with a ticking off from the referee Lee Mason after a second yellow card offence within minutes.

But on the balance of play, Sunderland could have no complaints about being denied victory.

A late winner for the Saints would have been cruel after a second half display of mostly solid defending, notably from John O'Shea and, after a decidedly nervous start, Modiko Diakite, had put Sunderland within sight of a priceless win.

The bigger worry is that, even allowing for the need for PDC's new players to bed in, this was not a performance that offered, overall, any great improvement on what was seen last season, when relegation was so narrowly avoided.

There may be lots of new faces in the squad but the same old deficiencies persist: squandered possession, lame defending of corners and crosses (Rickie Lambert won far too much in the air, which means the centre backs may not have been so solid after all), distinct lack of creativity in midfield and only intermittent attacking menace.

There was a downcast feeling among some travelling supporters that if Southampton had more wisely used all that time spent falling over and appealing energetically for non-existent infractions, they might have scored two or three.

A question mark also has to be placed over PDC's tactics in ending the game with three strikers on the field, Ji Dong-Won and Connor Wickham joining Jozy Altidore even before that equaliser came. As time ticked by, this was a surely classic case of a game that had to be defended.

The head coach was clearly not too unhappy to leave St Mary's with a point. After the obligatory praise for his players, who had "worked their socks off", he accepted that victory would scarcely have been deserved but added: "Last week we did deserve to win and that didn't work for us either."

What is desperately needed now is a comfortable, morale-boosting win in midweek against MK Dons in the Capital One Cup before the visit to Crystal Palace, the promoted side most observers feel certain will tumble straight down again. Despite Martin Smith's wise words, Sunderland's own prospects, approaching a home game against the newly redeemed Arsenal, would look a great deal brighter if four points were already in the bag.

What no Sunderland supporter could bear to happen at Selhurst Park would be for Kevin Phillips, such a hero in his time at the Stadium of Light, and probably the player I have most enjoyed watching in Sunderland colours in more than 30 years, enter the fray as a late, 40-year-old substitute and grab a Palace winner.