Phil Bardsley's downfall: when oafish behavour makes fans lose respect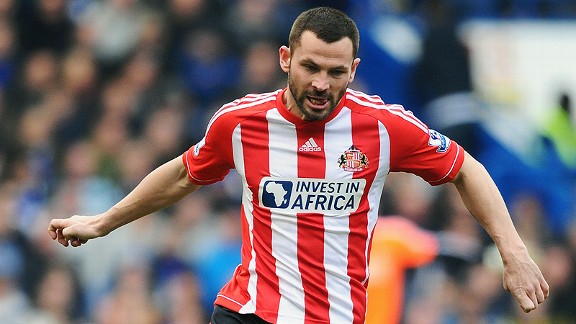 Mike Hewitt/Getty ImagesPhil Bardsley went from defensive hero to persona non grata at Sunderland.
Have you ever been in trouble at work? If you answer in the affirmative, and the trouble was not sufficient to warrant summary dismissal, the chances are that you either tried to mend your ways or found a way of moving on voluntarily without waiting to be fired or leaving under a cloud.

My assessment naturally assumes a degree of common sense. Phil Bardsley, the deeply out-of-favour Sunderland full back, displayed none of that when he joined the footballers' own league of social media idiots after Paolo Di Canio's team lost 1-0 to Fulham on Saturday's opening day of the Premier League season.

Excluded from the first team environment, ordered to train with and play for the Under 21s even though he reached the age of 28 in June and, finally, laid up with a longish term injury, Bardsley was doubtless feeling sorry for himself.

But he chose to post as unwise a message, knowing it to be for public consumption, as it is possible to imagine in the circumstances, save perhaps for a personal attack on the head coach or owner. He added the insult of mockery to the pain of defeat, and is now paying the price.

- Report: Sunderland suspend Bardsley

The sequence had innocuous origins in an Instagram photograph contributed by Scott Harrison, who began life in media reports as "a Sunderland supporter" before graduating to the status of a member of Sunderland's Under 21s. That makes him one of Bardsley's most recent teammates so it is not really a great surprise to discover interchanges between them on Instagram.

Harrison posted a photo with the message "#opening day (heart)". Bardsley, as Bardoman26, could not resist the response: "Great opening day. Hahahhahaha hahahhaha!!!"

This led to some hostile comments from Sunderland supporters, one highlighting the defender's reported wages of £32,000 a week, more than most fans of the club see in a year, before adding "and that's how he treats the club".

PDC, or the club's corporate arm, lost no time in coming up with a response. Bardsley was handed an indefinite suspension and told to stay away from the training ground. He is probably feeling a lot more sorry for himself now.

Now, I hold notoriously liberal views on crime and punishment. Some would say I'm soft. And yet I find myself wholly on the club's side, applauding the sanction whether it was applied by PDC or the owner, Ellis Short. I doubt that "bringing the club into disrepute", justifying dismissal and a useful saving on those wages could be proved, but I hope a stinging fine is on the way.

I do have a sense of humour. I can see why a sidelined professional footballer would think the way that Bardsley message suggested -- "Yah boo, see how they did without me!" But that is precisely the sort of thought you'd also expect a sensible professional to keep to himself and trusted loved ones. Especially if he's still in the doghouse after another foolish fall from grace, only three months earlier. Students of footballers behaving badly may recall that the player was photographed in a Newcastle casino in May, lying on the floor covered in £50 notes.

Can footballers finally get this: it is not amusing, to anyone beyond your own privileged circle of workmates, to flaunt astonishing wealth and that is all the more obvious a constraint on your public demeanour if you happen to play in an area that has passionate support for your team but has also experienced a fair degree of socio-economic turmoil. "What is it," I quoted one Sunderland supporter on these pages asking at the time, "about footballers and night clubs and £50 notes?"

Sunderland fans, in general, have never minded their heroes receiving handsome rewards that make their own wages -- or state benefits -- seem pitiful. They just want them to behave like heroes, or at least solid individuals fighting the common cause on the field and off it, be respectful of the ordinary people who, in part, pay their fabulous wages.

Previously, Bardsley's commitment was not in doubt. He will never be the silkiest of footballers but his performances, full of gusto and never-say-die tenacity, usually made up for the quality gap.

At Salut! Sunderland at the end of the 2010-2011 season, I wrote this: " ... let us hail another man who has been making a compelling case for the defence all season. Step forward Phil Bardsley, winner of the official Player of the Season poll run by the club to add to the similar honour he collected in the SAFC Supporters' Association awards. And he ends the season a winner on four counts, if you include the internal players' vote and his debut as a McInternational.

"As an ultimately rotten season draws to a close, it is easy to forget we had highlights, too. Always remember that when the run began, we were in the top seven, edging towards a place in European competition and hailed throughout English football for the away performance of the season, that 3-0 demolition of Chelsea. And on an individual level, there was the form of Phil Bardsley. Forced to play out of position, seemingly surplus to Steve Bruce's requirements, he simply fought and fought his way to automatic selection with a succession of storming, man-of-the-match displays. The sensational block of a goalbound shot at Bolton, and one or two of his goals, will linger long in fans' minds."

And now it has all gone sour. A swift public apology for the casino incident, stressing that he did not expect a stranger's photo to end up in the press and regretted any offence caused, would have helped. A moment's thought would surely have persuaded him not to unleash the post-Fulham indiscretion.

Thinking fans agreed at the end of last season that for all his wholehearted effort, Bardsley was one of the players who needed to be moved on if the club was serious about stepping up to a new level. New managers must be allowed to recruit the players who impress them and dispense with the services of existing squad members they do not rate.

Yet there was still some affection and admiration for a man who had given the Sunderland part of his career his best shot. There was even the thought that he might well go on and do a thoroughly useful job for someone else, a club pressing for promotion from the Championship or possibly even hovering in or just below mid-table in the Premier League.

Those positive feelings have now all but evaporated as supporters pray one of Bardsley's suitors forget he has a broken foot and comes up with a deal sooner rather than later to lure him away from Wearside for his own benefit and Sunderland's.

Modern football has developed in such an unlovely way that no player should be faulted for feeling negligible loyalty towards a club whose manager or owner, or both, show none towards him. Such players, even the less gifted of them, can still command respect among the supporters if they don't descend from kiss-the-badge, give-it-everything endeavour to the sort of contempt Bardsley's recent conduct implies.