Paolo Di Canio and Sunderland: a revolution on hold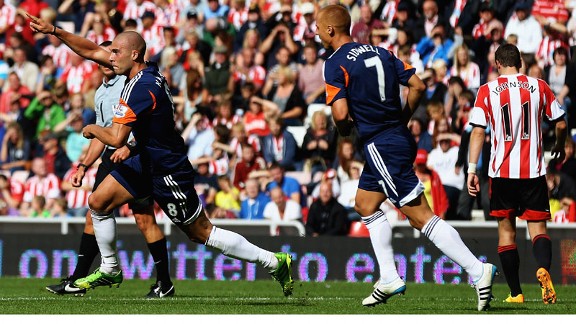 GettyImagesFulham celebrate their winning goal against Sunderland.
Ever since the Premier League fixture list was announced, I have been warning that the opening eight home fixtures did no favours to Sunderland.

Take away Fulham and Newcastle, I kept saying, and there was no team between now and early December that did not finish in the top seven last season. So what was needed was a cracking start. Fulham, on paper, offered the possibility. It was nevertheless a game about which I had nagging worries, which sadly proved all too justified as a crowd of just under 44,000 witnessed a 1-0 defeat and an early setback in the Paolo Di Canio revolution.

Fulham are no mugs. Mohamed al Fayed essentially turned them into an established Premier side before he sold the club to Shahid Khan. And on Saturday, they scored from their first and only serious assault on the Sunderland goal, a 52nd minute corner from Damien Duff headed home with alarming ease by Majtim Kasami.

No one should write off Fulham. They're the sort of team that, with money and the lure of London to ensure a supply of decent though rarely exceptional players, can turn over a good side one week, ship four or five goals the next. A wretched Sunderland team won at Craven Cottage with some ease last season, then struggled to draw at home.

But among the clubs Sunderland have to greet at the Stadium of Light between now and not so long before Christmas, they were the most obviously beatable.

That Sunderland hardly ever looked like scoring, let alone winning, suggests an awkward phase in the Paolo Di Canio rebuilding process. Deadwood has, indeed, been shipped out or sidelined; on the strength of the losing performance against Fulham, the new recruits - five of whom started the game - offer nothing substantially better.

Jozy Altidore produced effort, troubled his markers and even managed a good turn-and-shot attempt on goal. Emanuele Giaccherini was lively on both wings, Cabral impressed in bursts and Ondrej Celustka did enough to make Sunderland supporters see him as a potential full-back hero in the mould of Joe Bolton or Michael Gray.

But did PDC's team, overall, present itself as an emphatic improvement on the turgid fare that Martin O'Neill's offered until the owner, Ellis Short, dismissed him before it was too late? "Same old, same old," one fan moaned at the Black Cats e-mail loop to which I subscribe. "Created nothing of significance and their two centre-backs lapped it up."

I find it hard to quarrel with that. Familiar weakness prevailed: an inability to defend a routine corner, little creativity, failure to turn domination into threat.

On the eve of the season's start, fans were speculating on how many points Sunderland might expect from the first three games. A few thought nine a reasonable haul, given that the "home banker" against Fulham was to be followed by Southampton and Crystal Palace away.

Since I'd have settled for the total of seven that is also no longer possible, I now look forward to PDC producing in away form what he was singularly unable to do for an eminently winnable opener at home.

PDC talked after the match of Sunderland not being "nasty" or "ferocious" enough when playing 80 per cent of the game in Fulham's half. He suggested he was not worried, but I bet he is, as he showed when admitting to a change of heart about winning and losing: "I've said before that I prefer to play well and lose a game - I say this because I try to think about the future and look at things in a positive way, but now after losing maybe I think a little bit differently ... Our new players need to learn quickly, this is just the opening day but there's no time to spare in the Barclays Premier League."

If I know anything about PDC, it is that he'll be looking for a bounce back as quickly as the trip to Southampton. It is far too early to be despondent about the season but the pundits who said Sunderland would again struggle will already be feeling that as revolutions go, this one has got off to a sluggish start.