McClean break: good for him, Ireland and Sunderland
There could have been no more fitting end to James McClean's start-stop career at Sunderland than to have his departure more or less confirmed in a tweet from the man himself. Official word lagged far behind.

Delighted to announce a signed with wigan! Excited and looking forward to the new challenge ahead :) #WAFC

— James McClean (@JMcC_23) August 7, 2013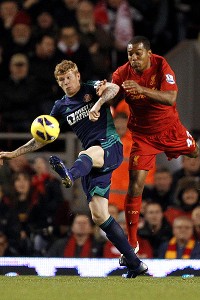 AP Photos/David DrapkinJames McClean, left, battles Liverpool's Andre Wisdom for the ball in a match last season.
It read without obvious desire on the Irish winger's part to gain approval from the Queen's English Society. When the official announcement finally arrived, Sunderland said McClean had joined the newly relegated Championship side for an undisclosed fee, a phrase that should have no place in football. It was actually in the region of 1.5 million-2 million pounds if reports are to be believed.

So McClean moves west to be part of Wigan's drive to return to the Premier League at the first attempt, already off to a good start with Saturday's 4-0 win at Barnsley. It hardly represents an advance in his career but does offer him a spell of Europa League football, and perhaps some taste of Sunday's Community Shield game at Wembley between Wigan, as FA Cup holders, and Manchester United, the Premier League champions.

The almost inescapable conclusion to draw from his 20 months as a member of the Sunderland first-team squad is that for most of that period, he made more impact on Twitter than on the field.

McClean seemed a revelation when, having been denied a chance to step up from the reserves to improve a bad team by Steve Bruce, he made a massive impression as a late substitute on Martin O'Neill's managerial debut at the Stadium of Light.

From a winning position, an equally poor Blackburn Rovers seemed to take fright at his strong, determined running on the left wing and lost. McClean did not score but did enough to influence the outcome and suggest a thrilling Premier future lay ahead.

He duly proceeded to worry the defences of other opponents in the purple patch that gave O'Neill the points he needed to avoid relegation, which seemed the likely fate for Bruce's team after an abysmal start to the season.

Then, as if everyone had studied his style and decided it wasn't unplayable after all, McClean ceased to be a threat.


As someone put it at Blackcats, a Sunderland e-mail loop to which I subscribe, he had been rumbled. "A one-trick pony," the fan wrote. "But very direct running at defenders will only work for a while. Then they spot you have a poor touch and keep you on your weaker side."

Some supporters who attend games regularly point out that McClean was also a tireless worker, helping to block advances from the opposing team down the right. But his principal role was as an attacking midfielder and there was scant evidence last season, before or after O'Neill's dismissal, that he could re-create the form that excited supporters for a few months after that December 2011 entrance.

He did manage to cause the wrong kind of excitement in other ways.

I defended him in the row over wearing a shirt adorned with a poppy because I do not find it difficult to understand the political and social realities of his native Derry/Londonderry, which even Northern Ireland natives call Stroke City. For similar reasons, I respected his preference for playing for the Republic of Ireland and not Northern Ireland.

But even I eventually questioned his shoot-from-the-hip belligerence.

By then, his attitude had alienated many Sunderland supporters; the North East is traditionally a working-class region that produces recruits for the armed forces. If McClean has a right to the freedom to speak his mind for which past British servicemen have fought (in theory at least), there is a competing freedom: the right to find his utterances unacceptable.

There was also the distinct lack of maturity shown in his petulant and profane tweet after being left out of the Irish team for a match in Kazakhstan. The Irish Examiner reminds us that Giovanni Trapattoni, the Irish manager, let it be known he considered himself exceptionally lenient in not excluding him from future selection.

On the field, McClean has revealed himself to be a winger of some promise but more than a little limitation. That solitary trick will probably serve him well in the Championship. He may even flourish at international level and, if Wigan gain promotion, trouble Premier defenders once again. Or the defenders will remember how stoppable he was in the second half of his Sunderland career.

Liam Mackey, the author of the Irish Examiner article, clearly places national considerations as high in the order of priorities as the question of how McClean will fare with Wigan.

He suggested that for the good of both club and country, the player would be "far better off burning up the wing at Wigan than he would be burning a hole in the bench at Sunderland".

And dismissing Paolo Di Canio's own team-building exercise, Mackey added that the positive nature of the move could be underlined by his attachment to a team "challenging at the top of the Championship as opposed to what we imagine will be Sunderland's less glorious fate one rung above".

It is perhaps asking too much that McClean will never again offer us his controversial view of the world. But with the Sunderland supporters' reaction ranging from sorrow at unfulfilled promise to a straightforward "good riddance", his new manager Owen Coyle may wish to bear in mind the important part he must play, too, in ensuring the "new challenge" does not end in tears.