Sunderland season preview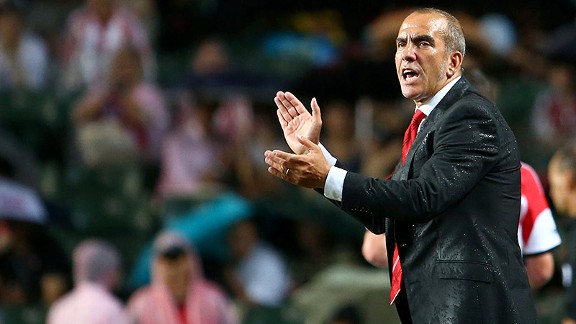 AllsportSunderland boss Paolo Di Canio must build on a promising end to last season.
What's changed since last season?
Pete Sixsmith - It would be easier to say what hasn't. With any luck, along with the manager, back room staff and playing personnel, there has been a change in the mindset of the club so that the Black Cats can perhaps begin at last to reward the loyal 37,000 fans who turn up every home game only to be disappointed at the end of every season. I accept that Sunderland have brought little to the middle of the Premier League table in the past six years, so hopefully Paolo Di Canio's side can at least play some interesting football.


Key to this campaign?
Colin Randall - How Sunderland cope with a terrible run of home games that stretches from Arsenal on September 14 to Spurs on December 7, with only the opening game, against Fulham, and the derby versus Newcastle, against teams that finished lower then seventh last season. That's eight games, including Fulham, that brought only six points in last season's corresponding fixtures. It could be exhilarating; it could also be torrid.

Predicted finish/realistic goal
CR - If Sunderland cannot aim for top ten, the club ought to give up. It is the least the owner, Ellis Short, will expect as a return for all his investment (he actually got it, once, under Steve Bruce only for Bruce to be told by detractors he was just lucky with the last-day results; it was the only time I felt sorry for him). Provided the Black Cats are comfortable in the league, a decent run in one of the cups wouldn't go amiss.

Make or break season for...
PS - It is a make or break season for Ellis Short. He has put a lot of time and money into something that he has no real connection with. After seeing Roy Keane, Bruce and Martin O'Neill give him scant return and even less pleasure, he may regard Di Canio as the last throw of his Missouri dice. As for PDC, he will never get a better chance to achieve something. A supportive owner, a medium-sized to big club and fans who want him to do well. So, no pressure there. Player-wise, Adam Johnson has to show that he is worth the huge amount of money the club spent on him.

One to watch
PS - Jozy Altidore could be interesting, as could Cabral. But the one who could well make a mark this season is Connor Wickham. If he doesn't, he will be on his way to the Championship.