Sunderland battle hard, but Dzeko wonder strike seals City win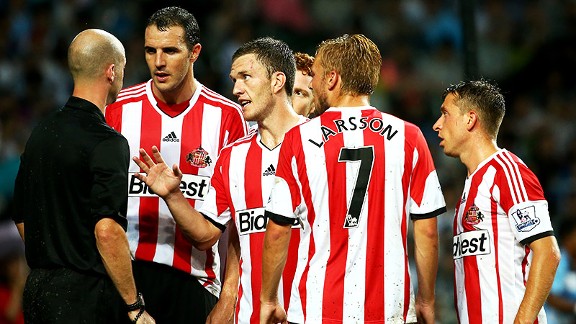 Robert Cianflone/Getty ImagesReferee Anthony Taylor twice denied Sunderland appeals for a penalty kick.
For most of the first nine or 10 minutes Saturday, it seemed I would need to take up where I left off after Wednesday's cruise against Tottenham Hotspur. Another gutsy Sunderland performance with more than a hint of class threatened to produce a second unexpected win in three days and I could once again mock the pantomime villainy of Trevor Francis' television punditry.

Then, in almost the first Manchester City venture into the Sunderland half, Edin Dzeko struck a left-footed volley from outside the box that gave Vito Mannone no chance and I was back in my place, doffing the cap and owning up to Sunderland's limitations.

-City top Sunderland in Hong Kong
-Brewin: Sunderland sharpen up

Well as Paolo Di Canio's new-look team played in spells during the rest of the first half, occasionally just one telling touch from setting up an equaliser, Manchester City looked more likely to double their lead.

And the Barclays Asia Trophy final in Hong Kong ended Sunderland 0-1 Manchester City, that world-class goal separating two combative sides.

What is the sort of thing those ungracious Spurs fans who came this way and to Salut! Sunderland would have said to minimise this outcome? -- We were missing our most effective player (for Gareth Bale, read Steven Fletcher); The conditions were nasty; It was only a pre-season friendly anyway.

But no, Sunderland undoubtedly wanted to win, faced conditions very similar to those confronting Man City and should have a squad with enough depth to cover for absences.

City were just better. As pointed out by another TV pundit, Niall Quinn -- whose association with both City and Sunderland perhaps inspires an even-handness Francis could learn from -- Manuel Pellegrini's side were comfortable in long sequences of possession whereas Sunderland too often ruined determined efforts to regain the ball by giving it back too easily.

The second half began in a roughly similar pattern, Sunderland occasionally impressive but unable to carve out real opportunities or stop City from dominating possession.

Dzeko had a glorious chance to grab a second when City were awarded a penalty for a clear if unnecessary handball by El-Hadi Ba. He placed his kick somewhat higher than row Z and how the overwhelmingly pro-Sunderland Hong Kong crowd laughed and cheered.

Late on, Craig Gardner had to clear off the line when City again looked about to score a second.

But in between these incidents, there had been rather more urgency in Sunderland's play -- and two penalty appeals within three minutes.

Stephane Sessegnon was pushed in the back by City keeper Costel Pantilimon as plainly as Ba had earlier handled the ball at the other end. Referee Anthony Taylor barely looked at it. He was right, however, to wave away louder claims when Aleksandar Kolarov's excellent tackle defied David Moberg Karlsson just as the Swedish winger appeared to get the better of him to set up a great chance.

In the closing minutes, there was time for Keiren Westwood -- who must have been relieved to get a half on the field in the Sunderland goal -- to save well at one end, Pantilimon at the other.

Sunderland had done their utmost to get back into the game and played a full part in an entertaining finale to the tournament. And though City deserved their win, a wider margin would in the end have been cruel and unfair.

PDC will, or should, take encouragement from a full, impressive outing for Wes Brown after his season out with injury and from the performances, in particular, of Jack Colback and -- if only sporadically -- Stephane Sessegnon. He will know where a little more strengthening would do no harm and also how important it is to dissuade Colback and Sessegnon from any remaining desire to leave Sunderland.

Beating Spurs in the semifinal gave me hope that a much better season is in prospect without leading me to overstate the significance of such a game. Losing to City was disappointing but emphatically no disgrace, and does nothing to disturb those hopes. Roll on the proper season.