Sweeping aside Spurs and spreading egg over Trevor Francis's face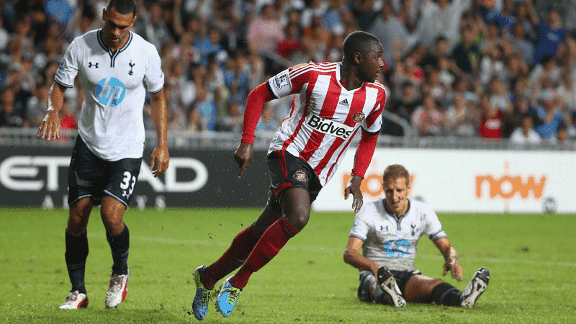 GettyImagesNew signing Cabral got on the scoresheet for Sunderland against Tottenham.
Who said pre-season games were only about fitness? The answer, if we are honest, would be every manager of a team that loses such an encounter.

Well, Wednesday was different. As Sunderland claimed a thoroughly deserved 3-1 victory over Tottenham Hotspur in Hong Kong, the result mattered very much indeed to the thousands of Mackems following by live television, at the ground or, as in my case, via a dreaded stop-start internet stream in France. From his reaction at the final whistle, it also mattered a lot to Paolo Di Canio, noisily preparing for his first full season as Sunderland's head coach.

- Crace: Spurs need a striker

Di Canio paraded four of his new signings in the starting line-up - Vito Mannone in goal plus Cabral, Emanuele Giaccherini and Jozy Altidore - and found time for three others before the end of this Barclays Asia Trophy game.

And what a refreshing change it was to see composed, incisive and attractive football in place of the turgid stuff Sunderland supporters nervously endured for most of last season. It brought a fine victory against seriously important opposition - the absent Gareth Bale was bitterly disappointed by the narrow failure to qualify for the Champions League last season - whose only goal relied on a deflection.

By the end, the margin should, in truth, have been more emphatic. Altidore missed a relatively straightforward one on one with goalkeeper Brad Friedel, who also had to produce a wonderful save to keep an excellent header from Connor Wickham out of the net.

The goals that mattered came from a classy Cabral finish to equalise Gylfi Sigurdsson's fortunate opener, a strong header from an unmarked Wes Brown - how heartening to see him back, and also up front, after a season-long injury - and the cool clincher from Moberg Karlsson in the dying minutes.

The outcome somehow seemed all the sweeter because Spurs had started with at least three players linked in different ways with Sunderland: Danny Rose, whose splendid on-loan season now seems unlikely to be followed by a full transfer, plus past target Michael Dawson and a current one, Tom Huddlestone.

Of course we must not read too much into a match that was essentially a Premier League marketing exercise and almost did not take place at all, so appalling was the playing surface after a torrential downpour. The rain returned with a vengeance in the first half and had many wondering if the game could safely be completed, and playing time was reduced to 40 minutes each half in any case.

It may even be that the sell-out 40,000 crowd - rather closer to Sunderland's average last season, as a team that nearly went down, than to mighty Tottenham's at their pleasant little north London stadium - suited Sunderland better. Certainly, the old guard - Craig Gardner, John O'Shea, Jack Colback et al - looked at ease and Stephane Sessegnon showed yet again why the earth should be moved to keep him at the Stadium of Light.

There were encouraging touches, too, from all the new boys, including at least one top-class save from Mannone that must have had poor Keiren Westwood, Simon Mignolet's little-used understudy until the call of Anfield for the Belgian seemed to open the door for him, cursing under his breath on the bench. PDC's fitness regime had also paid dividends; his team looked very lean and sharp indeed.

Sunderland supporters must be excused for taking particular delight in an early smattering of egg on face for Trevor Francis, whose pre-match comments as a television pundit included the spectacularly absurd gems that PDC did not know whether or not his new recruits could play and that the coming season would be much the same as the last one with anything above the relegation area a bonus. May he live to eat his words as Sunderland storm to a top-eight finish.

That, at any rate, is the fantasy. Sunderland supporters have known many false dawns. But the buzz about the club at present is irresistible.

So, on to Saturday's final against Manchester City, winners of Wednesday's other semi-final, against the local side South China. The result won't matter a bit - unless Sunderland win again.