Danny Graham's chance to end an ordeal - for him and for Sunderland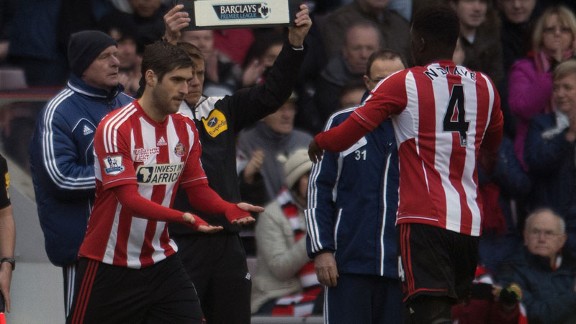 PA PhotosJanuary signings Danny Graham has struggled at Sunderland.
As Danny Graham contemplates the likely beginning of the end of his brief and unproductive Sunderland career, it is tempting to look back on his transfer in January as an act of folly that contributed to Martin O'Neill's downfall.

Word among the supporters, one or two claiming with whatever justification to have some kind of inside track, is that O'Neill had to overcome the owner Ellis Short's reluctance to spend £5 million and grant hefty wages to the Tyneside-born Swansea player.

- Graham on verge of Hull move
- Macintosh: Into the unknown

There was certainly much disgruntlement among a relatively small but vociferous contingent of the support that a Newcastle-following player, who had openly if light-heartedly paraded his tribal allegiance in an interview, was not necessarily a great choice to play in the red and white stripes of the Magpies' bitter foes.

I rejected such misgivings on these pages on the grounds that a professional is, or ought to be, a professional.

Lee Clark is also a passionate Mag, and needed much persuasion by Peter Reid, the manager who signed him, before he would agree to set aside his lifelong loathing of Mackems. It ended in tears after he wore a mildly offensive T-shirt mocking Sunderland fans when watching his beloved Newcastle at Wembley. But he'd done his job up to then with impeccable conscientiousness, helping Reid's team to promotion as runaway champions.

There have been other examples, including that of Don Hutchison, as I have also pointed out, of players with Tyneside affiliations who nevertheless appeared to give everything to the Sunderland cause.

At Salut! Sunderland, I said of the signing: "The truth is, I do not give a damn who he supports or supported. I care only whether Mr Graham is good enough for Sunderland and, if so and if bought, plays to his full ability."

Others took a different view and applied a less relaxed interpretation to the damaging quote, which was to the effect that he would never want to play for Sunderland. One friend, highly educated and utterly sensible in all other aspects of his life, took off in a temporary sulk, avoiding the discussion forums where he is usually so active, in protest.

But O'Neill wanted him, he'd done well for Swansea - everyone remembers that goal at Chelsea that helped the Swans on their way to Capital One cup glory at Wembley - and any resistance from Short was broken down. Managers tend to take no interest in the petty grudges of fans so I doubt the Ulsterman gave more than a second thought to the reception Graham was likely to receive.

In the event, he was booed by some Sunderland fans in his last Swansea game. But he was playing for them against Sunderland at the Stadium of Light and the pantomime hostility would have been shown on the grounds, flimsy as they will seem to neutrals, that he was still an ex-Magpie playing for opponents. Once signed, he was treated with respect and, in my view, a good deal of patience.

But by the time Short, facing the likelihood of seeing all his investment fail even to preserve Premier League status, resolved to replace O'Neill, it is a fair bet that his thoughts included dismay at the failure of his manager's big mid-season transfer to deliver.

I do not serious believe Graham did other than his best to make the move a success.

But strikers are judged on goals and he did not score for Sunderland from his arrival in the January window until last week in an informal practice match against local amateurs during Sunderland's Italian training camp visit. It would be wrong to say he never looked like scoring, but even those occasions were rare and his supporting play, though occasionally impressive, did not have sufficient impact to compensate for the glaring defect in his game.

With Steven Fletcher due back from injury early in the new season, and great hope being placed in one of Paolo Di Canio's acquisitions, the United States striker Jozy Altidore, Graham's prospects at Sunderland seem limited even without knowing what else PDC may have up his sleeve.

If, as expected, he now signs up on a season-long loan with Hull City, it will be a good move for him and a better one for Sunderland. Steve Bruce, the Tigers' manager, speaks highly of him - they can even share bitter thoughts on wicked Mackems and their treatment of stray Mags - and I'd be surprised to see him back, other than to be shipped out again.

And what a relief that the rules of loan deals mean he will not be eligible to do what a player in such circumstances must long to do: play against the club that doesn't rate him any longer and score the winner.