Enlightened recruitment causing ripples of excitement at Sunderland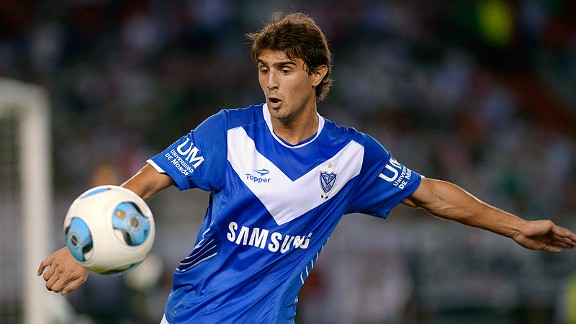 Leo La Valle/LatinContent/Getty ImagesThe pursuit of talented Velez fullback Gino Peruzzi is just an example of Sunderland's summer ambitions.
In most transfer windows, you expect your club to be linked with dozens of players and acquire the services of a few. This is a function of agents planting stories in the media promoting their clients' interests or wishes, clubs "letting it be known" what they would not say publicly and sports journalists innocently or wilfully miscalculating the simple sum, two plus two, as equalling five or even 10.

Over the past couple of seasons, it has been easier to accept the rumours and reports as having some basis in truth. That has certainly been the case with Sunderland, on outward as well as inward personnel changes.

Paolo Di Canio has already given a sure boost to pre-season morale among the supporters with the purchase of the United States international striker Jozy Altidore and a Swiss/Cape Verde midfielder, Cabral, whose career-best goal was scored in the Champions League, not a competition of which Sunderland possess direct knowledge.

Others, discussed here in a previous posting, have arrived amid a mixture of anticipation and head-scratching among fans. A couple more, the young (20) French midfielder El Hadji Ba and the even younger (19) English attacking prospect, Duncan Watmore, can be seen as men PDC feels could make an impact as they mature.

But what of the players Sunderland still hope to sign? We are not, here, talking about idle speculation; while things could still become unstuck, the advanced state of negotiations to buy an Argentine full-back, Gino Peruzzi, from Velez Sarsfield and a current Italian international squad member, Emanuele Giaccherini, from Juventus, speaks volumes for Sunderland's new-found ambition and clout.

And that comes directly from the Italian Job, not the gold bullion raid of the 1960s British film but the energetic pursuit of world talent by PDC and a team of compatriots including a former agent, Roberto De Fanti, the first director of football in Sunderland's history, and Valentino Angeloni as head coach. De Fanti and Angeloni have worked together on player recruitment at Inter Milan and Udinese so they may well know a thing or two.

And the names mentioned, on the record and often by their present clubs or agents, as possibly moving to the Stadium of Light stand powerful witness to the collective persuasiveness these men appear to muster. There is no serious doubt that Sunderland's reported interest in the Spurs midfielder Tom Huddlestone is also true.

That players of this calibre and pedigree are contemplating turning out in the red and white stripes of a club that barely escaped relegation is uplifting in itself across the big Sunderland fan base.

It is on the lips of many that this is fast becoming the most exciting transfer window in living memory. The signing of Jim Baxter was seen by supporters as sensational even though he was a little past his glorious best. But that was all of 48 years ago. Those of us who raved at the signing of Tore Andre Flo were quickly made to realise this was not a player at anywhere near his Premier-standard best.

Others arrived without great fanfare but became heroes: Kevin Phillips, let it be remembered, was not even the Watford striker most talked about as a transfer target (that was David Connolly who ended up going to Feyenoord Rotterdam, not to reach Sunderland until nine years later).

PDC says the new boys will start bonding on the forthcoming trip to Hong Kong, although the early recruits have already had a chance to say hello in their various languages during a brief training camp visit to Italy. It is worth noting not only that Stephane Sessegnon scored score five times in a 13-1 win, behind closed doors, over local amateurs -- maybe he's getting excited, too, and wouldn't mind a crack at a full season in the Di Canio revolution -- but that one of the other eight came from Danny Graham.

Two sensible thoughts occur: did Graham's involvement put him in PDC's shop window, with the hope that some of the outgoings might be recouped, or has he been told he can try again to show what he's capable of? A third, more mischievous question arises: how do you go about celebrating doing in such a setting what you could not in 11 Premier League appearances last season?

But with further high-profile transfers on the cards, the fate of players who failed to perform at the desired level last season becomes, frankly, inconsequential. I will be sorry to see the back of Jack Colback, tireless and obliging wherever asked to play but now apparently hoping for a new challenge, but no more than sorry. Steven Fletcher is a must-keep, I look forward to seeing whether being surrounded by better players raises Adam Johnson's game and would be delighted if Sessegnon chose to stick around. John O'Shea aside, the rest can go.

Then we can sit back and hope PDC can mould a group of strangers into an effective side that once again makes the Stadium of Light a ground opposing teams worry about visiting while also causing the odd problem at away games.

"Hats off to Ellis (Short, the club owner) for digging deep to fix this mess," one supporter, observing events from his far-away Texan exile, said.

It took an older supporter, known to me as a seasoned regular at virtually every home and away game, to inject the caution that, for Sunderland supporters, experience makes obligatory. Acknowledging that the preparations were looking "a helluva lot better than past seasons", he felt the need to add: "That said, cast your minds back 12 months when we thought how much Johnson and Fletcher (plus service from James McClean on the other wing) would achieve!"