Huddlestone would boost numbers at Sunderland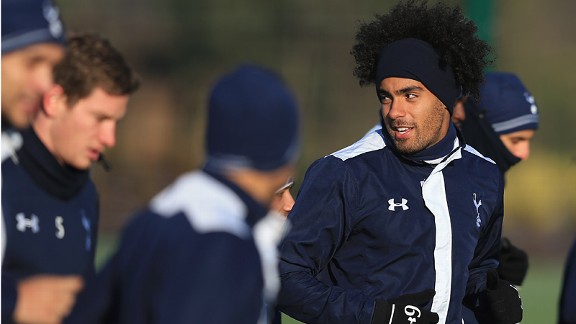 GettyImagesTom Huddlestone will not cut his hair until he scores
If it adorned any other frame, Tom Huddlestone may well be more hair than body right now, but the giant midfielder continues to stick to his promise of not lopping off his locks until he scores again.

You have to look back to a memorable 3-3 draw against fierce North London rivals Arsenal for his last strike, back in April 2011, with the goal itself one of his trademark drives from the edge of the box. However, the 26-year-old's injury woes in recent years become clear when noticing that he has started just 14 league games since that day, making a further 11 substitute appearances.

It is his injury proneness that is undoubtedly the key detractor when it comes to prospective buyers' points of view, with Huddlestone's stint at White Hart Lane expected to come to an end following the signing of Paulinho. This week, however, interest has re-emerged from Sunderland and a £5 million bid seems to have been made as Paolo Di Canio looks to reshape a squad that struggled through the tail end of last season.

In this piece WhoScored shows us that stats that prove the former Forest midfielder and England international would be an excellent addition on Wearside providing he can stay fit, having started five of the last six Premier League games under Villas-Boas last season. Huddlestone is somewhat of a unique prospect in midfield. He is, for want of a better word, massive, with many claiming that he's always been somewhat of a lump.

It's true that he isn't the most mobile of midfielders, but with the right players alongside him in the middle (runners or battlers in the Lee Cattermole, Craig Gardner and Alfred N'Diaye ilk), Huddlestone can get on with what he does best: passing.

Although he tends to operate from a relatively deep position, the Spurs man has the vision to pick out a ball unlike many other Englishmen, as well as being able to keep possession ticking over with short, five-yard passes. His creativity is evidenced by the fact that Huddlestone picked up six assists in his 24 appearances in the Premier League and Europa League combined in the previous campaign, with only 14 of those coming as starts. His league tally, of four, in this respect s equal to that of Gareth Bale - who played 1896 more minutes, or the equivalent of just over 21 games - and only less than Aaron Lennon (7) last season.

Further highlighting the playmaking side to his play, Huddlestone averaged 1.1 key passes per game last season, which may seem modest but improves greatly when taking the limited minutes he played into account. Indeed, at Spurs only Bale, Moussa Dembele and Lennon boasted a better 'minutes per key pass' figure, with Huddlestone's 46.7 well in advance of the likes of Antonio Valencia, Theo Walcott, Frank Lampard and Yaya Toure at Tottenham's top-table rivals.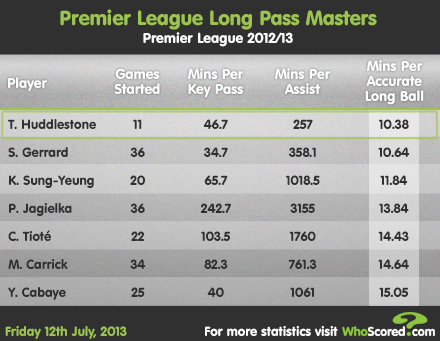 Other / WhoScored.com
His passing game isn't limited to balls that can unlock defences. He is capable of switching play with long passes out wide or over the top. With five accurate long balls per game he ranks among the league's top 30 players despite playing a restricted role due to injury last season. In fact, when it comes to 'minutes per accurate long ball' of all players to make at least ten Premier League appearances last season, Tom Huddlestone (10.4) is at the top of the pile, just ahead of Steven Gerrard (10.6).

Despite his ability in possession, the 6'2" midfielder can also put in a shift defensively too, with an apparent lack of mobility often overplayed. He can read the game well, with an average of 51.4 minutes per interception only just behind the more combative types of Gardner (47.2) and N'Diaye (49.9) on Wearside, while an average of 42.8 minutes per tackle is not to be scoffed at.

A career hampered by injuries may also have been bad news for England, with such impressive stats backing up his bid to return to the international fold in time for next summer's World Cup. There's no doubt that a move away from Spurs in order to secure regular first team football would aid in bringing Huddlestone's potential to Roy Hodgson's attention, and the that may well be playing on the mind beneath the hairdo.

All statistics courtesy of WhoScored.com, where you can find yet more stats, including live in-game data and unique player and team ratings.