Altidore signing the antidote for news-hungry Sunderland supporters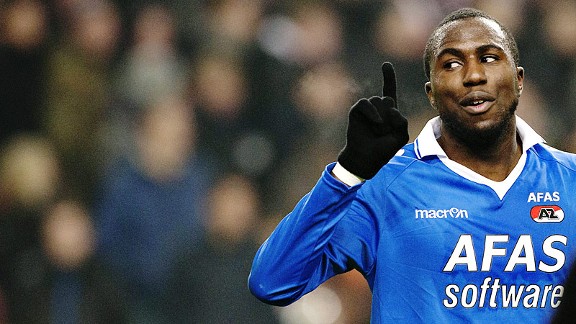 Getty ImagesJozy Altidore: Highly anticipated addition to the Sunderland squad
Among all the signings and possible signings in Paolo Di Canio's frantic close-season as head coach at Sunderland, it is tempting to regard the probable capture of the USA international Jozy Altidore as the most eye-catching.

All supporters are buoyed by the arrival of a new striker, especially one who has shown an ability to score at a decent level, in Altidore's case 38 times in 67 appearances for the Netherlands first division side Alkmaar Zaanstreek (AZ).

- AZ accept Sunderland bid for Altidore

No one underestimates the importance of goalkeepers, defenders and midfielders. How could they, at Sunderland, when Simon Mignolet's saves made up last season for sloppy defending and a woefully uncreative midfield? But goals win matches and attackers who hit the back of the net every other game, or more, grab the lion's share of acclaim.

Of the strikers already on Sunderland's books, Connor Wickham has bags of potential and Danny Graham offers graft. Neither has so far suggested, in Sunderland's red and white stripes, the least sign of being regular scorers. Graham, must be fed up with being reminded that he did not manage a single goal from his £5 million arrival in January to the season's finale, 11 appearances later. Ji Dong-Won's future seems to lie somewhere else.

So the purchase of Altidore, for a reported £6 million, offers the tantalising prospect of a formidable strike force with Steven Fletcher in games where PDC feels playing two up front is not a dangerous indulgence. Fletcher scored 11 times in 28 games until injury on international duty with Scotland brought his season to a premature close; those goals were second only to Mignolet's heroics in saving Sunderland from the drop.

Not since the days of the exciting peak of the Kevin Phillips/Niall Quinn partnership have Sunderland supporters been able to marvel at a strike force of such powerful promise. At the sort of electronic gatherings of like-minded souls that I frequent, the sense of anticipation is almost tangible. "A damned good buy," wrote one supporter rarely given to hyperbole. "Big, fast, powerful with a good scoring rate."

Others spoke admiringly of the progress he has made, and his increasing maturity, since an unremarkable spell on loan in the Premier League at Hull City, a run of 28 appearances that produced just one goal (and a daft sending-off against Sunderland).

He was just 19 then; now he is 23. An exacting regime at Alkmaar inspired a healthily professional outlook. And the experience and guidance of Jurgen Klinsmann, in charge of the USA national side, will have helped his game considerably; we can but hope Klinsmann thought better than to pass on some diving tips, too.

Altidore knows enough about the Premier League to appreciate the fervour of supporters in areas such as Sunderland, just up the east coast from Hull. Assuming the concluding stages of the transfer pass without a hitch, he will have the chance to make himself a hero among fans whose heads are filled with memories of Phillips and handed-down stories, from before many of today's supporters were born, of Brian Clough, Vic Halom, Gary Rowell and Marco Gabbiadini.

PDC's raft of signings, with more on the near horizon, are making this the most eventful of close seasons in years. I wrote here last week about the intriguing acquisitions of Vito Mannone, Cabral, Valentin Roberge, Modibo Diakite and David Moberg Karlsson.

The certainty is that as others arrive, a few of the present crop will be packing their bags, as Matthew Kilgallon already has, to try their luck elsewhere. The team that turns out for the first game against Fulham on August 17 will be unrecognisable from the side beaten 1-0 in the final game of last season, at White Hart Lane.

PDC was an instant hit with many fans and is steadily winning over those of us who questioned his appointment. His attitude is as refreshing as a sip of chilled water must be to a Tour de France rider. And he realises that the pedestrian approach of the club to the timing of meaningful transfer announcements is a source of deep frustration, however necessary it may be.

"I can only tell the fans one thing, which is to relax," he told the club's website. "In terms of fans, I was a fanatical fan when I was younger so I can understand their feeling, I know they want to know what's going on.

"[The fans may feel] we need a striker, a right-back, a left-back, and it will be the same when we win two in a row and they think maybe we can go into the Europa League.

"They will dream, they will go hungry, they will be upset, but I can tell them only one thing - relax.

"We are going to build a very, very good team with a very good work ethic. That will be crucial on the field - we are going to face the opponents, we are going to challenge the opponents."

And then, best of all, this priceless pledge: "My team and the players I select will always have to wear this shirt with honour, dignity and respect, otherwise they can't play under me."

I have said it before. It bears repeating. I have no idea where this turbulent journey in Sunderland's history may be leading. But I am warming to its leader.