PDC's squad steadily takes shape as Sunderland prepare for Far East test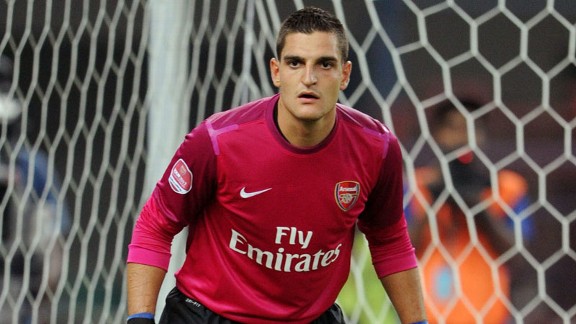 GettyImagesVito Mannone: Limited chances at Arsenal but impressed on loan at Hull.
At least we now know what they'll be wearing. I would have been horrified to see Sunderland pursue anything like the ignoble route taken by Southampton in doing away with traditional red and white stripes. I can even live with the unappealing yellow away strip provided it is used only when there would otherwise be a genuine clash of colours.

And we also know that Paolo Di Canio has summoned the players back for training. The pre-season will start with a game played behind closed doors at an Italian training camp before the four-club Barclays Asia Trophy opens in Hong Kong on July 24, when Sunderland face Spurs with the prospect, if successful, of playing Manchester City or South China in the final three days later.

What we do not yet have, and perhaps nor does PDC, is any clear idea of how the team will look in terms of composition, as opposed to colour scheme, at the start of the proper football season on August 17. The visitors to the Stadium of Light will be Fulham, nominally the least menacing of opponents in a tough opening run of home games that lasts deep into December.

But there have been signings. Vito Mannone, the latest of these, has joined from Arsenal. The assumption is that the Italian keeper's initial function will be to offer competition to Kieren Westwood, since the latter will either have his big chance to step into the departed Simon Mignolet's shoes or ask to leave, too.

And then there are Cabral, Valentin Roberge, Modibo Diakite and David Moberg Karlsson. Benjamin Mendy is said to be on his way. I will be honest and say that of these, only Cabral (real name Adilson Tavares Varela, a centre-back or defensive midfielder of Cape Verdean origin who also holds Swiss citizenship), means much to me. It must be said his pedigree is impressive: a Swiss championship medal with Basel last season (the club's fourth in succession) and a taste of Champions League football as far as the semi-finals.

What of the rest? Roberge is French, a 6ft 2in centre-back and played Europa League football last season after Maritimo, his club on the island of Madeira, finished fifth in the 2011-2012 Portuguese Primeira Liga. Modibo Diakite, from Di Canio's former club Lazio, is even taller, 6ft 4in, and is also a French (of Senegalese origin) central defender. Karlsson is a young Swedish winger who scored four times in 15 league and cup outings for Gothenburg last season.

The height of the first two could certainly be put to use in Sunderland's defence, caught out far too often last season by an inability to deal with set pieces. We cannot yet know whether PDC is planning to use either or both as immediate first-team contenders, though their track records suggest they will not see themselves as squad makeweights.

In fact, no one can be sure that Mannone has been brought in as Westwood's understudy; he had limited opportunities at the Emirates, but did well in two loans spells with Hull City. While it is hardly, at face value, a signing to stir the soul, PDC may think differently and see him as Mignolet's natural successor.

But then the head coach is paid a lot of money to choose his players wisely and make those decisions on how to deploy them, and I am not. So I will offer the fan's summary: intrigued by the newcomers, moderately encouraged by hints that Tottenham Hotspur's Tom Huddlestone is a serious target and living in hope that Danny Rose will return from Spurs as a fully-fledged employee of Sunderland AFC.

Experience and natural caution tell me a lot of work is going on behind the scenes to secure more new faces. Some from the existing squad will have to leave. There is general resignation that Stephane Sessegnon is on his way out and his departure would represent, for me, the only serious loss among those that seem likely to go, the season-saving Mignolet having already bolted to Anfield. Lee Cattermole has many advocates among Sunderland supporters but I simply do not trust a man with his disciplinary and injury record to make a meaningful, that is to say consistent, contribution to the cause.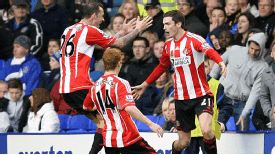 PA PhotosSteven Fletcher and Adam Johnson are two of a handful of players that deserve to stay.
Others should be encouraged to pack their bags, too. A 2013-2014 starting line-up that looked too much like the 2012-2013 one would, frankly, struggle all over again. Of the squad that finished last season within a whisker of being relegated, I would persevere with Adam Johnson because of his natural talent, fight off any interest in Steven Fletcher and keep John O'Shea for his clear head, professionalism and experience. I would reward Jack Colback's willingness to play, and usually play effectively, wherever in midfield or defence his services are required.

Beyond that, I would hope for further evidence from Alfred N'Diaye that he can become a solid Premier midfielder. I would also show just a little more patience with James McClean. Does he truly have it in him to be a good enough Premier League player to make us overlook his imprudent tweeting? My patience is finite; I would not wait too long for him to prove that his explosive early spell under Martin O'Neill was more than a flash in the pan.

As for Seb Larsson, Carlos Cuellar, Phil Bardsley, David Vaughan and Craig Gardner, it is just a matter of which euphemism fits. Let us leave it at the thought that a change could do them, and Sunderland, the world of good. I rate Wes Brown highly but his misfortune with injury since arriving from Old Trafford has made him a rather costly onlooker, placing a serious question mark over his Wearside future.

Up front, only Fletcher has must-keep status. Danny Graham has scored no goals and done little else to justify his £5 million price tag since being signed from Swansea in January. He must consider himself on borrowed time. Connor Wickham is still a long way short of realising the potential that persuaded Sunderland to pay £8 million, plus add-ons, for an 18-year-old wunderkind two years ago.

Ji Dong-Won presents a more puzzling case; rarely effective in the Premier League, he went off on loan to the Bundesliga and scored goals that helped keep Augsburg up. I will not attempt to argue that a man up to the demands of the German top flight may not be good enough for the Premier League, but reports suggest he is unwanted at Sunderland and could end up at another Bundesliga club.

Should the next piece of inward transfer action be the permanent signing of Rose - surely the player himself would consider returning to Sunderland a better proposition than joining Stoke, if Spurs are willing to sell - the boss would instantly find his popularity soaring among supporters.

But if my review of the squad bears any resemblance to PDC's, that would still leave him with holes to fill in all outfield areas.

With six weeks to go before the opening game, it is a safe bet this will happen and that, come mid-August, he will be close to having in place a team on which he alone can be judged.