Mignolet: one of three disturbing Sunderland exits or part of sensible reconstruction?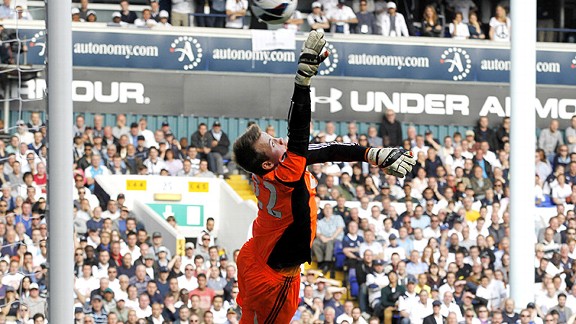 Ian Kington/AFP/Getty ImagesSimon Mignolet was one of Sunderland's best performers last season
The bitter pill of Simon Mignolet's departure for Liverpool is sweetened for the Sunderland supporter, as it was when Jordan Henderson moved in the same direction two seasons ago, by the protracted and very public negotiating process that preceded it. There was ample time to get used to the idea.

It is sad that the Belgian goalkeeper sees his dreams of playing passably close to the top of the game as more likely to be fulfilled at Anfield than the Stadium of Light. But it is hardly surprising.

- Mignolet exit boosts Westwood
- Sunderland end Paulinho interest
- Liverpool sign Mignolet from Sunderland

As I have argued at Salut! Sunderland, the footballer's career, even the goalkeeper's career, is short. Few players are lifelong supporters of the clubs they play for. They are professionals and owe it to themselves and their families to make the most of their abilities in the sure knowledge that loyalty is a concept for the fans, not those involved in the business of sport.

However, I will allow myself a customary whinge at the tired and insulting old "undisclosed fee" nonsense.

I refuse to see the least reason why some transfer fees may be explained in detail while others are poorly hidden behind that coy phrase. It appears the financial arrangements are an open secret anyway - £9 million plus potential add-ons of £2 million on most accounts - so these figures either represent excellent business (Sunderland paid only £2 million for the player three years ago) or are plain wrong, in which case the clubs would naturally have no justification for complaint.

But I will offer the man himself only goodwill and gratitude. His sensational saves last season made the difference, ultimately more so than Steven Fletcher's pre-injury goals, between Premier League survival and a shameful drop to the Championship. I would love to see him pick the ball out of his net many times in two particular games next season but otherwise hope he prospers, brushing aside the challenges of Pepe Reina at Liverpool and Thibaut Courtois in the Belgian national squad.

Where does that leave Sunderland and the rebuilding project undertaken by Paolo Di Canio?

The head coach echoed my thoughts, stressing that he wished to "personally thank him for his contribution to the team last season". Then he offered the reassurance supporters needed to hear: "There is a huge amount of work going on behind the scenes. Our aim is to build a competitive squad for the new season and this deal will give us further ability to strengthen the side."

At first glance, other likely exits from the Stadium of Light would not aid that process. Fans have also been prepared, by the usual stream of speculation, leaks and hints, to accept that the most creative player in the Sunderland squad, the Benin midfielder Stephane Sessegnon, has played his last game for the club.

We have made the obligatory journey from empty assertions that he has settled well in the North East, loves the club and wants to remain, to the apparent certainty that he is heading east. Reports suggest either a short hop to Ligue 1 (Marseille, deadly dull last season despite finishing second, are in desperate need of playmaking flair) or a long-haul mercenary flight to China.

When the whispers first surfaced, an electronic acquaintance exclaimed on an e-mail loop to which I belong: "If it's true, then he's clearly just another greedy sod like Asamoah Gyan with no professional ambition."

I beg to differ. Chinese football is hardly state of the art but how many of us feel so bound by emotion or honour to our current employers that we would turn down a fabulous offer to move? Sessegnon is 29 in any case. Would we have stood in the way of a Rolls-Royce engineer who, with not too many years left before retirement, found himself tempted by a lucrative contract to work on pre-respectability Skodas?

Yet the loss of Sess will sadden me more than Mignolet's transfer. Sunderland can at least give the Belgian's solid and, until now, remarkably patient understudy, the Irish international Keiren Westwood, a chance to establish himself as number one keeper.

There is as yet no sign of a recruit with Sessegnon's ability to tantalise defences, change games and collect a useful tally of goals. Watching Sunderland at all was bad enough last season; imagine what it would have been like without him.

I am among the Sunderland supporters who remain reluctant to forgive whoever was responsible - Steve Bruce, Niall Quinn as chairman, Ellis Short as owner or a combination of all three - for what Bruce called the "calculated gamble" of letting Darren Bent leave without trace of replacement in the January 2011 transfer window.

Danny Welbeck, then on loan from Manchester United, was injured and Gyan had convinced no one that he was about to become a prolific Premier League scorer. Bent's sale was followed by an alarming drop in form and while Bruce can point with pride to his tenth top finish, there were anxious moments and some wretched results before that lofty position was secured in the final game.

PDC will similarly find the wait for forgiveness a long one if he starts the new season without having added the midfield spark that will disappear with Sessegnon.

Lee Cattermole, another likely casualty of PDC's desire to make the squad his own, offers spark of quite the wrong kind.

There is a good player buried somewhere inside him but the struggle to escape from a fragile shell, weakened by reckless indiscipline and constant injury, seems too great. Cattermole's admirers argue that Sunderland invariably show better shape and substance when he is in the team, but it would be hard to shed tears over the sale of a player who spends more time suspended or on the physio's bench.

Another fellow Sunderland follower, reacting glumly to the prospect of losing not only Mignolet but Sess and Catts too, rattled off his angry response: "Well if it's true, that's our three most important players away."

The point is well made - I cannot pretend to be brimming with enthusiasm or confidence on the strength of Di Canio's signings or reported targets to date - but it is also premature.

Worry can safely be postponed until the back end of next month. There's summer, Wimbledon and cricket to enjoy in the meantime.