Police horses of Tyneside beware: Newcastle play Sunderland in February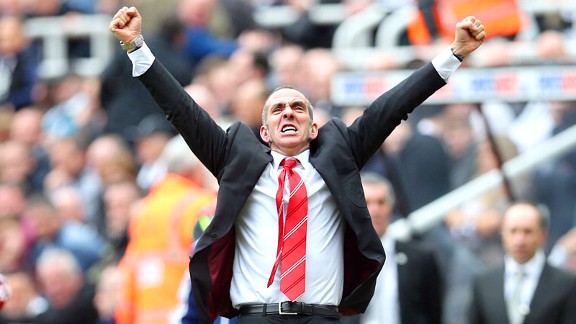 Ian MacNicol/Getty ImagesPaolo Di Canio hopes to have another sideline celebration on Newcastle's home turf, except this time in the cold of February.
For many Sunderland supporters, and probably as many Newcastle ones, the most important dates of any new season are those on which their clubs play each other.

People talk about the ferocity of the Celtic-Rangers derby, not a phenomenon that can be seen in league form before the 2014-2015 season after the Glaswegian blue half's humiliating two-division demotion. There is a political/religious aspect that may be irrational but, beyond proper doubt, propels Old Firm encounters to heights of passion unrivalled in Britain.

- Premier League fixtures list

But you can safely forget about the Merseyside, Manchester, North London, Birmingham, Sheffield, South Wales and other derbies when looking for the obvious runner-up.

The Wear-Tyne and Tyne-Wear fixtures often matter little to the wider world of football. In Britain, and in particular the North-eastern corner of England, they assume an intensity and level of partisan fervour rising above any outside Glasgow.

Most of it is harmless and reasonably healthy banter. The build-up is full of nervous excitement; the outcome defines moods for days to come, especially in workplaces, schools and other settings where Mackems and Mags rub shoulders in daily life, but eventually a collective sense of proportion returns

Yet poisonous hatred lurks, too, and I am sorry to say it affects certain people of my acquaintance, among them highly educated folk who have made successes of their lives and in all other respects appear models of good humour and humanity.

In most cases, they are no worse than the diplomat's daughter and moderately well-known musician, both Arsenal supporters, who have described Spurs to me as "scum". It is an unpleasant word, but just a word. Ellis Short, the Sunderland owner, has been photographed wearing a pin badge with the letters FTM, which can mean Follow the Mackems rather than F*** the Mags, but usually doesn't. I still see no cause for raised eyebrows and have criticised shrill media responses.

At the extreme end of the spectrum, way beyond expressions of hostility that stop well short of criminality, come the two little opposing armies of hard-of-thinking riffraff for whom the occasion presents an excuse for violence or vandalism.

So the day for all Tyneside police horses to take to their stables and avoid contact with the human race is February 1 2014. Subject to change, inevitable given the present slot of 3pm on a Saturday, that is the date of the coming season's St James' Park version of the big North East derby. The first game will already have taken place at the Stadium of Light, again allowing for the certainty of change forced by television and policing needs, on or about October 26.

If offered a repeat of the 2012-2013 season, a draw in one game and a crushing victory in the second, I would accept the four points with open arms. But unlike those fans who can imagine no matches that are more important, I sometimes suspect a few would even accept relegation if the quid pro quo were six emphatically won points in the derbies. I tend to look elsewhere whenever the fixtures list is published.

And I am pleased to see that my confreres at the Sunderland Echo agree with me, headlining their report: "Sunderland start against Fulham and have Swansea swan song."

The first is of great significance because it looks winnable and a winning start is always a powerful source of encouragement and hope. The last is all too often, for the wrong reason, more important still.

I hesitate to count how many last games in a Sunderland season have arrived with something at stake. That something, of course, is relegation or promotion or, when promotion is already won, the championship of that division. If I remind you that in my time as a Sunderland supporter I have experienced nine promotions, you will quickly work out that there must also have been roughly as many relegations.

May or, occasionally, April has been both cruel and kind in this respect. We can disregard the clear-cut seasons -- romps to the Championship title in 1999 and 2005, the demoralising 15 and 19-point Premier bottom places in 2003 and 2006 -- and think back to last days that have brought instant heartbreak or ecstasy.

The first witnessed through my own eyes was, disconcertingly, half a century ago, when a late corner struck Tommy Harmer in a place players generally try to avoid being struck and went into the net to give Chelsea a 1-0 win at Roker Park. That was Sunderland's season over; slender hope that Chelsea's remaining game, at home to Portsmouth a few days later, might produce an upset lasted all of two minutes, the time it took Tommy Docherty's team to score the first of seven goals.

Seventeen years later, I was in luck when Sunderland's own final game was delayed by two days, until May 12, by the small matter of the opponents having to play the FA Cup Final on May 10. Trevor Brooking, then plain Mr, had scored the only goal in a remarkable Wembley win for the Hammers over Arsenal. I had to drive up from Bristol for the Monday night decider, hoping West Ham would be far too hungover to be able to compete.

But supporting Sunderland prepares brightest of optimists for disappointment. I promised my football-loathing wife dinner in a highly rated Indian restaurant if Sunderland got the win or draw they needed, but persuaded her we should have egg and chips at the Wimpy Bar beforehand just in case.

West Ham started as if intent on winning, with Brooking in superb form and David Cross twice missing great chances, but Sunderland recovered to secure second place with goals from Kevin Arnott and Stan Cummins. "Why do they have to jump up and down so much," my wife complained as she was buffeted amid pandemonium in the packed Clock Stand paddock when little Stan beat three defenders to score the second.

I no longer recall the effect of the earlier snack on her enjoyment of chicken Madras.

With memories of such last days in mind, and not straying off topic to reflect on seasons prolonged by playoff deciders, I looked before anything else today at May 11 2014.

As that Sunderland Echo headline reported, it is Swansea City at home -- as winnable as the Fulham opener, for all the plaudits (and the Capital One league cup trophy ) rightly earned by Michael Laudrup and his team. But, again, remembering this Sunderland, it is losable, too. We can have no idea how the Paolo Di Canio reign will have developed by then.

As consolation for supporting a team that has not won serious honours for 40 years, Sunderland supporters are often reminded that life is rarely boring, especially at the climax of the season.

After the horrors of sharp and unexpected decline under Martin O'Neill, until PDC arrived late to secure the two wins out of seven that preserved Premier League status, I would settle now for a humdrum finish, maybe high mid-table -- with a winning finale against Swansea merely confirming upward progress.

I would settle for it all the more readily having also glanced at the homes games that follow the Fulham opener: Arsenal, Liverpool, Manchester United, Newcastle United, Manchester City, Chelsea and Tottenham -- and the last three away games at Spurs, Chelsea and Manchester United. Sunderland may be in need of a cracking away record or a fabulous mid-season.