Persistent talk of Liverpool leaves Sunderland facing life after Mignolet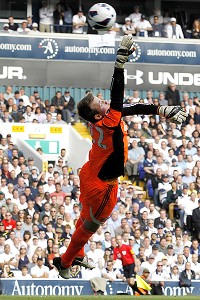 Ian Kington/AFP/Getty ImagesIt seems increasingly likely Simon Mignolet is taking his goalkeeping talents from Sunderland to Liverpool.
It looks very much as if Sunderland's Belgian goalkeeper Simon Mignolet will be leaving the Stadium of Light for Anfield if the many newspaper and internet articles are to be believed.

Despite the health warning attached to most transfer speculation, the interest does sound genuine and the clubs appear to be negotiating a fee -- Sunderland want 10 million pounds, Liverpool are prepared to pay eight million. What's the betting it is an "undisclosed fee" that is declared when he becomes a Red?

I will be sad to see him go. As a lapsed member of the goalkeepers' union, I have enjoyed watching him grow into a very, very good keeper, with the potential to be an outstanding one.

-Liverpool close in on Mignolet

My first view of him was three years ago in Hoffenheim, where he looked decent without being outstanding. On that journey we passed signs for his Belgian club St Truiden -- more than once on the way back, if memory serves me right -- and were tempted to go and look at the stadium. The other passengers were saner and refused.

He was thrown in at the deep end as Craig Gordon was unfit and he struggled at first. He was criticised for not building a good enough wall, thereby allowing Ryan Taylor to curl home the winning free kick for Newcastle United, a defeat that had knives sharpening for Steve Bruce.

But he recovered from that and had a decent season save for the odd mistake, a little indecision now and then and areas where his game could improve.

Improve it did. The arrival of better central defenders in Wes Brown and John O'Shea helped him and, although injury ruled him out for two months, he came back for an epic win over Manchester City and had a blinder.

He hasn't missed a league game since then and I think many saw him as another Jimmy Montgomery, a keeper who would spend the bulk of his career with Sunderland and (hopefully) lead us to the heady heights of the top half of the table.

Alas, it is looking as if Sunderland's dreams will disintegrate.

In his three years at Sunderland, Mignolet has had three managers, all with different outlooks and very different temperaments. Stability has been in short supply. That may well have influenced him to agitate for a move.

It's a well known fact that Belgians crave stability. They have political stability; in four years, 2007-11, without a government, the country seemed to run reasonably well. Their beer rarely alters -- consistently excellent and their pommes frites are of a never-changing high standard.

The Belgian character is phlegmatic rather than flamboyant. Hercule Poirot and Tintin, the old detective and the boy detective, rarely lose their cool and the songwriter Jacques Brel was as cool and relaxed as a man could be.

So, Simon may be on his way to Liverpool, a club desperately hoping to get back into the highest echelons of the Premier League. Pepe Reina looks to be on his way to Catalonia, so the goalkeeping vacancy is there to fill. If the Belgian goes, he will follow in the footsteps of Tommy Lawrence, Ray Clemence, David James and, er, Bob Bolder as custodian of the Anfield goal.

It gives an opportunity for Keiren Westwood to seize the position. He did well enough a couple of years ago before influenza ruled him out of that City game and has never looked out of place when he has played in the few cup ties that Sunderland have. Jordan Pickford also looks a promising player and did well on loan to Alfreton last season.

Sunderland's other transfer news has me a bit lost to be honest. There is talk of Stephane Sessegnon taking himself off back to France and of other players moving on. The ones who have been lined up already by Paolo Di Canio and the new director of football, Roberto De Fanti, don't appear on my radar at all. I know nothing of them, which means that I could be pleasantly surprised when I see them in August. On the other hand ...

But if Mignolet is among those leaving, I am sure it will be with the best wishes of all true Sunderland fans. The penalty save at Newcastle, the string of brave stops against Manchester City and the way he kept Sunderland in another derby game, in April, will live long in the memory. Thanks.