Another win for Wigan over City as fans get their say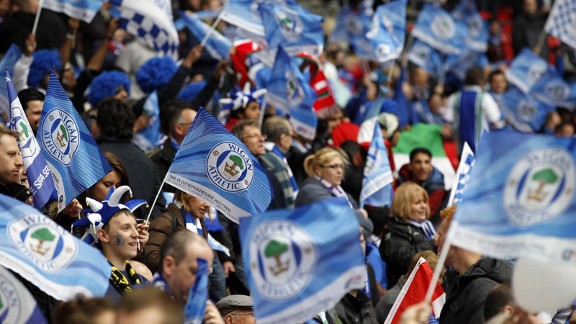 GettyImagesWigan fans at least enjoyed some success this term
Running a football website is both a pleasure and a pain. Sometimes, the two sensations unite so firmly that innate masochism can be the only reason for carrying on.

Take the start of any new season. I love the fact that football is back and enjoy the league version infinitely more than any international competition that fills the summer gap.

But by the end of July I am also thinking about the minimum of 40 people, supporters of other clubs, I need to find over the length of the coming season to answer questions in one of the most popular features on my site Salut! Sunderland.

Before each game – that's 38 if Sunderland are in the Premier plus at least two cup ties – I conduct an interview with a follower of the opposing club. And first the follower has to be located.

It may sound a doddle in a league where attendances are measured in tens of thousands, countless non-attending individuals consider themselves knowledgeable fans and millions more take a passionate interest from scattered places overseas. And I do trawl the world for candidates. But even then, pinning down someone who is willing to take the time to reply to a dozen or so questions and meet the deadline can be difficult.

The series has had its captures, well-known or successful people happy to talk about their allegiances: Alastair Campbell, who was Tony Blair's chief spin doctor (Burnley); the BBC pundit and former England full back Jimmy Armfield (Blackpool); the current editor of The Daily Telegraph, Tony Gallagher (West Ham); a former England cricket captain Bob Willis (Man City); the actress Pauline McLynn (Aston Villa) and assorted ex-players, broadcasters, journalists and authors plus three churchmen including the Rev Leo Osborn (Villa again), then the Methodist equivalent of the Archbishop of Canterbury.

But mostly, I go for people who do nothing more attention-grabbing than running a fanzine, fan site or supporters' club branch or just going along to see their teams whenever possible. I'd love to have wall-to-wall celebs but they're hard to get; one Tottenham fan, when asked whom I should contact among those he listed on his site as famous Spurs fans, said: "Can't imagine any of that lot doing it except for a fat fee."

The pain does not stop with the chore of finding someone in time for each game. I then fret if matchday approaches with replies still awaited. Very occasionally, they don't come. The volunteer forgets, or has been overwhelmed by some domestic or work crisis. The search starts all over again, perhaps with only a day or so to go before the exercise would become pointless.

The pleasurable antidote to pain is the genuine joy I gain from eventually receiving the responses, which almost without fail offer a good read and often combine wit, wisdom and warmth. I also taking boyish delight in dreaming up headlines designed to draw in readers who support each interviewee's club. Salut! Sunderland's hit rate invariably takes an impressive leap when the item appears online.

I call the series "Who are You?", after the familiar if inelegant terrace chant, and persuade a couple of sponsors to come up with prizes for the best interviews.

The Who are You? awards for the 2012-2013 season have just been announced. From the early returns of my four fellow-judges, it was clear we had a re-run of the FA Cup final on our hands.

Simon Curtis, who blogs at ESPN FC as a Manchester city fan, was neck-and-neck with Bernard Ramsdale, a down-to-earth character with a lifelong passion for Wigan Athletic.

And the result was the same as at Wembley: a narrow win for Wigan.

Here's a sample of Bernard's prize-winning Q&A from January, long before Wigan's manager Roberto Martinez let it be known he wanted to move on:


Q: You are a great admirer of Martinez, the manager and the man. Do you ever sense he may be ripe for another challenge?

A: An absolute diamond. He is certainly destined for greater things ... His loyalty to his chairman, players and supporters is breathtaking ... The climate in Wigan is such that we are always battling against the odds and most other supporters of the game would love to see us relegated. But these people should be careful what they wish for because if we do get treated to the dreaded drop, the Premier League is then in danger of taking all the romance out of the game completely and will be dominated solely by 'big city' clubs. Little boys like Wigan, and Wimbledon before them, who achieved an amazing dream for their small town teams, will never be able to replicate it because the gulf will soon simply be too wide.

Simon Curtis's philosophical thoughts on Manchester City's resurrection were illuminating, too:

Q: After years of underachievement, you have Gulf riches that pretty much ensure success. Do you ever pause and say, 'I miss the good old days'?

A: Every day! John Bond's death has underlined again what fun the 70s and 80s were. The 90s were shocking but have played a part in making City the unique club they are. Sometimes the Big Club Syndrome that we are supposed to buy into just doesn't work with City. It's Manchester City for God's sakes!! We are the undisputed kings of the shot to the foot. You only have to look at the two games between Sunderland and City in season 2011-2012. Comedy, outrage, disaster, farce, hokus pokus and a 93rd minute offside winner!!!

Just behind Bernard and Simon was ESPN FC's own Dom Raynor, who supports Manchester United and congratulates himself of meeting my exacting criteria for qualifying as a legitimate fan. I loved his response to my question about Sir Alex Ferguson's notorious truculence - "everything he does is well calculated and so the pokes and jibes and boorishness are all part of the package" - but also his outlook on glory-seeking:

"... having become fat and greedy (and arrogant?) after feasting at the top table for so long it is difficult to imagine not competing at the same level. And while part of me would secretly like a few barren years so younger fans can feel what it's like, the other half of me shudders at the thought of not being able to attract top quality players as a result. I follow Warrington Wolves (although they will always be the pre-rebrand Wires to me) in Rugby League and they had not won a trophy in my lifetime until 2009. So I do have a point of reference of a sort."

But the truth is that nearly everyone who gave time and effort to take part in the series produced a terrific set of answers to the usual range of questions about issues affecting their clubs, the highs and lows of their support, links between their teams and mine and the scourge of cheating.

Among those who probably deserved a place on the podium was another man of the cloth, the Very Rev Christopher Dalliston, Norwich-supporting Anglican Dean of Newcastle. Every Norwich and Sunderland fan of a certain age recalls the "friendly final" of 1985, when Norwich beat Sunderland at Wembley to win the League Cup in a season when both sides were relegated. The two sets of supporters got on famously, creating a perfect atmosphere.

Christopher was then a newly ordained curate working in Essex. "I jumped in the car straight after the Sunday service – dog collar and City scarf flying - and bombed down the M11 passing all the Norwich coaches," he said. "I made praying gestures as I passed which as you can imagine got a laugh."

The image he conjures brings a smile to my face whenever I remember it. So I invented a consolation prize that will be making its way one day soon to Newcastle Cathedral. It is only a mug and won't change his life. But with a little luck, it may encourage him to include in his prayers my plea for another entertaining - and, if possible, stress-free - Who are You? series once football resumes.