Brave last stand not quite enough to escape fourth-bottom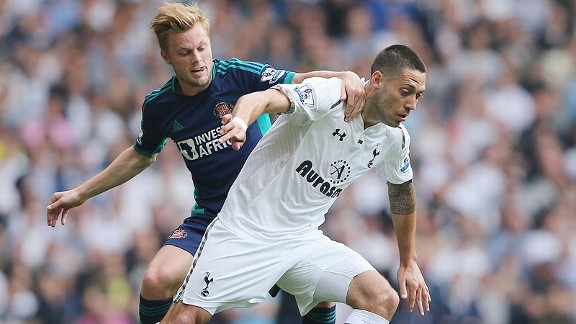 Ian Walton/Getty ImagesSunderland's Seb Larsson and Spurs' Clint Dempsey battle for the ball
In the part of France where I spend several months of the year, friends and neighbours are celebrating in style after Jonny Wilkinson again did his bit for the entente cordiale, helping les rugbymen of Toulon come from behind win a thrilling Heineken Cup final in Dublin. All week, the French media had been saying Clermont were the slight favourites.

Could Sunderland produce their own rear-guard action with the round ball in the final game of their Premier League season on Sunday against emphatic favourites in Tottenham Hotspur? They could and did, but fell a few minutes short of leaving London with a point.

- Fitch: Diary of a sad end to a Tottenham season
- Delaney: Reflections on Spurs' narrow miss
- Dawson: We thought that we had done enough

Gareth Bale's superb winner in Tottenham's 1-0 victory -- academic to Spurs' hopes of finishing fourth as Arsenal won at Newcastle -- was enough to ensure Paolo Di Canio, having avoided the infamous relegation to which Martin O'Neill was leading the club, had to make do with 17th position.

Referee Andre Marriner, not always a great friend to Sunderland, had done his best to help bring about such an improbable outcome as a Sunderland draw, denying Spurs three penalties when each might well have been awarded.

I must be even-handed about this. When Bale, a wonderful talent, repeatedly lets himself down with theatrical falls and blatant dives, I am among the first to howl. Here, for once, he was the innocent victim. Seb Larsson seemed to be all over him before applying a final little push as he broke in the penalty area.

Easiest of decisions? Marriner acted on his one sighting of the incident and also, perhaps, on memories of many less honest tumbles and showed Bale, understandably apoplectic, a yellow card. Even the former Sunderland striker and chairman Niall Quinn, offering television punditry, said the referee got it hopelessly wrong.

There were also two penalty-area hand balls, shots hammering into the arms of Jack Colback and Carlos Cuellar; neither defender seemed to handle with intent but such contact has been leading to penalties elsewhere all season.

The Spurs breakthrough came in the 88th minute, 13 minutes after David Vaughan became the latest of three Sunderland players to be shown a red card during PDC's short reign. His idiotic challenge on Aaron Lennon correctly earned him a second yellow.

Despite this lamentable indiscipline, Vaughan's remaining teammates continued to hold Spurs at bay with Simon Mignolet yet again outstanding in goal and John O'Shea running a tight back four in which Colback excelled, producing two remarkable goal-line blocks in a matter of seconds.

Then, out of relatively little, a piece of Bale magic saw him control the ball deftly and send it 25 yards over the heads of everyone into the net. Sunderland probably deserved a point for heroic resistance of a team of significantly higher quality, but the balance of play supported the logic of a home win.

Starting with two strikers, not necessarily a great idea with such a limited, uncreative midfield, PDC earlier saw both Connor Wickham and Danny Graham go close to giving Sunderland a lead that would have shocked the visiting fans as much as the White Hart Lane faithful.

Few of those away supporters would have been expecting anything better than the eventual outcome. Many, after watching turgid and ineffectual football for most of a wretched season, were gloomily resigned to a heavy defeat.

PDC warned during the week that players would forfeit some of the time allowed for close-season time off if they failed to offer wholehearted effort. He made it clear he would be content with a win, a draw or dignified defeat and may feel his headmasterly lecture was vindicated by at least bringing the consolation of dignity and honest defiance.

In his final interview before the match, the coach was heard on North-East radio speaking of his desire for a better finishing position than fourth bottom. He will have left White Hart Lane knowing it was some achievement to have lifted this Sunderland side, already poor and depleted by injuries and suspensions, quite that high.