Undeserved salvation, thanks to Arsenal -- and Paolo Di Canio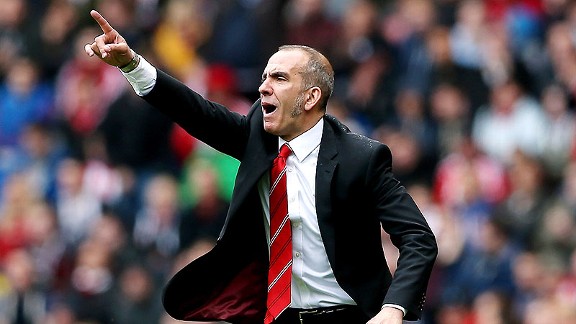 Scott Heavey/Getty ImagesWith survival assured, Paolo Di Canio now has the entire summer to strengthen Sunderland for the 2013-14 season.
First things first.

Thank you Arsenal. And hasten back Wigan. Sunderland are safe courtesy, in the end, of the success and failure of others and it is right to acknowledge that.

The Gunners, of course, beat the FA Cup winners not because they wished to help out Sunderland but to improve their own chances of finishing fourth ahead of Spurs or even third if Chelsea stumble in their final game at home to Everton.

- Rose returns to Tottenham

Some Arsenal fans still went along to Salut! Sunderland after the 4-1 defeat of Wigan to point out that Paolo Di Canio's team now had a solemn duty to return the favour and defy Tottenham on Sunday.

Easier said than done. Even with the pressure off Sunderland, logic points to a straightforward home win at White Hart Lane unless, and this is one enormous unless, PDC lifts the weakened remnants of the squad he inherited from Martin O'Neill to perform as they did at St James' Park in his second game in charge and at home to Everton in his third. The readers who came here to quarrel with my assessment that Sunderland's inability to beat Southampton left them reliant on Arsenal or Wigan's final opponents, Aston Villa, were right in pedantic mathematical terms, but betrayed some ignorance of either Sunderland's wretched football or the history of numerous brushes with relegation.

If the game does go to script -- and do not forget that Sunderland are without their three top scorers, Steven Fletcher, Stephane Sessegnon and Craig Gardner and have scored only from defence in the last three matches -- Arsenal quite simply need to win at Newcastle. A draw would not be enough.

But enough of the tedious jockeying for position near the top. Where do events leave the club I have supported since boyhood in the North East of England when my father took me to see Brian Clough score a Sunderland winner at Middlesbrough?

My fair-minded fellow supporters have been quick to acknowledge that this club of ours barely, if at all, deserved the good fortune that Arsenal's defeat of Wigan brought.

People often argue that the league table ultimately tells the truth. But the present Premier League standings conceal a whopper of a lie because Wigan have consistently played better, more attractive football than Sunderland. But for a leaky defence, with 34 goals conceded away but even more at home, they would have mid-table comfort to add to the richly merited silverware collected at Wembley last Saturday.

That said, the much-criticised O'Neill won both games against them earlier in the season. Indeed, the 3-2 result in Sunderland's favour at the JB stadium on January 19 was to be his last winning scoreline in charge of the club. But rarely this season have Sunderland looked other than a team liable to be drawn into peril.

It gave me no pleasure to see O'Neill go. I like and admire him and, along with most supporters, desperately wanted him to prove he was still a top-class manager; the man who would finally inspire the club to fulfill some of the potential offered by a large, loyal fan base and proud history.

No one expected an instant Premier championship to add to the six top-flight titles won in a past now so distant that you need to be in your 80s to remember the most recent. Three of them were not even in the last century. But a serious challenge in cup competitions and top-half consistency would have been signs of genuine progress.

Instead, the football was as hopeless as it was dull and, once the formality of passionless early exits from FA and league cups was out of the way, Sunderland began an alarming descent towards the relegation zone.

When PDC was appointed in O'Neill's place, I was hardly ecstatic. I was uncomfortable with the political baggage that preceded him. The club's handling of the controversy, which included a former senior minister resigning in disgust as vice-chairman, was no model of public relations excellence.

Finally, we had a statement in which PDC declared categorically that he was not a fascist. Given previous well-documented utterances and gestures, he would perhaps concede in a quiet moment that it had been an easy mistake to make. I feel no need to go back over why all this mattered, but stand by my decision to take his belated pronouncement at face value, avoid further political debate, here or at Salut! Sunderland, and get behind the club in its dark hours.

And in the job for which he is paid, PDC has responded well to a daunting challenge. I do not believe Sunderland would have collected eight points from the last six games had O'Neill still been in charge. Visits to Bournemouth and Blackpool, Millwall and Charlton, would have been on next season's agenda. Thanks to those points, and to Arsenal's clinical disposal of Wigan, Premier status has been secured. PDC may now start planning the drastic surgery that is required and supporters can approach summer in relaxed spirits.

John Penman, one of the people I meet when at the Stadium of Light, came up with a priceless anecdote from Sunday's limp draw with Southampton. As the Saints, relegation fodders themselves until quite recently, repeatedly showed an ability to move the ball more smoothly, run intelligently into threatening positions and put Simon Mignolet's goal under pressure, his eight-year-old daughter turned and asked: "Do they have more players than us?"

If PDC brings a broad smile to that girl's face from August onwards, and has her believing Sunderland can compete on equal terms, he'll know he is making progress in the next part of his job.