Unhappy memories of facing Southampton amid relegation fears
Yes, I know where I was when JFK and Princess Diana died -- at a cinema in County Durham and in bed in North Yorkshire, respectively.

It is even easier to identify my whereabouts whenever Sunderland have been relegated in my lifetime. It never happened before my lifetime as the club was ever-present in the top flight until 1958. On many sad occasions since then, I have either been at the match in question or somehow in touch from far away.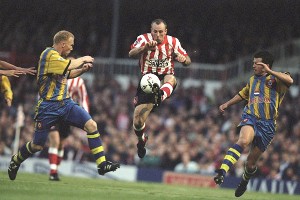 Mark Thompson /Allsport The author's unhappy memories of Sunderland relegations include 1997, when they lost 1-0 loss to Southampton in April despite the best efforts of Kevin Ball, middle.
On the night of April 22, 1997, I was at a Thai restaurant in London with my wife. Either she permitted me to keep tabs on Sunderland vs. Southampton or I stole away briefly to do so. Such marital ruses have been known to occur. One way or the other, I discovered by dialling one of the ripoff lines that were a feature of the late 1990s that Sunderland had lost, 1-0.

That was not the actual moment of relegation. I was present for that, 2 1/2 weeks later, when -- after brief respite with a resounding 3-0 defeat of Everton -- the generally awful side that then represented the club succumbed to another 1-0 defeat on the final day, at Wimbledon (remember them?).

But I distinctly recall the realisation that Sunderland were probably doomed as I heard that scoreline from Roker Park. The Saints were also in trouble, but the win kept them up.

And I have been worrying about the Southampton precedent ever since the wretched first half performance against Stoke City on Monday night, followed though it was by a face-saving recovery (but only one point) after the interval. It turned this Sunday's game into yet another of the must-win encounters that blight a Sunderland supporter's life.

Strictly speaking, it is not a game that necessarily needs to be won at all. Seven other clubs -- Wigan, Newcastle, Villa, Norwich, Stoke, Southampton and Fulham -- are also endangered, and Wigan's home defeat to Swansea on Tuesday confirms them as the strongest candidates for relegation.

Others could stumble, too, and find themselves approaching the final matchday programme on May 19 in trepidation. It is beyond doubt there could be further twists in this season's battle to avoid the drop, so much more interesting than the mundane issue of who finishes in what position behind Manchester United.

If Sunderland do beat the Saints, only the craziest of remaining scorelines would send them down. Wigan, for example, would need to recover from the weekend's FA Cup Final endeavours to thrash Arsenal away and Villa at home with Paolo Di Canio watching his team take a Villa-style hammering at White Hart Lane.

In my heart, I still reckon Sunderland will scrape clear. Having experienced so many relegations, including one to the old Third Division in 1987 after a disastrous season with Lawrie McMenemy -- previously a Southampton hero -- in charge for most it, I take nothing for granted. How I long for boring ends to seasons with nothing at stake. I rarely seem to experience them.

Can PDC persuade his depleted squad to triumph in what he has described as Sunderland's Champions League final? Of course he can. The away game was won in reasonable comfort and Southampton are a recently promoted side, far from invincible on their travels.

But will that side act on his persuasion? Different matter, I'm afraid. Sunderland, as I pointed out after the Stoke City game, have a habit of failing to rise to the occasion. The absences through injury or suspension, notably those of Stephane Sessegnon and Steven Fletcher, are no laughing matter.

Even so, PDC's reduced squad includes men who turn out on a fairly regular basis for their countries. The crowd will be buzzing, at least unless and until things start to wrong. An early home goal could even lead to an emphatic win. I was about to add that surely Danny Graham has to score sometime until I realised no one would take such a notion seriously.

Just writing about a desperate battle to avoid the shame and pain of another relegation requires nerves of steel if you happen, through birth, childhood allegiance, parental influence or acquired habit, to be a Sunderland supporter.

I could live with another season down below, if only because of the greater likelihood of goals and wins, but I do not wish it upon myself or the 40,000 or so who have repeatedly turned out to watch some pretty abysmal football this season.

Steel myself I must. Domestic negotiation is complete and the coast is clear. Sunday, sadly, will find me a long way from the North East of England, but I shall be there in spirit and in front of a screen that enables me to share the agony or -- please -- the ecstasy of those inside the Stadium of Light.