PDC's ragged class of 2013 needs the 1973 spirit that defied Leeds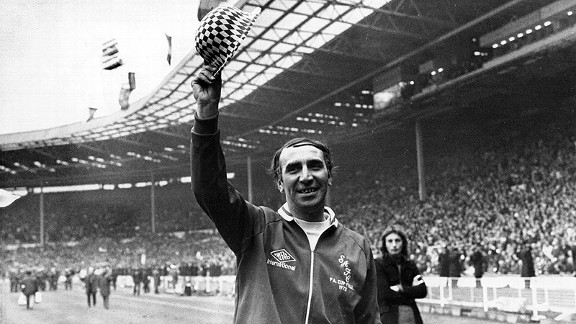 Evening Standard/Getty ImagesPaolo Di Canio would do well to evoke the spirit of Bob Stokoe's 1973 FA Cup-winning side when Sunderland face Stoke on Monday.
After his first game in charge of Sunderland, a narrow and honourable enough defeat at Chelsea, Paolo Di Canio praised his players' effort and told them to prepare for six cup finals, the games from which they would have to claw the points needed to stay in the Premier League.

For two games, the motivation worked.

The Tyne-Wear derby, from which many Sunderland supporters had feared the very worst, turned into an easy romp to victory. Then Everton arrived at the Stadium of Light full of top four ambition -- and left empty-handed as PDC's team club clung in reasonable comfort to a lead established with a classy Stephane Sessegnon shot in the first half.

Then came catastrophe at Villa Park on Monday night. That leaves three remaining cup finals from which Sunderland may need three or four points -- and they start with Stoke City at home on Monday night.

- Sessegnon loses appeal

The challenge to PDC is clear but daunting. He must instil the spirit of May 5 1973 into the strange mix of talent and inadequacy -- often appearing in equal measure in the same player -- that his squad represents.

This weekend, Sunderland fans and all but one of their heroes of that other age will mark the 40th anniversary of a real FA Cup final: the emotional, inspirational, giant-killing victory against Leeds United, then the force in English football.

When the squad of '73 sit down on Sunday evening to a commemorative banquet at the Stadium of Light, the only face missing will be that of Ian Porterfield, whose goal at Wembley proved enough to take the trophy home to a victory parade that brought 500,000 onto the streets of Sunderland. Sadly, he succumbed to cancer in 2007, having gone on from his Sunderland days to turn out 106 times for Sheffield Wednesday and manage, with varying success, a string of national and club sides from Rotherham United to Armenia.

On paper, PDC has better players available to him than were at the disposal of Bob Stokoe. Sunderland were out of the top flight in 1973; there was promise in the team but not a great deal more. Several of today's squad regularly represent their countries. How PDC sets about firing them to play with the same passion -- and skill -- as their predecessors mustered on that glorious day at Wembley 40 years ago is something he is paid generously to work out.

In a conversation for Salut! Sunderland's commemorative series on 1973, the former Sunderland goalkeeper Jimmy Montgomery could hardly avoid mention of what had happened the night before at Aston Villa.

Monty, whose sensational double save from Trevor Cherry and Peter Lorimer is revered wherever football is played, is a Sunderland man to the core. He was a boyhood fan long before he joined the ground staff and progressed as player to keep goal so magnificently for so long for his club.

Like me, he was struggling to rationalise just how badly Sunderland had played in the 6-1 trouncing. In particular, he was at a loss to explain the inexcusable second-half collapse. "So many people chose the same night to have bad games," he said.

PDC does not need Monty's reflections or mine in order to appreciate the stakes as the season nears its conclusion.

From appearing to be coasting to safety after those wins against Newcastle and Everton, Sunderland have been thrust back into the relegation dogfight.

Stoke are on the 40 points commonly seen as a sensible target for survival and, though that tally has not always been enough, will be under a lot less pressure on Monday.

Already deprived of the services of the injured Steven Fletcher, PDC must now do without Sessegnon, whose goals and creativity were pivotal to the mini-revival. His tackle on Villa's Yacouba Sylla on Monday night did not really seem to merit a straight red, but Lee Probert's decision was not harsh enough for the FA to overturn on appeal.

So where do the goals come from? Having fired home a cracker at St James' Park, David Vaughan looked more like scoring an own goal than reducing the deficit at Villa. Adam Johnson was back to the ineffective ways that have blighted chunks of his short Sunderland career. Danny Graham, sadly, appears miscast as a striker. Can Connor Wickham finally get his chance to ride to the rescue? Or must we rely again on a goal or two from a midfield that has disappointed for much of the season?

Stoke have produced good recent results but should be beatable. And relegation worries would just about be over if PDC could somehow turn beat-ability into beaten, though a further three points from the remaining home game against Southampton -- or, as a minimum requirement, four points from the two matches -- would soothe nerves going into the tough final game at Tottenham.

Whatever the outcome, it has been a seriously trying season for Sunderland supporters. At times, the team -- especially under Martin O'Neill and certainly at Villa -- have played like no-hopers. The club desperately needs to get away from the logical consequence of displaying such shortcomings and build for a brighter future that is still a Premier League future.

It is bordering on criminal that much of the shine the 1973 commemorations has been rubbed off by the incompetence of the 2013 team.

I cannot better the words of Monty, who said: "I have been in that position myself when everything just seems to go wrong. We have to bounce back. It would be a wonderful way to round off the 40th anniversary to go out there and beat Stoke City a day later."