Villa thumping brings Sunderland back down to earth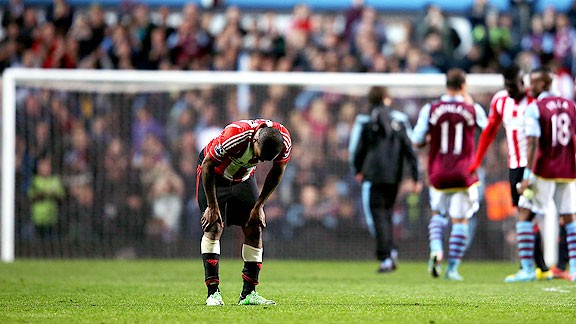 Richard Heathcote/Getty ImagesIt was a long night at the office for Danny Rose and Sunderland at Villa Park on Monday.
For Sunderland supporters, there were two ways of looking at Newcastle United's astonishing collapse against Liverpool. The temptation to gloat was matched by the knowledge that a tough match of their own was to come at Villa Park.

And in a game that Sunderland, up until the start of the second half, looked capable of drawing or even winning, comprehensive defeat brought all the worries of inadequacy and relegation streaming back.

Aston Villa 6-1 Sunderland .

- Villa vanquish Sunderland

On the evidence of a second half rout, despite what I feel was a less than balanced display of refereeing from Lee Probert, I raise no serious complaint about the justice of the scoreline.

How did it happen? Easy. After three games in which he persuaded the poor team he inherited from Martin O'Neill to look urgent, menacing and like decent Premier League competitors, Paolo di Canio was suddenly shown the uglier face of a Sunderland that had become the norm under his predecessors -- O'Neill, and Steve Bruce before him -- though usually without quite the same devastating results.

In an evenly matched first half, there was sufficient pace and counter-attacking threat to give PDC hope of a point at least.

Ron Vlaar opened the scoring for the home side with a long-range shot that may have taken a slight deflection off the former Villa defender Carlos Cuellar. But a superb pass from Danny Graham set up Danny Rose for an instant response.

All too soon, through one of the gaping defensive holes that Villa were to exploit for the rest of the game, Andreas Weimann found himself with an un-missable opportunity to restore the lead and did so.

There was time for Probert to disallow another Sunderland equaliser for what I considered an imagined foul by Graham on Villa keeper Brad Guzan before Craig Garner hooked the ball into the net. All the same, 1-2 was a halftime scoreline that cried out to be challenged.

So to the second half. Cuellar, dodgy earlier, became calamitous. Phil Bardsley, unsure earlier, was shocking. Stephane Sessegnon probably brought his season to an end by collecting a straight red, maybe harsh, for a tackle on Yacouba Sylla. And once Sunderland had permitted Christian Benteke to begin and complete the simplest of hat tricks, David Vaughan crowned a hopeless cameo as Sunderland substitute by managing somehow to beat his own defence with a long and incisive though ball; Gabriel Agbonlahor did the rest.

It tells you much of what you need to know that deep into injury time, Sunderland passed the ball about ponderously in the Villa half as if avoiding a seventh goal were more important than salvaging some self-respect with a second of their own.

When I said defeat at Villa Park would not be fatal to Sunderland's survival prospects, I did not have in mind the sort of abject surrender that PDC and the faithful travelling support, let alone a watching television audience, witnessed.

Two home games lie in prospect and one win from the pair would probably be enough. Stoke City and Southampton did not, before this nightmare, seem to represent daunting opposition. They have just become so.