Can Graham capture Sunderland hearts at Villa Park?
In March 2008, Michael Chopra, born in Newcastle, alumnus of Alan Shearer's school and out-and-out Magpie, scored a vital away goal for Sunderland at Villa Park.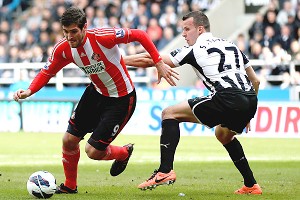 Matthew Lewis/Getty ImagesDanny Graham, left, proved his allegiance to Sunderland with a strong outing against boyhood favourites Newcastle, but his effort hasn't been rewarded on the scoresheet.
It was another of those seasons that found the red and white part of the North East, then managed by Roy Keane, involved in a relegation struggle.

The three points from Aston Villa -- who will again be Sunderland's opponents on Monday night, again at Villa Park -- brought Keane's first away of the 2007-08 campaign. It was also the margin that separated Sunderland at the end of the season from the clubs that went down, Reading, Birmingham City and -- beating Sunderland's own record-creating low of 15 points in a Premier League season -- 11-point Derby County.

-Di Canio tackles social media

On Wearside, Chopra was hailed as a man who had conquered tribal passion and performed as a professional footballer should, doing his level best for the club employing him. There were even chants of "Chopra's one of us!"

In the following season's derby at St James' Park, the same player acted in a way that suggested that whatever things he might be, "one of us" was not among them. With a clear chance to score and only the keeper to beat, he instead hit a poor pass to Kenwyne Jones. The chance was gone and Sunderland, the better side on the day, had to settle for a draw.

A majority of Sunderland fans, I am sure, will take to their graves the conviction that he "did it on purpose" or at least "bottled it".

At the time, Chopra rejected the charge of putting partisan thoughts or fears above the duty he owed to a club paying him handsomely. Moving on loan to Cardiff City, he protested his innocence: "I made my mind up early and that was it. On another day, I might have hit the ball first time and scored; I might have missed and people would have said I should have squared the ball. You can't win."

I hope that is right. Only Chopra himself can know the truth.

What is not in dispute is that when another Newcastle-supporting player, Danny Graham, moved to Sunderland, memories of Chopra's sin, real or supposed, led many at the Stadium of Light to question the signing.

Graham had once told an interviewer, when asked which club he would support of there were no Newcastle United: "Put it this way -- I'd stay as far away from Sunderland as I could."

That such an innocuous remark could cause a fuss among so many Sunderland fans merely confirms the intensity, some might say infantile nature, of Wear-Tyne rivalries. Chopra hardly helped with his tweet: "Another Geordie signs for sunderland lol wonder how many mackems sign for the toon #none".

At the time of the transfer, I said at ESPNFC and Salut! Sunderland that I could not care less what boyhood allegiances Graham had.

My sole concern was that he did his best for my club against all others, Newcastle included. I believe he has done so. I also believe his best has so far been some way short of good enough.

He has had decent games. There was no shortage of commitment in the demolition of Newcastle. He played a full part in the outstanding team effort that gave Paolo Di Canio a winning home debut against Everton.

What Graham has yet to do is score and, as every observer of football knows, failing to hit the back of the net is a significant defect in the game of anyone hired as a striker. Bad luck is not an excuse that holds for too long.

Monday's game offers an ideal opportunity for him to emulate Chopra's feat at Aston Villa and score a goal that helps ensure Sunderland's survival. One optimist predicting a 2-1 Sunderland win came up with the ideal scenario for the breaking of a striker's goal drought: "Seb Larsson thumps it, the ball's going wide but it slams an oblivious Graham on the shoulder and rebounds into the net."

Defeat at Villa Park would be hard to bear but not fatal. A win, by means of a fluke or not, would just about bury relegation fears, since superior goal difference would effectively put PDC's team on 41 points.

It would be a timely source of relief to have Premier status more or less assured at the start of the week leading to the 40th anniversary on May 5 of Sunderland's last moment of real glory (the 1973 FA Cup final victory, as a Division Two club, over high-flying Leeds United). And it would be heartening to hear Sunderland supporters chanting Graham's name as a hero.